Today we talk about how to make money freelancing. It is not about different ways of passive income like affiliate marketing, selling advertising space on your blog, MLM marketing, investments, etc. The focus is on freelancing your skills and getting paid for your expertise and services.
A quick look at the job posts categories on oDesk: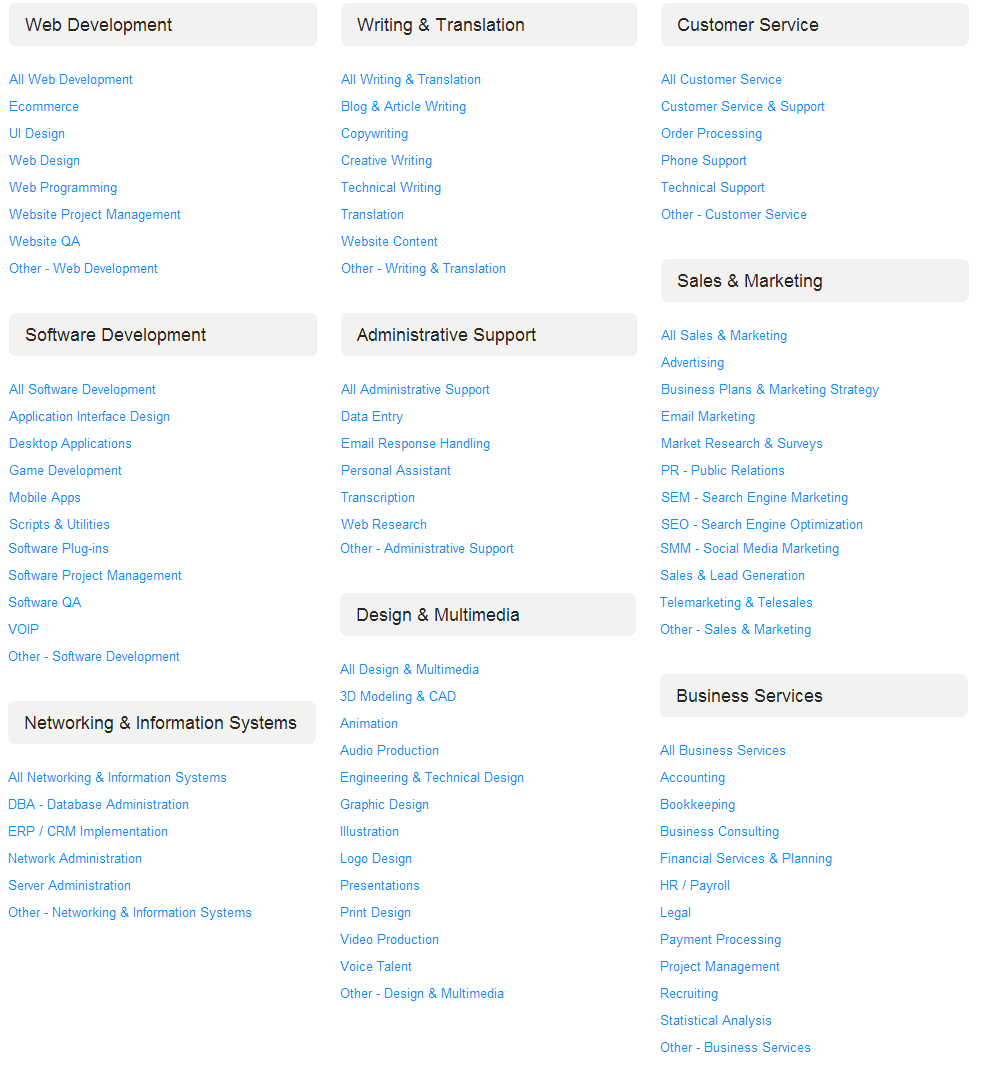 As you can see, there are plenty of opportunities – various categories with even larger choice of sub-categories… Not to mention the great deal of job posts available in each and every sub-category. Let's look through some of the most popular freelance professions.
Naturally, writing is the most popular way to make money freelancing.
In the past, when freelancing was not so popular among specialists, it was related primarily with writing and consulting services – journalism, translations and editing of texts and books from home. So no wonder this is still the most common occupation among freelancers. There is one pitfall though. Due to the high supply of writing skill, it is getting harder with time to get quality and well paid writing gigs on online freelance job boards. More often I see clients willing to pay $5 per 500 words article but the scarier thing is that there are contractors willing to work for such low rates. There are TONS of articles about freelance writing online as well as books teaching you how to make money freelancing your writing skills. However, I'd like to emphasize on the fact that even with low bidding contractors and low-paying clients, we can still find well paid writing gigs – e.g. a landing page for $100 or $50 for a 700 words blog post, etc. It is important that we value our work and sell our skills and services at the price we think is fair.
Translations are another popular and somewhat like freelance writing option.
If you are a bi-lingual or at least fluent in English and another language, you have great opportunities for making money as a freelance translator. I have noticed the last few years Russian, Spanish and Chinese Mandarin are on the rise so if you are fluent in any of those – be sure to check the Translation section on oDesk. The prices of translation services vary from $7 to $30 per hour – depending on the freelancer's languages, experience, fluency, expertise. However, if you manage to sell your service at a fixed price job, you can make better money because you are paid for the work you do – not for the time you spent working 😉
Freelance designer or programmer is another very popular profession among freelancers.
This is maybe as popular occupation as freelance writer and there are plenty of blogs and books teaching you how to be a successful freelance designer or programmer. So I won't get into details about that. However, I'd like to point out that I have noticed the trend of increasing demand for mobile application development and social media app development. Not that the rest of the subcategories are not good – they ARE good and there is always demand for professional freelancers with excellent skills and expertise in design and multimedia or software development categories. I guess what I'm saying is that if you want to stand out from the crowd and be hired for good contracts with decent pay, you need to specialize in something and be brilliant in it.
You can be a freelance marketing consultant.
Being a freelance marketing consultant myself, I have to say there is a great demand for quality workers and strategy planners. There are plenty of contractors who offer "marketing services" at $10 per hour but truth is they cannot do strategy planning; they can hardly even work on their own. They need someone to hold their hand and to tell them what to do. Very few people on oDesk and maybe on Elance can actually start from scratch – analyze the situation, develop a plan and then implement it; or even form a team and manage it toward reaching the goals they've set in the first place. There is huge demand for this type of marketing consulting and it is being paid well. Depending on your skills and expertise, you can get $50 or more hourly rate; $20-$30 being the average.
There's demand for other business services, too – like accounting, book keeping, legal advice, HR/Payroll, etc.
I am not sure if this is a popular section on freelance websites among freelance contractors, but for sure there is an upright trend for the demand of such services. Payment, of course, varies depending on the services. An idea I'd like to share is to use freelance sites like oDesk for seasonal workload. E.g. now it is tax time in the US – so I believe there has been an increased activity in the accounting subcategory the last couple of months. If you are an accountant, you could easily browse the section and take up a few new clients who need help with their tax papers. If you work well together, maybe such little gig will turn into a long term and fruitful work relationship 😉
If you don't have any special skills, you can still make money freelancing.
Administrative Support on oDesk and Admin support on Elance are the categories for you. Simple data entry jobs, copy-pasting jobs, data base filling, data mining, video and audio transcribing – all of these are tasks that don't require any special skills whatsoever and you can do. Virtual Assistant is also a very poplar position these days and most probably you can find such offers in this very same category of admin support. Prices vary – the easier the task, the smaller the payment; starting from $3-4 per hour for copy-paste jobs up to about $10-15 per hour for more complex jobs like email handling or virtual assistance where fluency in English, good time management, responsibility, and other personal skills are required.
And let's not forget customer service jobs.
Maybe you will be answering the phone and talk to people who have problems with a software program; or you will be addressing chat and forum inquiries about products (pre-sale or trouble-shooting); or you will be cold-calling businesses to ask them questions or sell them something… whatever you do, truth is there are numerous call centers and customer support rep openings. So much that you can simply work 8 hours per day, 7 days a week as a CS rep. This kind of job pays about $5 to $10 per hour, depending on the skills and knowledge required. And it is a bit inconvenient because you have shifts and strict working hours and schedule to follow. But still – for people who don't have a lot of skills and expertise in another area (e.g. multi media and design, software development, marketing, content creation, etc.) – this is a very good option to make a living worldwide.
I am curious how do YOU make money freelancing? Tell me in the comments 😀
Or check out a Hub I've written about freelance opportunities different than writing.