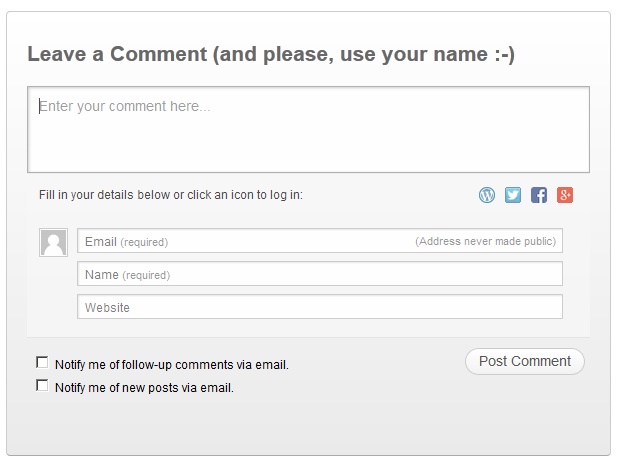 I thought the value of blog commenting is obvious but… I still encounter blogs with closed comments section so I decided to share my thoughts on the topic. Read on.
Why leave blog commenting open for everyone
If you are a regular blogger, chances are you spend quite a lot of time not only researching and writing your content but promoting it, too. So what a better way to attract and keep readers than let them speak their mind and converse with you? Here are a few reasons off the top of my head about why leave blog commenting open to everyone.
It is the quickest and easiest way to let your readers send you feedback about your content
We all have busy every day routines (I suppose) so the moment you ask me to register to your blog to leave you a comment, you lose me.
Make it easy for your readers to speak their mind – and they will 😉 Leave blog commenting open to everyone.
Blog comments are a great source of future blog post ideas
Not one or two of my posts are as a direct result of readers' comments. After all, when a reader asks a question in the comments, there's a good chance more readers are asking themselves the very same question. So why not blog about it?! If my comments were closed, I might have never thought to answer the questions which I never got asked in the first place.
Remember though to put all those comments' blog topics ideas in your editorial calendar so that you don't forget who asked what when…
Blog commenting helps you build an engaged community around your blog
Provided your content is good, readers will follow, it is inevitable. But how do you know your readers are there? How do you build upon your existing readers to attract new ones as well? Blog commenting helps you with that.
When I find a new blog, I usually check if there are comments on the blog posts, what type of comments, are there author's replies to the comments, etc. This information helps me decide what type of blogger I am about to interact with and what type of readership the blog has. I already mentioned the busy daily routines we have – I am no exception.
So if I see more negative comments or rude replies by the author to valid questions or remarks, I move on. I find blogging (and blog commenting) to be a great adventure of meeting and interacting with new and interesting people. So I am not wasting my time interacting with people, whose responses I don't like or who treat poorly their readership.
Blog commenting is a way to support fellow bloggers
And I am not talking about occasional comments like "great post, keep up the good work" and such. Those we can all leave to everyone and anyone. I am talking about meaningful comments which bring value to the blog post itself and to the conversation. Check out one of my first posts – dos and don'ts of blog commenting.
Once I was "accused" of being skeptical – but I am just curious and not always settle with what's often perceived as "common knowledge". I ask questions (a lot of them) and I am often the counter part in the conversation. But my only intention is to spark the dialog and find the truth somewhere in between. I appreciate such comments the most – primarily because in a single comment like this, I often find much food for thought and many future blog post ideas 😉
The more comments you have, the more comments you'll get
Imagine you go to a blog post with zero comments – would you leave one? Maybe… if you are super loyal reader of that blog and you really have something smart or interesting or funny or inspiring or else to say.
Now imagine if you go to a blog post and there are some comments on it but you need to register with the blog, then verify your email, then answer a few questions and only then, your comment goes into moderation and it may or may not be approved. Would you go through this cumbersome process only to leave a comment? I don't think so. I know I wouldn't.
Bear with me – last one. Now imagine you go to a blog post with some comments and it is super easy to leave your comment. You just type in your name, email, (URL if you want), comment – and viola. Some blogs are even smart like that – they remember you, if you return to leave another comment in time. How cool is that?! So then would you leave a comment?
The bottom line is – make it as easy as possible to your readers to comment on your content. And they will 😉
Which leads me to my next point.
Blog commenting made easy with connected accounts
I will not bore you with technicalities but there are plenty of ways to make blog commenting easy for your readers.
My blog is a WordPress one and I use the Jetpack plugin (it has a module for managing blog comments). It has some handy features like logging in and commenting with your WordPress, Twitter, Facebook or Google+ account. Or as mentioned earlier – just entering your name and email will do the trick as well 😉 Also, an option to subscribe to other comments to the blog post – if you're truly interested in the conversation…
I have seen on other blogs services like Disqus and IntenseDebate which do a pretty good job when it comes to making it easy to readers to leave comments – with or without social media profiles integration.
You are still (relatively) safe from spam
The most commonly used anti-spam plugin I have seen people use is Akismet. To be honest, I have no idea if Disqus or IntenseDebate, or non-WordPress blogs altogether have some other way to anti-spam protection – please, tell me in the comments if you know 😀
But I can say that Akismet has been pretty accurate so far and even if there are some hiccups around major WordPress and/or Akismet updates, those get resolved fairly easy with a quick email or two to white-list the email address which has triggered spam filters for no apparent reason.
You can always put some kind of captcha, too – or a neat checkbox saying "Confirm I am not a spammer" 😉
So tell me in the comments – do you have blog commenting open to everyone? What use do you see from blog commenting?