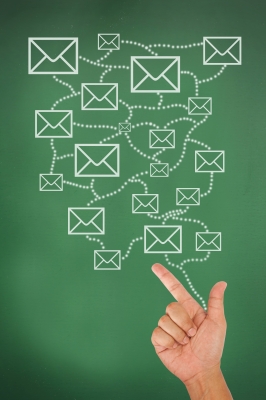 Recently my mailbox is overloaded and I find it hard to follow the conversation unless there is a precise email thread. So I decided to share my tips on using email threads for smooth communication – to help you and everybody with whom you are exchanging emails, for work or play 😀
Why you should care about the email thread
Imagine you opened your email this morning and there were 53 emails in it. You clean up all the spam, LI group notifications, newsletters, etc. and still – 23 legit emails waiting for your review and reply.
You get started one by one. Those are all happy clients, colleagues eager to work with you, fans sending you questions and blog posts ideas. You are feeling happy – yeah, it will be a great day! Until you see an email saying "Re: inquiry about your writing services"…
You open that email thinking "oh, well, I can take up a new client, of course", feeling happy an all. You start reading:
Dear, [your name],

I am happy to tell you that my CMO finally agreed to the idea of outsourcing our blog content creation and we are ready to move forward. Are you still available for the job? Is your offer still valid? I am eager to start working with you.

Looking forward to hearing back from you.

[name, title, company name, everything a company representative would include in their signature]
You scroll down – no history of communication between you two.
Darn, you don't even remember who this person is, let alone the offer you made them.
Now what?
You start searching you email – in the past month, the past 3 months, the past 6 months, nothing. Googled the name, yata yata yata – 2 hours later, you have finally found the original email that was sent to you 1 year ago (?!).
You now see what they have written to you initially, what you responded, and you can now start thinking if you are still interested in working with these people… (I guess not – even if they were real! :D)
So, back to the email thread issue – if that person had followed up earlier or at least, by replying to your last email – the email thread would be intact and you wouldn't have lost two hours searching what on earth is this person talking about!
And that my friend is why you need the email thread.
Use the reply button to keep the email thread intact
To add to the above rant – all it takes to keep the email thread in tact is using the reply button.
You get an email but you don't have the time to reply now? That's ok. Star it (that's what I do) – and return to it later. Hit the reply button when you are ready to reply, type up your message, attach your files, if any, and click send.
Then the other party will get your message as part of a conversation – nice and easy to follow. So even if you have not 53 but 153 emails per day, you will still be able to easily follow a conversation between 2 people – if you have the email thread at hand, with all the history of communication.
Keep the email subject intact to continue the email thread
Right, I said all it takes to keep the email thread in tact is using the reply button but that's not quite true, sorry – my bad!
If you hit the reply button and then manually go and change the subject of the email, that becomes a new email right away – it is no longer a part of the email thread that the other party has.
So, if you change the email thread every time you reply to an email, you will end up having not 1 but let's say 4 email threads, despite the fact they are all about the same thing.
So, under no circumstances change the subject of the email when replying to a message – unless, of course, you do want purposefully to start a new email thread rather than continue the old one.
Back to you – what else do you do to keep your email threads intact?