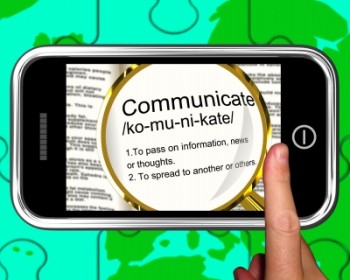 Last week I blogged about some qualities every freelancer should have to be successful – one of them being good communication skills. Today, I will share some tips to effective communication with freelance clients.
If you are working online and don't have personal meetings with your clients, you should follow some basic rules and etiquette for effective online communication. They are certainly not universal and don't guarantee your success as a freelancer, neither they are an exhaustive list. I found these tips empirically during the last few years while working as a freelancer and with other freelancers as a client.
1.     Use proper language
You may be used to abbreviate words or skip them altogether with your friends on Skype but remember you have business relation with your clients. Depending on how long you have worked together or what type of business relation you have, your tone can be rather friendly than formal. Whatever the case, presuming upon a short acquaintance is never a good idea.
Chat abbreviations like gr8, 4u, ty, yw, thru, etc. are absolutely inappropriate. Abbreviations like FYI, info, btw, pls, etc. may be appropriate when communicating with certain clients but not during your job interview or in the beginning of your business relation.
If needed, re-read my post about literacy and how it matters to your freelance success. Proofreading your email before hitting the Send button is always a good idea for a good first impression 😉
2.     Reply in timely manner
If a client sends you an email with information or with questions and changes request, reply to him within the next 24 hours.
Don't reply instantly if you see their email right away. Instant communication may create an expectancy that you are always there and replying instantly, always. They would develop a feeling of delay if sometimes you reply within a few hours and not instantly.
Think carefully how much time you'd need to reply depending on the situation. If the client's email requires some thinking to answer the questions asked; or estimation of time needed and re-calculation of a price – take your time. If you cannot address the email within 24 hours, then email them back confirming you got the message and giving a date when you will be able to give them the required information. This way you first demonstrate your professional attitude, and secondly help your client plan their time and schedule according to your time frame.
3.     Never let the communication frustrate you
Whether due to language barrier or poor verbal communication skills, miscommunication isn't rare; especially in the beginning of a business relationship when freelancer and client are not yet used to each other work model, behavior and habits. Don't get frustrated! Don't repeat over and over the same thing. After all, if you do the same thing, you can't expect different result 😉
Try explaining your point with other words, with screenshots, with stories, or with an example. If your client has difficulties communicating effectively, then tell to them what is not clear. Ask them to explain with other words, too.
Under no circumstances should you burst out shouting. Never give in to feeling helpless. Stay calm, be patient and try until you succeed.  This advice is good if you have had troubles communicating effectively once or twice during your work together.
If you notice during the interview that your client has inability to articulate his thoughts, well – maybe your daily work with them would be the same. Better decline and move on to another client. Bad communication can be a red flag for bad clients – follow the link to see more such signs.
4.     Always have written confirmation of change requests
If you often use Skype to discuss with your clients changes, project scope and suggestions for improvement, I suggest you summarize what you have agreed on during the call and send it to the client for confirmation. If you don't do this, you might potentially have a problem in the future. As verbal communication doesn't leave a written trace and people tend to forget with time. Having all change requests confirmed in written will save you the trouble if the client forgets he has asked for the change or agreed to additional budget for it.
5.     Always be honest and ask questions if something isn't clear
I have always been amused how freelancers take up a project and then ask for help and for more details their friends and colleagues. This usually leads to bad results, work in the wrong direction, sometimes even starting over, wasted time and money and a lot of disappointment for both the freelancer and the client.
The best source of additional information and details is the client, nobody else. It doesn't matter if the questions and lack of clarity comes during the freelance interview or after you have started working – ask, always! This is the only way a freelancer can complete a project with the agreed quality and turnaround time.
No freelance client would think less of you if you ask questions. To the contrary – your questions would let them know you are thinking through every single step of your involvement in the project and you are devoted to completing the job with the highest quality possible.
And what tip would you add to effective communication with clients as a freelancer?