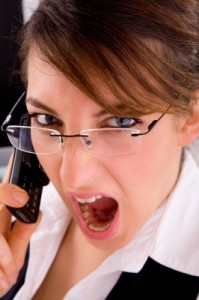 Freelancers, like any other small business owner, have to deal with difficult clients from time to time. Whether those clients lack good communication skills, don't know what they want, have difficulties articulating their thoughts and desires, are stubborn or just mean by default – it doesn't really matter. The result is usually the same – the freelancer's inner balance is distorted and the pleasure of doing your job – vanished. Don't let difficult clients get you out of balance!
Here are 5 tips to dealing with difficult clients – remember, the focus is on freelance clients but I think these tips are applicable to all.
Be patient and balanced
In case you are dealing with a difficult client, there's no better partner than patience and staying calm. There are many different reasons why the client could get on your nerve – to name a few:
They are incompetent
They lack proper communication skills
They ask dumb questions
They have very poor technology skills (and I mean VERY poor)
They cannot understand that your price is what it is and that they get value for it
They cannot understand why the timetable they suggest is unrealistic – no matter how many times and in what different ways you explain it to them
It doesn't matter if your difficult client has one of the above – or some other way to get on your nerve – you must stay calm and in control. You should patiently explain with different words and in different ways; you should stand by your position; until you reach an agreement.
If you are emotional in your dealings with the difficult client, reaching an agreement won't happen. For that reason, stay calm and be patient, always.
Never tell your difficult clients they are wrong
When the clients award their projects to someone (freelancer or not), they secretly (or not so secretly) think themselves as masters of both the project and you simply because they give the money and do the hiring. Don't think of this as a con. Use it for your advantage instead.
For example, if a client wants to get 5000 new fans on their brand new Facebook page in the next 2 weeks, don't tell them they are wrong to ask this of you or of anyone for that matter.
Turn their lack of knowledge in your advantage by explaining what YOU could do for them and why you'd recommend that. Explain to them that you as a social media marketer can deliver 100 highly targeted new fans per month (provided there's little to no advertising budget, of course). More importantly, you'd focus on building their brand and raising awareness on Facebook in the long run. Your focus would be on the quality of the fans, not their number.
Tell them also that you are sure there are plenty of freelancers who would promise them 5K fans per month and would deliver them. But the quality of those fans would be very bad. Those fans would never really read anything on the client's page, let alone engage or make a purchase in the future.
Explain also what the purpose of social media marketing is and that the purpose of their Facebook page is not direct sales or quick sales. This way you'd demonstrate your analytic skills and professionalism. You would be sure that if you are chosen for the project, it won't be based on unrealistic expectations and false promises.
Similar examples could be given in any niche of expertise, not just social media marketing.
When dealing with difficult clients, don't tell them they don't understand
Remember that at some point, every client has the feeling of being the master who pays their freelancers. Having said this, it's good you approach a difficult client with the presumption you cannot explain well, not that they cannot understand you.
Don't say "no, you didn't understand me". Instead, tell them "sorry, I couldn't explain, let me try again". Repeat what you are trying to say as many times as needed – just not using the same words. Use screenshots, graphics, tables, examples, stories – whatever is needed to get your ideas through, visually or not. Once you find a common language with your difficult client, every next conversation will be easier for you.
Be available
Yes, it may be unpleasant sometimes but truth is –
Difficult clients like attention and when you pay it more to them, they become less difficult. 😀
For example, you got an email from a difficult client. Reply quickly – if not with the desired info, then at least with a deadline when you'd give them the desired info.
Another example – they want a meeting with you today or tomorrow. Rearrange your schedule and meet with them when they want. But make sure you make it absolutely clear how much inconvenience it has cost you. Don't be arrogant or rude, just delicately show them you bent over backwards to meet with them at the desired day and time.
Which leads me to my next tip to dealing with difficult clients:
Learn how to "manipulate" them and make the most out of the situation
How to show delicately you have bent over backwards to meet with them and make the most out of the situation? A sentence like "I had to cancel a couple of other meetings to make it for our discussion today but I believe both of us will be happy with the outcome of the meeting!" can do wonders on 3 different levels:
1) you discretely showed them your schedule and other clients' meetings have fallen victim to his demand to meet here and now – boom, you just feathered their ego; now they think they are more important than anyone and everyone! So they are happy 😀
2) you give a hint for a good outcome of the meeting – which is a real predicament for the meeting to have a good outcome indeed
3) you pave the way for your end of the negotiations – the client should be thankful for you bending over backwards so you too should be happy with the meeting outcome 😉
To recap how to deal with difficult clients if you are a freelancer
To successfully work with difficult freelance clients, set your ego aside.
Accept that you will cross paths with clients who are always unhappy, nothing could satisfy them, and they never say thank you. You should be patient with them. You should stay calm, always. You should watch your tone. You should learn how to "manipulate" them (in the good sense of the word – to drive them in the direction you want them to go).
Oh, and the most important piece of advise and lesson learnt – never take up another project from the same difficult client 😉
These were some tips from my experience as a freelancer – and you, how do you deal with difficult clients?