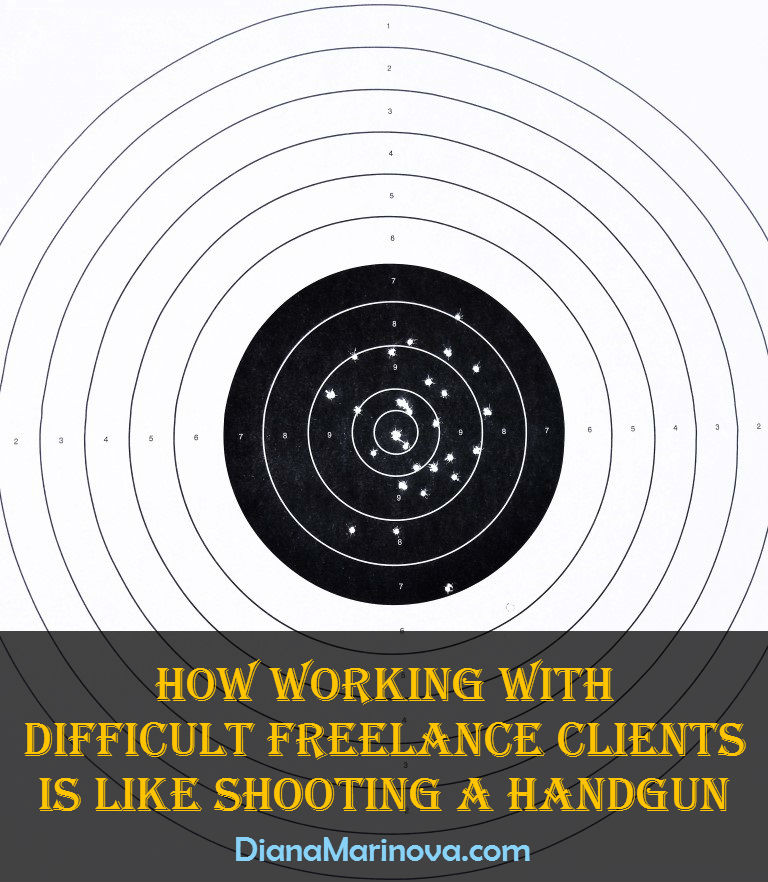 A couple of weeks ago I went to a shooting range and held a gun for the first time in my life. I not only held it, I turned out to be pretty good at shooting a target – at least with small-caliber handguns at a close range. That's my target on the photo 😉
Nevertheless, learning how to shoot a gun in an indoor shooting range reminded me a lot of the times when I had to work with difficult clients. Here are the three rules which could help you score better at the shooting range and when dealing with difficult freelance clients.
Rule #1 – Focus on the things you can control
My instructor taught me that when shooting a gun, you should focus on the two things you can control – the sights of the gun and the trigger. There are certain techniques of using them properly but basically, these are the only two factors a newbie shooter can control and should focus on.
The noise, produced when discharging the weapon, and the recoil are beyond your control, so you should just ignore them. Stay focused on the sights of the gun and the trigger and you might even hit a ten on your first try. (I did!)
The same principle applies when you find yourself working with a difficult client. Focus on the project goal and how you do your job – those are the things you can control more or less. The client's attitude or poor communication skills could only distract you. Stay focused on the task at hand and know that being competent and professional is enough to do your job, regardless your client's desire to control you, for example.
Rule #2 – Stick to your repeatable process
If you had a good shooting instructor, he or she would have taught you the basic safety principles of handling a gun. Those would ensure you'd not shoot yourself or anybody else. He would have also enlightened you how to properly aim by looking through the sights of the gun and how to pull the trigger so that you hit the target where you aimed. Just take the steps as directed, without thinking too much about it.
It's similar when working with a difficult client – if you have a repeatable process, that is. Do you follow a system when calculating your prices?  Do you always confirm in written the project parameters or changes, you agree on? Do you have a methodology when performing each task? Do you follow a series of steps when working on a portion of any given project?
If you do, then stick to it. It doesn't really matter what the client's mood, attitude, or communication skills are. The working process may be less enjoyable for you but in the end, you'll do your job and get paid. Just stick to your repeatable process.
Rule #3 – Stay calm
If you're a first time shooter, you can easily slip into anxiety or fear of losing control. 'What if I drop my gun? What if I shoot myself? What if I shoot somebody else by accident?'
If you start worrying, you lose control of your gun – of course, not so much that you shoot somebody but enough to throw your focus off the sights and the trigger of the gun and on to the things you can't control. The noise and the recoil startle you; you lose your posture; you don't aim well so you don't hit the target at all.
Staying calm allows you to follow rule #1 – stay focused on what you control, and rule #2 – stick to your repeatable process in terms of safety principles and aiming techniques.
The same is valid when working with difficult clients. If you follow the first two rules, it would be easier to stay calm. Don't take the client's attitude personally. Just do your job and move on.
I know it's often easier said than done, especially when working with particularly unpleasant client, but here's a post to give you some ideas how to deal with difficult freelance clients.
Have you been to a shooting range? What other similarities you find between shooting a handgun and working with difficult freelance clients?