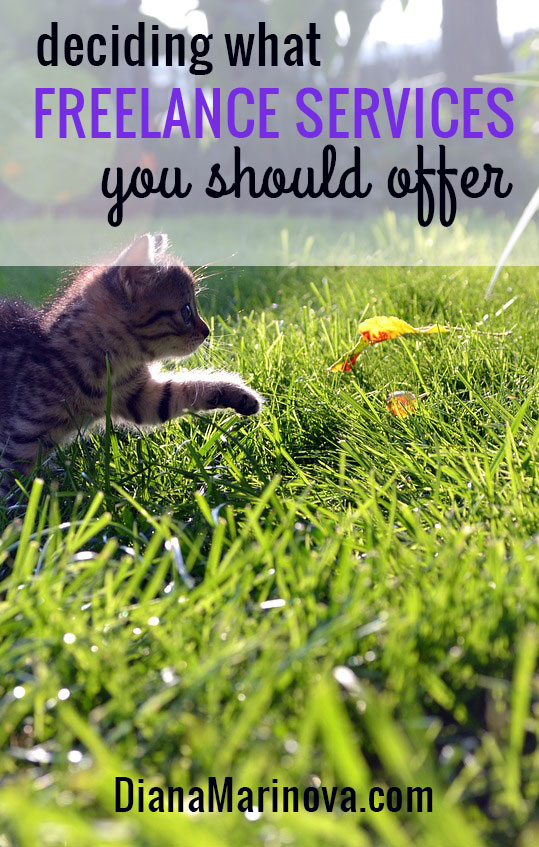 Many people come to me saying they don't have a 'freelance profession' or they don't know what freelance services to offer to clients. Often they are stuck at this early stage because they put too much pressure on themselves, thinking there's some kind of magic going on when working as a freelancer.
Let me tell you – whatever your profession is, what you do for a living and what services you offer wouldn't change much whether you are working as an employee or as a freelancer. The new angel of being a freelancer is that you will have to manage your practice. No boss will tell you what to do – you will have to wear all hats in the office – a marketer, an accountant, a customer service agent, everything that has to do with your business smooth operations. But this won't change the certain skills you use to offer professional services to clients.
If you are an experienced professional, then you won't have this issue. Whatever you were doing as an employee, you can keep your profession as a freelancer and offer the same array of services – be it designing, programming, writing, marketing, accounting, secretary type of work, or anything else.
Usually starting freelancers with no prior experience have the problem of figuring out their freelance profession.
Let's have a look how to decide what your freelance profession is and what freelance services to offer to clients.
Say you are just getting out of college. You studied something promising, mislead by peer pressure or parents' ambition, but now that you graduated, you realize you don't want to work your whole life what you don't like.
You like drawing. You love drawing actually. What can you do?
Well, use your artist skills and teach yourself to be a designer. There are plenty of courses and books available online today to help you choose and learn to use the most suitable program.
I'm not a designer so I couldn't tell you how to learn the craft of the designers' guild, but as a freelancer and a client for many years I can tell you that there is a high demand for good artists and they get paid top dollar for their drawing skills. Being a freelance designer is a great profession. Just be sure to specialize to get started on the right foot.
Offering marketing services as a freelancer is another great option you have.
Former marketing training or background would be helpful when it comes to choosing your niche and deciding what type of marketer you want to be, but you can certainly learn if you are committed to make it as a freelance marketer.  Let me give you a few ideas on how to do decide.
Let's say you are a fan of LinkedIn. You spend a significant portion of your time on that network. Your LinkedIn profile is very good. You frequently participate in LI group discussions and furthermore, people are always engaged with your discussions, updates and comments on LinkedIn. You may be a natural LI marketer – this is a great niche. Look into it and see how you can enter the freelance world as a LinkedIn expert – be it for networking, or lead generation, or brand awareness building, and whatnot.
Apply similar logic to find your passion and most suitable niche to start your freelance marketing career – email marketing, online reputation management, search engine optimization, writing marketing materials, training clients how to manage their social media profiles and pages, analysis and business development – the opportunities are endless. Just be sure to specialize in something that involves skills you possess and activities you enjoy. This is the least hard way to get started.
And if you enjoy writing, then it's even easier –
Not for some other reason but because there are so many blogs online helping you figure out how to succeed specifically as a freelance writer.
Pick the topic you are most passionate about and start there. Then decide what type of writer you want to be – copywriter, blogger, magazine articles writer, ebooks author, ghost-writer, book author, or something else. Combine the two (your favorite topic and preferred format) and you will have your freelance services outlined for you – e.g. freelance blogger on healthy living topics; article writer for medical magazines; marketing writer for B2B software service startups. The opportunities are endless. For specific writing advice, I invite you to check some of the blogs I follow.
And what if you don't have any specialty, you say?
No problem! Let's see what you like to do in your free time.
Do you like talking on the phone? Maybe you'd be a great at cold calling, or customer support.
Are you a kick-ass data miner? Use that – bloggers and companies often need virtual assistants with strong web research skills.
Do you like playing games? Look into game testing or Q&A testing. While there might be a need for further training, you probably have the attention to detail and gaming habits to do the job.
Here's an exercise to decide what the most suitable freelance profession for you is.
Take out a sheet of paper or open a new Word document.
Now write down all the things you enjoy doing. Don't focus on business while making the list – just unleash your creativity and write down what you like doing in your free time – one activity per line. E.g.
Drawing and doodling
Reading books
Browsing Facebook
Finding quotes on the web
Exploring new cities on a bicycle
Arranging your wardrobe by color
Whatever you can think of – no right or wrong here.
Now next to each activity, write down the corresponding skill you might make a living with. E.g.
Drawing and doodling – graphic design for children books and illustrations for blogs
Reading books – beta reader or writing book reviews
Browsing Facebook – social media marketer
Finding quotes on the web – virtual assistant, helping a blogger or a business create editorial calendar for their social media presence
Exploring new cities on a bicycle – travel writer specializing in bicycle tours
Arranging your wardrobe by color – virtual assistant or some kind of planner, for whom organizational skills, seeing patterns and applying logic are crucial
For some of these you might need some training in the actual profession, if you don't have any – e.g. design, writing, marketing – but nevertheless, a favorite activity that may seem useless can be translated into a lucrative skill you can use to make money as a freelancer. You just have to be creative and find it.
Now that you have your most enjoyable activities and the corresponding skills, open LinkedIn and conduct a search of that particular skill. Do you find fellow freelancers who possess the same skill? What is their freelance profession? What freelance services do they offer? Pick a few whose profiles you like the most and study their approach. You can use the same approach when building your freelance practice.
Now search for companies or private individuals who might need the skills you possess. Let's say you like doodling and you decide you want to work as a children book illustrator. Type "children books" in the LinkedIn search field.
A list of authors of children books will come up – those are potential clients or fellow freelance illustrators you can learn from.
A list of publishing companies may also come up – those are also potential clients.
And finally, a list of groups will come up – those are places where you can mingle with fellow freelancers to learn from and potential clients to reach out to, when you are ready to kick-start your freelance career as an illustrator for children books.
Apply the same logic for all the fun activities and skills you listed in the previous step.
If you want to use Upwork to get started with your freelance career, you can conduct the same search on the platform – to find freelancers to learn from and to see existing job posts in your field of expertise, to determine what the demand for your skills is.
Do this exercise and you'll be one step closer to your freelance success.
It is particularly useful to people who are not sure what freelance services they can offer, but also – to people who do know what their freelance profession is but are trying to narrow down a niche.