This post comes as a result of a reader's inquiry I recently got via email. I will show you how I use Mailchimp to auto-send a free ebook to my new newsletter subscribers. I take 6 easy steps – and the 7th is optional.
Step 1: Log in to your Mailchimp Account
If you don't have an account there, you can create one for free here.

Step 2: Choose "Lists" from your left navigation
"Lists" is located right between Campaigns and Reports, as seen on the screen below:
Once you click it, you will be lead to a screen where all of your lists will be displayed.
Step 3: Choose a list
Choose the list to which you want to auto-send a free ebook when new subscribers are added to it. Once you do that, details of that specific list will be revealed – including a new navigation on top.
Step 4: Choose Sign-up forms from your top navigation

After you do that, the screen will change – you will have to choose a type of form.
Step 5: Choose the type of form you are using
To be honest, I am not sure what the difference is or how your choice here impacts the process. I don't quite like the WordPress plugin for integration with Mailchimp – so I am not using it.
Instead, I am adding new subscribers through a general sign-up form. So if you do the same, you should choose "General Form" here – as shown on the screen below.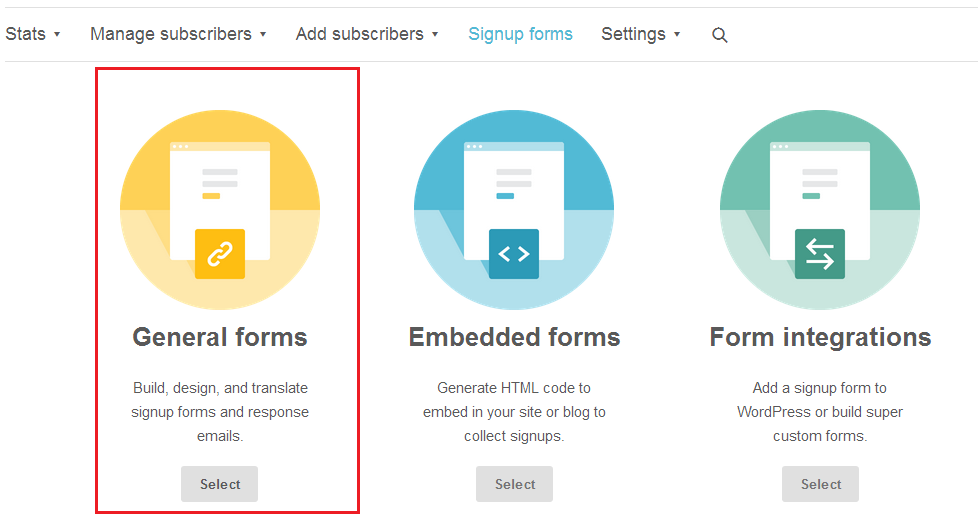 Once you do that, you will be lead to the screen with all the details of the general sign-up form associated with your chosen list – see screen below: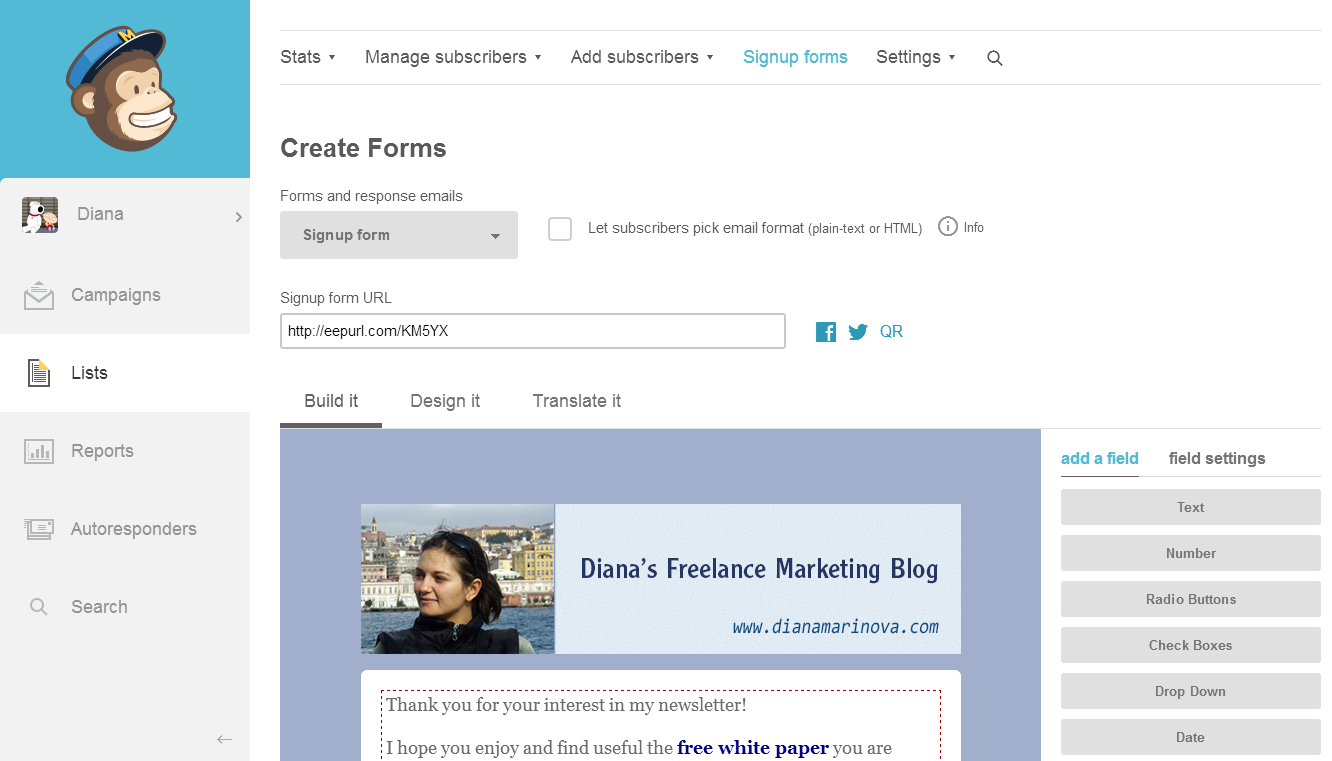 Do you see the default "sign-up" option box with an arrow in the "Create Forms" section? That's where you choose what to customize and how…
Step 6: Customize the confirmation email you send out – include your ebook in it!
It is a common practice to ask for email verification when someone subscribes to a newsletter. So once the email address is verified, I recommend you send out one final welcome email and insert a link to your ebook there. To do that, you need to do 2 simple things.
First, find the Final "welcome" email screen from the drop-down menu available under "Create Forms" section.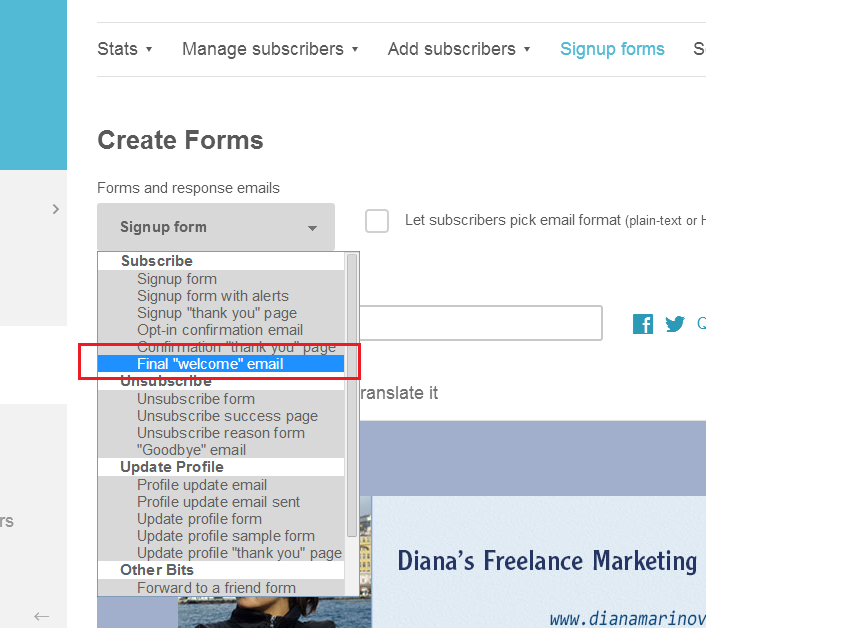 Remember, the default view is "sgn-up form" – that is what you should see once you finish successfully step 5. Once you click the Final Welcome Email from the drop down, you will be lead to the screen where you can customize that final welcome email – as seen on the screen below: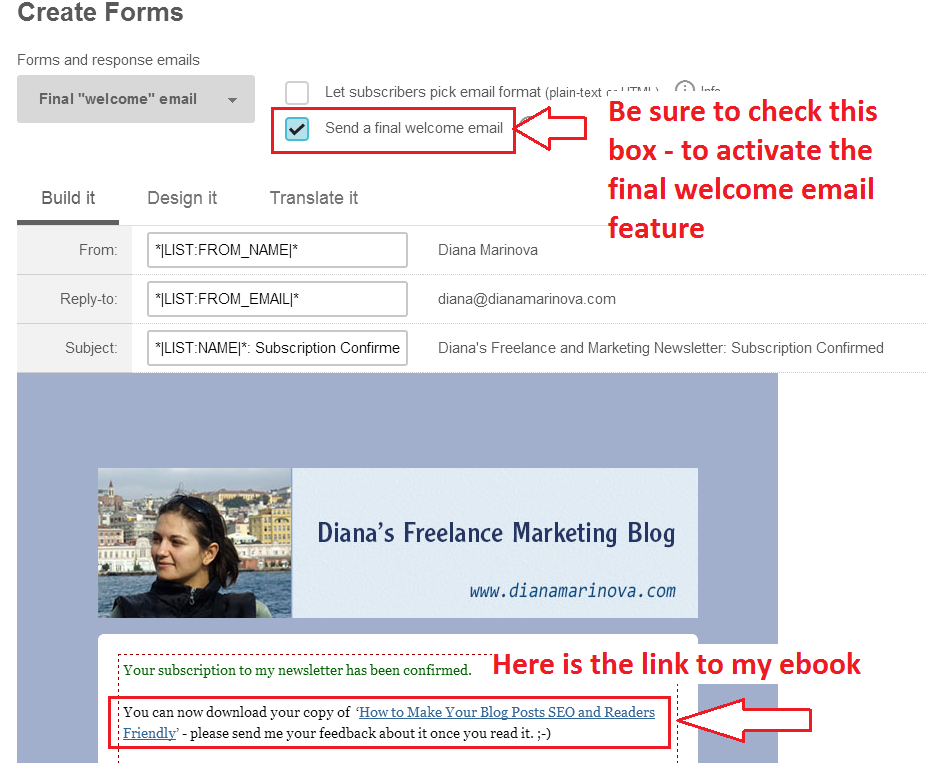 Remember to check in the box to activate this final welcome email feature.
In the copy of the email itself, you can add whatever text you like – that is where I have inserted the link to my ebook.
Remember that you need to have uploaded your book to your website and to have a URL where the ebook can be accessed.
Step 7: Customize your "Thank you" page – optional
I say this is optional because with or without a thank-you page, you will be able to auto send your ebook to your new newsletter subscribers, if you follow steps 1 through 6 of this how-to-like post 😀
However, If you are up for the challenge, you can create a thank you page to improve your readers experience – and in case they don't read final welcome emails 😀
To do this, choose "Confirmation Thank You Page" from the very same drop-down menu: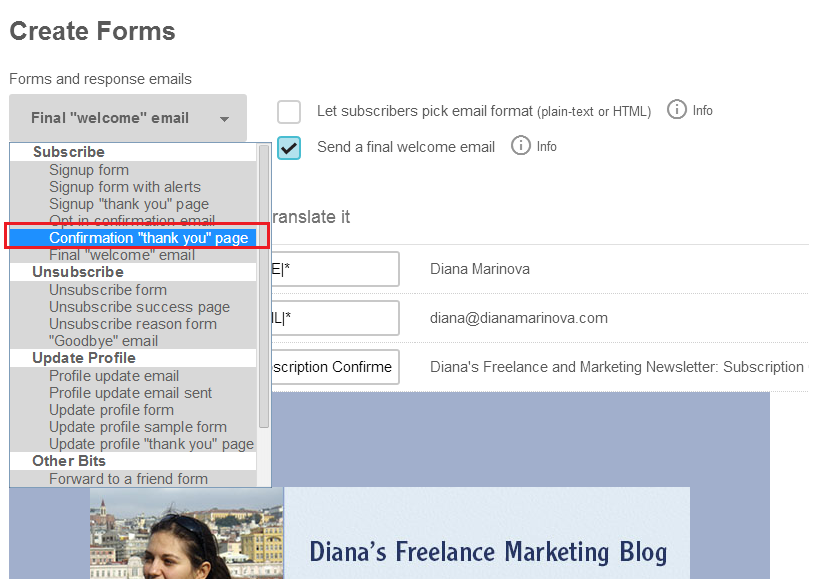 You will be lead to the screen with the details of your thank-you page. It's petty standard and you don't have a lot of customization options here.
However, the guys from MailChimp have been kind enough to give us the option to insert a custom link. This way, once the new subscriber confirms their email, they will be redirected to your custom thank-you page and not to the default one on Mailchimp.
To do that, just insert the url of your page in the corresponding field as shown on the screen below: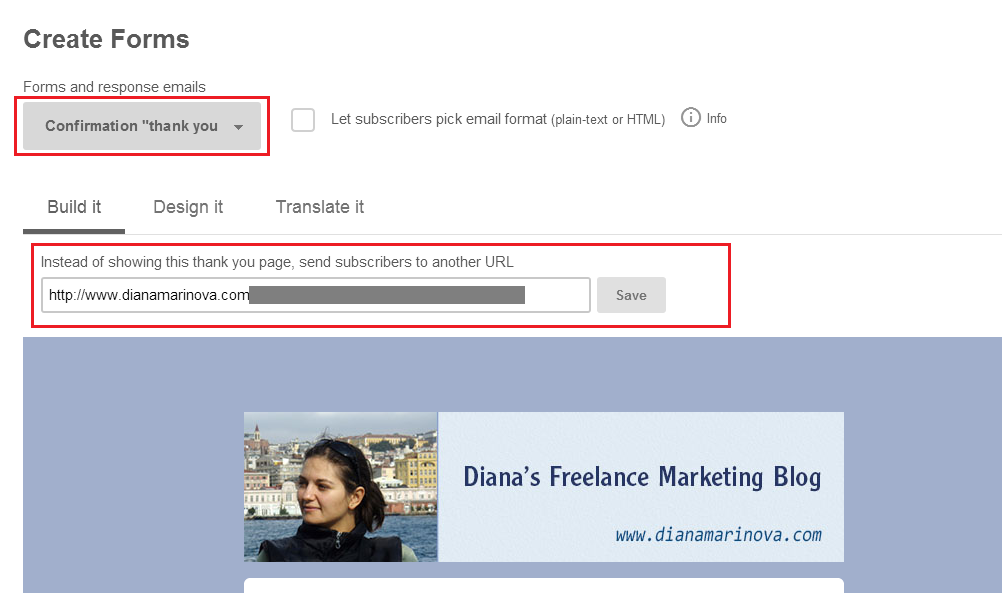 (Right, i have hidden the url of my thank you page so that people don;t just go there and download my ebook without subscribing or tweeting about it – yes, i am selfish that way! :D)
And that's it!
Well, subscribe only if you want to get my free ebook about making your blog posts user- and search engine friendly AND if you want to see how I auto-send my free ebook upon subscription – once in the final welcome email and secondly, in the beginning of my thank-you page 😉
Tell me in the comments – was this guide useful? Do you want more such guides and of what?