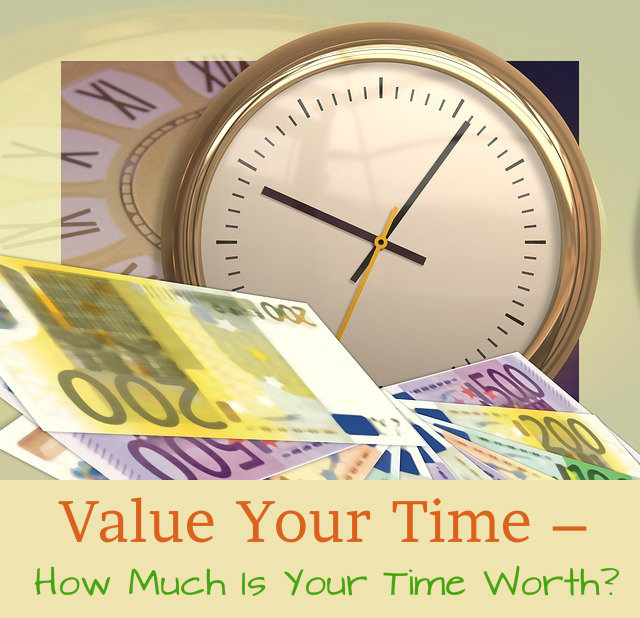 Sooner or later, everyone realizes time is our most important asset, it is limited and we have to appreciate it and use it as much as we can. If you lose money – you will earn it back or simply make some more. If you waste your time though, you will never ever be able to make up for the time you lost. So today I'd like to share some thoughts – to help you better value your time.
First, let me put something out of the way – this is not about a calculator of some kind.
I was amazed to see how many people are asking Google about calculators to help them put a number on their time value. Really? Do we seriously think that a calculator online will help us really evaluate how much money is our time worth?
Let me spare you some time – it's priceless. And only you can decide what the best way to spend your time is, regardless of what some calculator tells you.
Sure, the logic "if my hour is worth $20 and I can hire a house keeper for $10 per hour" has some merit – maybe it's better to hire that house keeper instead of wasting my time in cleaning my house. However, a calculator could never make this decision for you – maybe you like cleaning your house? Maybe it helps you relax? Or maybe while cleaning your house you come up with the craziest business ideas which then bring you money? Is it then reasonable to outsource the house cleaning to someone whose hourly wage is lower than your hour value?
So, today I'll share my insights about how to value your time.
Your time is priceless, period. No matter what a "what's my time worth" calculator tells you – you cannot put a price tag on your time. And as soon as you learn to value it, it'll be easy to decide when to do something yourself and when to outsource it. What's more important – you will be aware of how limited your time is and with time, you'll learn how to spend it wisely.
Let me give you an example. I think it's illegal in North America to fix your car in your driveway or garage. I don't know if there's a similar law in Europe but I know a lot of people who like rolling up their sleeves and keeping themselves busy under the hood. They spend hours of their valuable time trying to fix something which may take just an hour to fix if you gave the job to a professional mechanic whose job is fixing cars.
So, is it worth your time to fix your car? Let's see…
If it were my car, it would be a total waste of my time. I hardly know what's under my hood, let alone – how it works or how to fix it. I would have to spend hours, maybe even days reading about car structure and operations model, then looking around and feeling scared if I will get knocked off by the engine because I have approached it the wrong way and forgotten there's electricity in the battery.
On the other hand, I have friends who'd give an arm to spend some time in their garage fixing something which may not even be broken. They live and breathe fixing cars as a hobby. They enjoy the time spent buried in car parts and figuring out how things work.
Rolling up their sleeves and looking under the hood is their way of relaxing. Who's to say it's not worth their time?
Valuing your time is not about putting a price tag to it.
When you have a problem to solve or need help, don't try to do it on your own – find a professional whose job is to fix such problems and provide clients with such help. If it's your hobby – then it's fine to do it on your own, but it has nothing to do with how much your time is worth.
Everybody likes free stuff, right? Free blogging platform, free theme, free sandwich, free pack of something (if you buy 2, the second one is free!) – but is it really free?
As a marketer, I can tell you right away – everything is calculated in the price! If you struck a deal for a free something in the store, you can be sure you are paying for it in some other way… if you are a blogger who likes free blogging tools, again – you are paying for all free stuff with your time or forgone benefits.
Alright, you are tweaking your free theme instead of paying someone to do it – but have you thought of the foregone profits of your time? If you were not tweaking your free theme, you may have been doing whatever-you-do-for-a-living and you would have made money to pay a professional do the tweaking for you, and quicker, too!
If you spend your time doing things you love doing, then how much your time is worth is an irrelevant question. Your thoughts on the topic?