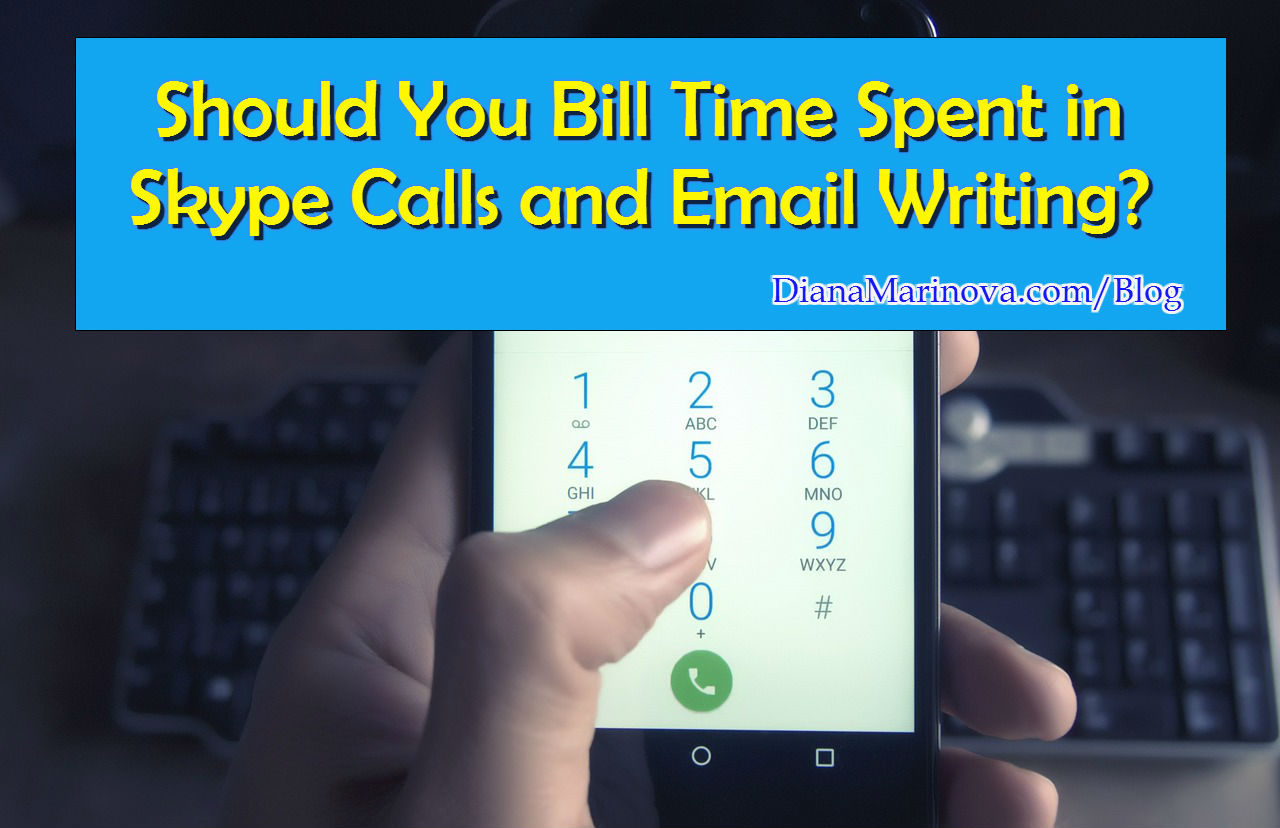 A reader once asked me if she should bill the time she spends talking via Skype and writing emails to clients. Here's part of her email:
"Should I bill time for Skype calls and writing emails to my clients when hired on an hourly basis? I have a project with only 8 hours monthly workload but this client holds me on Skype twice per month for at least 1 hour per session. Should I bill her for it?
The same question applies to email writing – should I bill her for that, too? I don't charge for it but I want to know what the best practice is in such cases so that I take it in consideration when negotiating future projects with prospective clients."
I would recommend billing the time you spend talking to clients on Skype.
In the above case, the freelancer has Skype meetings twice per month, during which they discuss work related matters. Not to charge for those calls is as if going to a work meeting at the office but only after working hours.
When discussing details on Skype with your client or team members is part of your job, it is only fair if the client pays for it. Here are a few examples from different professions when Skype calls should be billable time:
A regular meeting to discuss blog editorial calendar
Briefing type of meeting when you discuss the progress of the project or set new goals
A real-time training session when the freelancer shows the client or teaches them how to do something; explains why the company should do something; and alike.
A marketing consultant does a website review and gives recommendations in real-time
A designer is taking notes and/or making changes on existing design in real time
A programmer fixes bugs in real time
Q&A testers test something in a real-time call
A virtual assistant who is on a call between their client and a partner; the VA task is just to take notes for the record of the call, and so on.
In all these cases, freelancers should bill time to their clients for the time spent in Skype calls.
I cannot think of a situation when it's not right to charge your client for talking with them on Skype. If you have such examples, please share them in the comments 😀
A very important note though – you need to communicate in advance your intention to charge your client for Skype calls.
If you know that talking with your client on Skype will be part of your regular work, agree on the billing before you enter the contract.
If the need to have regular calls arises after you started working on the project, communicate that need before you agree to have regular calls.
If for some reason you find yourself in the situation of having regular calls but not billing time for them, keep it as is. If you suddenly start charging your client for Skype calls, they might perceive it as extorting money for something they shouldn't be paying you for.
If the time spent in calls increases (e.g. from 2 hours on a monthly basis the client starts asking for two calls per week), then you should start negotiations for getting paid for the time spent on Skype.
I have never had a client who refuses to pay for time spent in Skype calls.
If you work on an hourly basis, it's easy – just log the time you spent on the call with your clients. But if you work on fixed price jobs, make sure you estimate the time you'd spent on Skype with your client and calculate it in the price quote prior to entering a contract with them.
With time and practice, you'll become better at this type of estimation but if you are new to this type of calculations, here are a few examples relating to different professions:
If you are a writer and it is part of the workflow to discuss your first draft of every article or blog post, make sure you get paid for the extra 30 or 60 minutes you'd spent on Skype discussing your work.
If you are a designer and it is part of your contract to do a round of changes following your marketing manager lead, then make sure you are covered for an hour or two to talk with them in on Skype about website structure, elements rearrangement for better conversion ratio, tweaking font types and sizes for consistency and so on.
If your new project requires of you to fit in an existing virtual team, chances are you'll have to attend a few meetings to get acquainted with the team, to be briefed on the various programs they use for project management and coordination, if there is any workflow and work processes in place. Make sure you know how much time that would take, is it a one-time engagement or you should attend regular meetings and if so, how often. Include those costs in your price quote.
Value your time; only then your clients will value it, too.
Refresh your memory about my freelance pricing guide and how to value your time:
In most cases, I would recommend you bill time for email writing, too.
Sometimes clients cannot meet you on Skype or they simply prefer communicating with you exclusively via email. In that case, it is something normal to exchange work related questions and answers in written. You want to bill time for that, especially if it takes hours to write a single email.
Yes, hours! And no, not because I type with 2 fingers 😉 Let me give you an example.
I have a client who has a subscription based website. This client once sent me an email asking my opinion how to change the fee schedule for different membership levels. She also included 10 more follow-up questions to help me out when deciding what my recommendation would be.
If I were in the company for 5 years and I was familiar with the subscription platform, members history, their behavior on the website and offline, what are the most common reasons for a member to sign-up or cancel their subscription, and so on, I would probably be able to write my email in about 15 minutes with 2-3 pages with recommendations. If I were in the company for 5 years and couldn't do that, then I was not doing my job right.
However, if I were in the company for merely 5 months, I may know the platform but I wouldn't know all the details about members' behavior online and offline. I would have to research it. Replying to that email would take me hours because it would require of me a lot of research and analysis. If the client asks follow-up questions on my recommendations then one email turns into a series of emails.
In both cases, writing emails to the client is part of my job. It requires thinking and certain skills, for which the client pays me. For this reason, I strongly recommend you bill time for email writing to your clients.
I can think of one scenario when you should not bill time for emails.
If the actual email writing is not part of your job, then don't bill time for it.
Let's say you are hired to gather 100 email addresses following certain criteria. Emailing your client the final document with the emails and explaining you did your job is not part of your job. If you type slowly or your internet connection is not good, it could take ages to write and send the email. This is time for which the client should not pay you as you were not hired for typing an email and sending it slowly to them.
If you can think of other examples when not to charge your client for the time spent in email writing, please share in the comments.
Do you bill time you spend talking with clients on Skype or writing them emails? Why or why not?