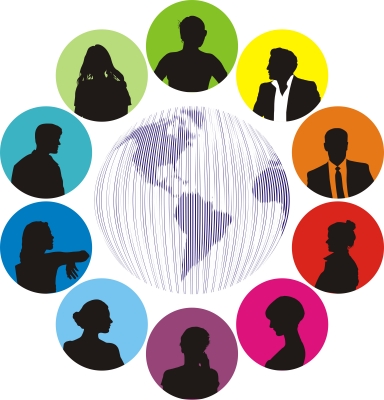 One of the most common "excuses" I hear not to be a freelancer is the lack of colleagues at the work place. Truth is though, when working online, you can work alone – or as part of a virtual team. Sometimes, you have to speak for hours with other team members. So virtual or not, a team is a team and as a team player, you need to play according to its rules. Here are a few pointers how to fit in a virtual freelance team.
Get acquainted with the work process and existing procedures
If you are a new member of an existing virtual team and you are not hired to be a project manager or some other type of manager, chances are that team already has its structure, work model and communication flow. You will need to find your place in it and fit in.
Find out who is responsible for what, how and in what format you should present your status reports, what the quality requirements are. These and other details are probably well established so you need to get acquainted with the team work procedures and go with the work flow.
Remember to read through all available user manuals for various platforms which are used in the every day work (e.g. project management tools, software programs for screen sharing, document sharing and storage, etc.)
Keep your deadlines for the sake of your freelance team success
When you are working in a virtual team, your work doesn't stand alone – it is part of a bigger picture. For example:
programmers await the approved design so they can integrate backend and front-end
marketing awaits the website to be ready so that they start attracting people to it
sales awaits marketing to start generating leads so they turn them into sales
management awaits the sales so they can analyze results and do some prognosis and budgeting for the next period, and so on.
Internal relations between departments and people exist on daily work level, although not everyone knows the entire structure of the company and the communication flow. For that reason, it is super important for every freelancer who is part of a virtual team to keep their deadlines.
Communicate effectively and well
We have already discussed some tips to effective communication with freelance clients. Here we will focus on the communication skills needed to get along with fellow freelancers who are part of your virtual team.
Help your fellow freelance team members when they don't understand what you want from them. Ask them questions if you are the one who doesn't understand something.
Be honest – always!
If you have a problem or some kind of issue, speak up and discuss it. Most probably the situation will get worse if you just wait and hope for the best.
If you have made a mistake, share it with your team members so you can fix it together in the best possible way (best being fastest, safest, cheapest, least damaging for the company, or anything else)
Never withhold information. For instance, if you cannot keep your deadline for some reason, tell your team members or supervisor immediately so they can re-organize their work schedule and compensate for your delay. Check out another post in this regards – with some tips to better collaboration when taking up new clients.
Be flexible – for the sake of the virtual team overall success
If a member of the management team or a fellow freelancer in the virtual team asks for a meeting with you to finalize some details – do everything in your powers to accommodate the meeting request as soon as possible. If someone needs a last-minute change – again, act as quickly as possible; time is of the essence when it comes to deadlines and last minute edits.
If a colleague asks you to cover for them or help them – do it; there will be a day when you will be the one asking for a favor.
Be honest and forth-coming, always.
When you are asked a question to which you don't know the answer – don't speak fluff. Say you will check and will get back to them with the answer.
Do not take up more work than you can do on time. If you do, word will get out you don't keep deadlines and in the end, both your reputation and the project will suffer due to overall delay.
Ask for help when you need it. Ask questions if something is not clear.
Be patient but firm
If you work too much without making sure others appreciate you for your efforts, you risk being taken advantage of. There are many people who are good at doing nothing and then – taking the credit for all your hard work. Don't let that happen to you.
For instance, it's ok to help a fellow freelancer format a blog post the first time they are doing that in their life. However, it is not ok for you to format the blog post for them only because they are too lazy to learn.
Help others. Be patient. Be firm. Simple rules of virtual team work.
When you refuse something – be firm. When you request something – be firm as well. Never raise your voice or lose your temper when somebody prevents you from doing your job.
Address the problem professionally – with understanding and patience. Try to find a solution together and not despite the colleague who has not done their part of the job.
If needed, ask for assistance your supervisor but never take matters personally. Don't turn work related obstacles in personal vendetta. This would only worsen the team work and feelings and in no way will help you resolve the situation.
And what tip for internal communication in a virtual team you'd add to the mix?