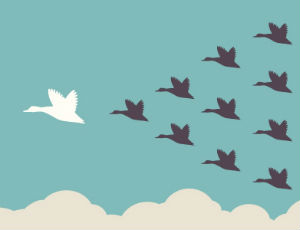 Last week I published some don'ts when it comes to gaining followers on twitter. So this week, as promised, I will share some not so popular dos about building a following on twitter "the right way" – if there is such thing at all! 😉
First, set your twitter goals
Twitter can be a very crowded and noisy place. There are a lot of knowledgeable people out there who have been more or less successful on this channel. There are even more people who are constantly telling you what to do to succeed 😀
I urge you to stop for a minute. Don't do everything and anything people tell you – at least not because they say it's working. Your most important task now is to answer the question "What do you want to achieve?"
Take a pen and paper – or open a word doc, your evernote, a notepad, whatever you are using for notes taking. And list honestly the reasons why are you on twitter. (I sure hope it's not because everyone is there and because you have heard it's working…)
Do you want to drive traffic to your website?
Do you want to promote your new product?
Do you want to generate leads?
Do you want to build brand awareness?
Do you want to use twitter as customer service channel?
What do you want to achieve being on twitter?
Whatever the goals – the people you network with would be different. Yet the principles remain. Read on.
What I will not talk about in this post about gaining followers on Twitter
I won't tell you how to optimize your profile, or how to use hashtags, or lists, or search functionality, or automating some of your tweets to cover different time zones, or automating some of your twitter activities altogether for better time management, or adding your twitter handle to your business cars, and so on.
Those are blogged about very much and besides, I think many people don't understand the fundamental principle of WHY we should follow someone… so that is what I will talk about today 😀
Building a following on Twitter is all about relevancy and networking
Why would we follow someone? I follow only people whose tweets I would read, click through, retweet, favorite, and recommend to my following. Why I would follow someone whose content I wouldn't want to read or recommend?
Remember last week I said I am not a fan of the tactic of following people hoping that they would follow you back – that's the most common understanding among twitter users, I think – and I dislike it very much because it is not in accordance with the fundamental principle of using Twitter for business.
Relevancy is key. You want to follow relevant twitter users – and you want only relevant people to follow you (people who might be interested in what you have to offer). Who follows you and whom you follow might not be the same people; actually – they shouldn't be, if you are using twitter the right way.
You need to network to gain followers on Twitter the right way.
Every single person I follow, I have read their bio, I have visited their website, I have read their content, more importantly – I have liked their content enough to click the follow button and/or add them to one of my lists so I stay posted about what they have to say.
The fact that I follow someone or add someone to one of my lists means that person creates and shares high quality content with practical tips about freelance and/or marketing and doesn't waste time with fluff speak or boring write-ups (and some friends, of course, who don't do neither but are still friends ;-))
As I said, Twitter can be a very noisy place – and exactly for that reason I think it is not good for a small business to rely on the I-will-follow-you-you-follow-me-back tactic.
The number of your Twitter followers does matter for your reach – but that's about it.
There is absolutely no use of your 50K followers if they have no idea who you are or what you do. There is no use of big numbers of followers if they would never ever retweet your tweet, or favorite it, or click through to read you content or call you.
If you build your following based on the follow backs you get, chances are your followers are not interested. They followed you out of courtesy – because you followed them. This doesn't make them interested – neither does it make them good followers. That makes them numbers.
I have seen it before – twitter accounts with hundreds of thousands of followers who don't get much traffic from twitter for one reason and one reason only – their followers are not targeted. They do not trust you as a small business. They do not know you as a small business. They do not care about you.
And indifference is the hardest nut to crack (better hate me – it would be easier to make you love me than if you were indifferent to me ;-))
You need brand advocates – and you can easily find and keep them on Twitter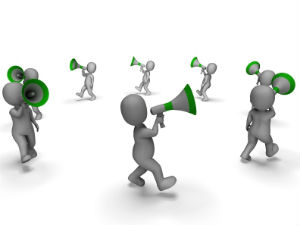 You cannot turn random big numbers into brand advocates. And let's face it – what's more important for your business than brand advocates? (If you are not familiar with the term, check out Wikipedia page of brand ambassadors – there is a paragraph about brand advocates, too.)
In a nutshell – those are the people who will sell your products and services for you without you even paying them – just because they are happy with your brand experience, products and services.
Nurturing these happy clients and turning them into brand advocates can start right here – on Twitter. So are you chasing numbers? Or are you looking for brand advocates…
"The right way" of building Twitter following also calls for engagement
If you have a lot of followers but all you do is tweet to them links to articles and products, chances are – you won't be a very successful on Twitter (in the context of marketing for small business needs, of course).
You need to network on a personal level with your twitter followers. Reply to mentions. Monitor brand mentions and questions and jump in the conversation with an answer. When retweeting – customize the message. Always give credit to your sources.
In other words – always bring the conversation to the next level. And when it is too much for you to do it on your own, hire someone to do it for you.
Building your following on Twitter the right way certainly pays off and improves your small business bottom line 😉
How quickly (or not) you build your Twitter following is irrelevant.
The more time you have – the quicker it will be. Ultimately – quality and the relationship you build with your followers is what matters.
You should be the go-to person for certain matters and topics. You can't achieve that with auto following or bulk message sending.
Remember, to establish yourself as that go-to person I mentioned, you need to make your stream interesting and informative, not just constantly talking about yourself. So be sure to share also industry news, statistics, research data, tips, and whatever else you like and find.
You cannot know everything. People know that. And when you share other people's content, 2 things happen: 1) you reach out to other small businesses and authors (whose content you share) and 2) people start trusting you because they see you are all about giving them what they want, not what you have.
Last bit of advice on building your Twitter following – share useful content and be genuine
Yes, you read it right – useful, not interesting. Well, interesting, too – but useful is way more important!
Have you noticed how many people just tweet mediocre articles about things which many other people talk about in the pretty much same way?
With the internet and all, we have access to literally all type of information. And yet, I am often finding myself asking Google a very simple question and in return, getting hundreds of results talking around that question but not really addressing it in a clear comprehensive way.
Give your followers that – the easy to read, to understand and to follow useful hands-on tips and advice. They would love you for that!
Ah, and be genuine – because your followers are not stupid. Networking is all about who you are and how people can benefit from networking with you – on twitter or elsewhere. Be caught in a lie and you are doomed. Pretend to be someone you are not – and you will lose your followers' trust never to regain it.
Gaining Twitter followers the right way – share useful content and be genuine!
So, what do you think – is there such thing as gaining followers on Twitter "the right way"?