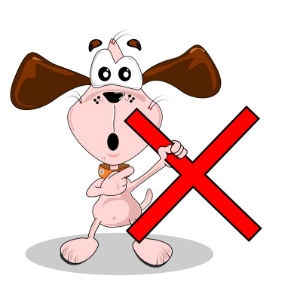 So many posts out there how to gain followers on Twitter that people don't really pay attention to the tactics they use for building their Twitter following which are bad practice. So let me shed some light on that! Check out my top 5 tactics which people use to gaining Twitter followers but shouldn't.
Don't follow people hoping they will follow back
This is maybe the most common practice many small business owners and social media marketers use. But it is not a good idea to follow someone hoping they will follow back – let me give you an example why not.
Let's say you are a small business owner who produces leather bags. You will follow some of your competitors, I presume, maybe some fashion magazines, leather distributors and some other type of industry Twitter feeds. You will also follow some blogs (like this one) that gives you tips how to improve your marketing with minim budget, right? Ok – but does this mean I have to follow you back?
I don't like leather bags, I know nothing about them – and I don't want to know anything about them. So I most probably won't follow you back. (Spoiler alert: next week we will speak about the basic principles of whom to follow when and why).
However, this doesn't mean you should unfollow me only because I have not followed you back. I am of interest for you, I give you practical marketing tips – so you follow me and I help you with the content I share. You are not of interest to me with your leather bags and the related topics you tweet about – so I won't follow you back. And that is ok. I wills till reply to your questions and tweets 😉
So if you follow people hoping they will follow you back, you might potentially miss great twitter feeds which can help you.
And vise verse – you might follow all the wrong person and attract all the wrong followers who don't really care who you are and what you have to offer to them.
Don't use some tool for automatic following or auto follow back
We cleared why the follow-me-I-will-follow-you-back concept isn't a good practice. But that also includes the automatic follow back feature which many social media tools offer. The reasons why I say not to do that are pretty much the same.
When auto following back people on Twitter, you don't have the control over the quality of your Twitter friends. And even if the tool for auto following is based on keywords or hashtag used, it still isn't a good practice.
Here's the difference. I use #freelance in some of my tweets. But so do hundreds of other people. The fact that someone uses #freelance in their tweets doesn't make them a good source for freelance related news or articles, does it?! If you read my tweets and content though, you will know I am a credible source of freelance tips (along with tens of other people, I suppose). So don't follow those hundreds of people who use the hashtag, follow those tens of people who use the hashtag and share useful freelance tips content. See the difference?
Don't trust automatic SMM tools to choose whom you follow on Twitter.
Don't beg people to follow you; nor offer to follow them back in return.
I don't know about you but I often get desperate direct messages or tweets or even emails begging me to follow them on Twitter.
If you come crying to me how hard you are trying to build your Twitter following and how you need new followers fast, sending a message like "please, pretty please, follow me on Twitter and I will follow back" won't cut it. You will put off more people than gaining new followers, I promise you that. To gain new followers on Twitter, you will have to actually spend some time there – so please, pretty please,
Stop begging people to follow you on Twitter – try networking with them instead 😉
Don't buy twitter followers
This includes not paying ridiculously low wage to people from low socio-economic countries for thousands of followers for a week – they won't be good followers. They won't be real either.
Twitter isn't a numbers game. Sure, having 1000 followers does look better on your profile than having 100 followers. But in the long run – does this really matter? If you are aiming at many followers cheap and fast, you are on the wrong track. Better aim at targeted followers.
What use would those 1000 followers be if they have no idea who you are or what you offer? How the increase in Twitter followers would matter if it doesn't convert into increase in traffic to your website, generated leads, brand awareness or whatever else goal you had in mind when you started the campaign for increasing your followers?
Quality is more important than quantity, especially if you are using Twitter for business.
Don't tweet constantly – more tweets doesn't necessarily mean more followers
I know tens even maybe hundreds of tweets are published every second but this doesn't mean half of them should come from your handle, right? If you tweet constantly, chances are – you are stuffing other people's tweet feeds. So the chances of others unfollowing you increase.
While it's true that you need to spend more time on Twitter to gain more followers, it doesn't guarantees that tweeting a lot will bring you these new followers you are aiming at. Sometimes it can even harm you.
Imagine if your profile says you have sent over 5,000 tweets and you have only 500 followers. How do you think others will perceive your account? Nobody would follow you, ever (except maybe spammers). If the numbers are the opposite – 500 tweets and 5K followers – now that's something. Your twitter feed gotta be very interesting to many people 😉
In my experience, 5 prescheduled tweets in different time of the day plus all the manual interactions you would do on daily basis is a good balance for you to tweet.
Tell me in the comments – what tactics to gain followers on Twitter annoy you?
By the way, now that you know what not to do to gain twitter followers, rest assured I will soon blog about gaining them the right way 😉