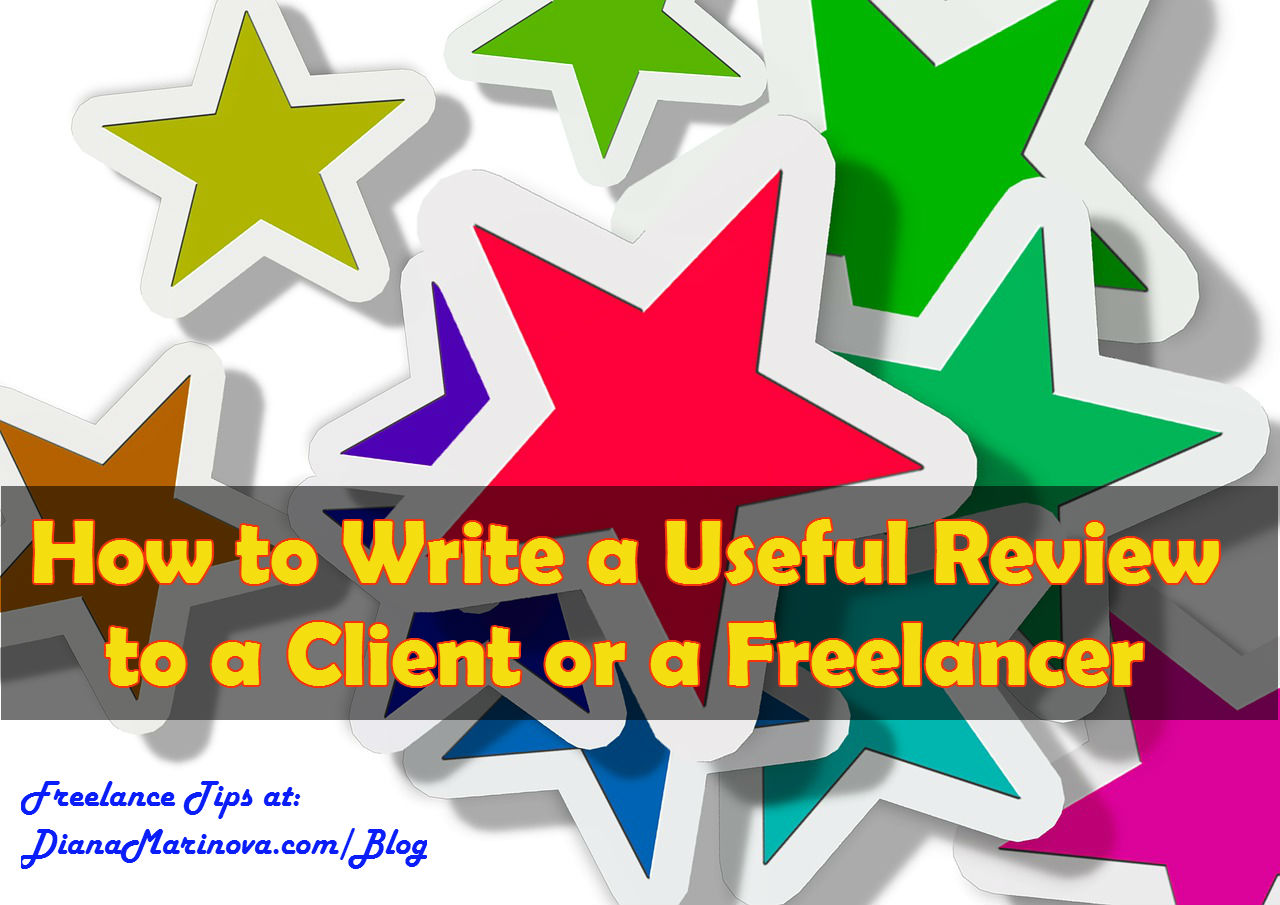 Don't you hate it when you see a client review just saying "job well done"; or a freelancer review saying only "good client, recommended"?  Such reviews are pretty useless to me – they raise more questions and doubts than bringing me peace of mind that I am making the right choice working with the said client or freelancer.
What was the job that was done so well? What does "well done" mean – without corrections? On time? Ahead of time? Above and beyond expectations? For less money than anticipated? All of the above? Something else?
Why was the client so good to work with – good communication skills? Paying on time? Paying bonuses? Not asking questions? No edit requests? Prompt feedback? All of the above? Something else?
Provided reviews are aimed at helping future contacts to make an informed decision whether to work with the party being reviewed, the very least the feedback should outline some job details and aspects of the collaboration.
Here are a few tips how to write a review, to clients and freelancers alike, that would be useful to the reader
Mention the length of the project
Some clients and freelancers are great partners for quick jobs but are a nightmare to work with on long-term contracts when a lot of communication is required. The reasons may be different – poor communication skills, delayed or lack of feedback, unclear direction or edit requests, etc.
Say if you have worked with the other side once or multiple times
Similarly to the length-of-project situation, your review can mean different things, depending on how frequently you work with the specific client or freelancer.
If a client and a freelancer have worked very well during their only project, that's promising.
If a client and a freelancer have worked very well together on 10 projects and each time the other party is super happy with the outcome, this probably means they are a good partner indeed.
Give a few details about the type of work you did together
Let me give you an example when the same person can be a good or a bad partner in the context of type of work involved.
Let's say we have a client who is a skilled marketer, with great communication skills but very poor technical skills and doesn't really understand why it takes months of development to build some kind of a software program from the ground up.
So, being the skill marketer this client is, he would give excellent directions to the freelance marketers he hires. He would know exactly how much time certain task takes so he would put realistic deadlines and will have realistic expectations. The freelance marketers would leave him excellent reviews to reflect the experience.
On the other hand, the same client would be a nightmare to work with, if you are a programmer, trying to explain why you cannot launch their new mobile site tomorrow morning, even if he starts your contract right away.
Unless the freelancers give details about the type of work they did for this client, his future contacts would see conflicting reviews and wouldn't know whom to believe and why.
Share the aspects of your collaboration that you liked
I know this is subjective but remember that your review is in the context of everybody else's reviews. If enough people recommend the client or the freelancer for his or her outstanding communication skills, then that person most probably does possess outstanding communication skills.
Describe briefly what you liked about working with this person – replies to emails very quickly? Knows what they want? Expert in their field? Gives clear directions? Handles feedback very well? Always available for questions? Gives prompt feedback? Works well with the rest of the team?
Don't forget to mention what you did not like about working with the other party
Let me give you an example. Let's say you have a client who has excellent communication skills but because of his very busy schedule, he replies to emails only once per day. This means that if you send him an email, he would most probably reply the next day.
This is not necessarily a bad thing. If he addresses emails the same time every day, you'd know to send your questions or work before that time of day. However, it is something that does matter for your smooth collaboration. It is not something you often see in other clients; thus, it's nice to be included in the review for future freelancers to be aware of when considering the client for a project.
Here are a few examples of useless and useful freelancer reviews
All of the reviews are real-life examples; you can see them on my oDesk profile 😉
Highly recommended!
Thanks Diana! Great articles! In 2 minutes you'll have your new job!
Thank you. Very Good.
excellent work as always. very creative and effective.
Diana is an excellent provider. I can highly recommend her service
Simply put: Diana is absolutely one of the best writers I know. Without a doubt. She not only writes, she does research, spends time in understanding and editing where needed.. Just hire her and you'll agree!
Diana is a super contractor. Very professional with great communication. Her management skills are astounding, she always went above and beyond the task, always encouraging and pushing the team to work hard and stick to deadlines.
Extraordinary professional! It has been an honor to work with some-one of her calibre. She is deliberate with her marketing tactics and implements with great attention to every detail. For me, one of her most important skill sets is her ability to self manage and keep our projects  moving forward no matter my availability or the lack thereof. No worries once you have agreed on a gameplan and a course of action. Additionally, Diana puts her heart and soul into her work. She gives you everything she's got when she gets into a project. I am humbled to have worked with some-one of such high integrity and so committed to our mutual success. A truly great business partner.
Diana was easy to work & communicate with.  She brought some good ideas to the project.  Would hire her again.
Thanks Diana! Perfect writing, very cooperative and good expertise on the subject in a nice writing style. Next job on already on its way!
Here are a few examples of useless and useful client reviews
Again, all of these are real-life examples.
Brilliant client! Highly recommend!
Thank you for the opportunity and trust for giving me this project.
It was fun and interesting working with you [name] and hope I can work with you again in the near future.
Thanks for this opportunity.
[Name] is a great client to work with. She is very helpful and approachable and is always available to answer any questions. I would highly recommend working with her!
This project evolved in a lot more than just Email Auto Responders as per original job post. It was a real pleasure working with this business the last couple of years. The business concept and the products are great! Although at times slow on communication due to heavy workload and busy schedule, [name] is one of the best clients I have worked with – flexible, knowledgeable, open to suggestions, always ready to explore new ideas. Highly recommended client!
This was my second contract with [name]. First one was pretty straight-forward and the second one was ongoing. Mentioning this only because of the communication. If hired for one-time task, [name] is excellent with communication – knows what he wants, very flexible, appreciates the freelancer's expertise, open for suggestions and development, very smart guy. For long-term contract though, he tends to disappear from time to time, long periods without feedback or any communication whatsoever – it may be frustrating if you are not used to such kind of working relationship 🙂 Either way, I strongly recommend him as a client – it was a pleasure working with him!
As you can see, the above tips for writing a review can go a long way to leaving useful feedback to both your clients and freelancers. You can create a checklist with details you want to include in your reviews and go through it each time you write a review. This way you will make sure your feedback is always useful to the reader.
What do you include when writing a review to a client or a freelancer?