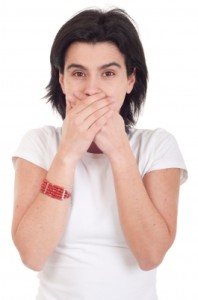 After discussing last week some rules of effective client communication, let's look at a few more. Here are 5 things a freelancer should never say to their clients.
Don't give your client too much information
Nobody really cares if you are in your home office right now or working from the cafeteria nearby and watching people passing by while waiting. It's a bad taste to share too personal details of your every day life, too – with whom you woke up today, did you go to the bathroom yet, when was the last time you had sex, and so on.
This is the classic definition of "too much information". Be professional and talk about work. Leave your personal details and stories at home.
Don't tell your client you don't have time to work on their project because of some other project.
Your freelance client doesn't care if you have landed a larger project or a better paying project. They have an agreement with you – to pay you a certain amount of money and in exchange, you should do a certain task in a certain period of time.
If they request additional changes which are not agreed upon and you don't have time to handle them – decline politely saying you have time limitations and your schedule is all booked. But under no circumstances tell them that you have a better paying client and for that reason that other client has higher priority.
If the situation isn't in your favor, don't draw it in black and white colors
You know I am all for honesty, right? That is one of my main principles. But sometimes it is ok to massage the truth – if it would harm no one but would save your skin. Let me give an example.
You went out last night and surprisingly, you have a bad hangover today. No way you ca do your job properly. So what do you do? Of course you'd tell your client – after all, they are waiting for you and expect to see some work well done. My advice is to not tell them how drunk you got last night and what an awful headache you have just about now.
Instead, tell them that you don't feel well today (without saying the reason) and ask to postpone the meeting for later today or even the next day if you really need time to recover.
You can even promise to compensate the client for the delay – and compensate them with a faster turn around time and completion of the project; or another detail as bonus. This way a situation which at first glance would be total catastrophe, can even bring you extra points as a freelancer 😉
For the sake of effective client communication, don't burst out
We are all people and we know that sometimes we get into fights – with our spouses, with friends, family, even colleagues. The negative energy from the fight builds up, your inner piece is getting away until you burst out. Well, make sure you don't do it in front of your clients. You have no right to take your anger or frustration on them; nor do you have the right to make him a witness of your personal problems and shortcomings.
Brawls are often distasteful, unprofessional and even show lack of manners. Such situation can offend your client or even bring doubts in their mind about your professionalism, tact and ability to control yourself and the situation.
Don't tell a long-term client if you have completed a task long before the deadline
Note that this tip is valid for your long-term clients who have assignments for you on regular basis.
If you work with someone for the first or second time, it doesn't matter if you finish a couple of days earlier than planned. It may even be in your advantage and earn you a bonus payment 😉
However, it's a bit different if you get assignments from a client on daily or weekly basis. If you start completing your tasks earlier than planned on regular basis, you can shoot yourself in the leg – the long-term client may start expecting you to complete your work earlier than planned. And if you complete the task on time – the client may perceive it as delayed or get frustrated with you as you waited until the last minute to finish the job.
So – be careful! If the task is not urgent and if you are confident with your work (meaning, you don't have questions and don't expect edits and changes requests), better wait for the deadline to come and only then send your work. 😀
Your turn, please – tell me in the comments what else you'd add to the list of things a freelancer should never say to a client?