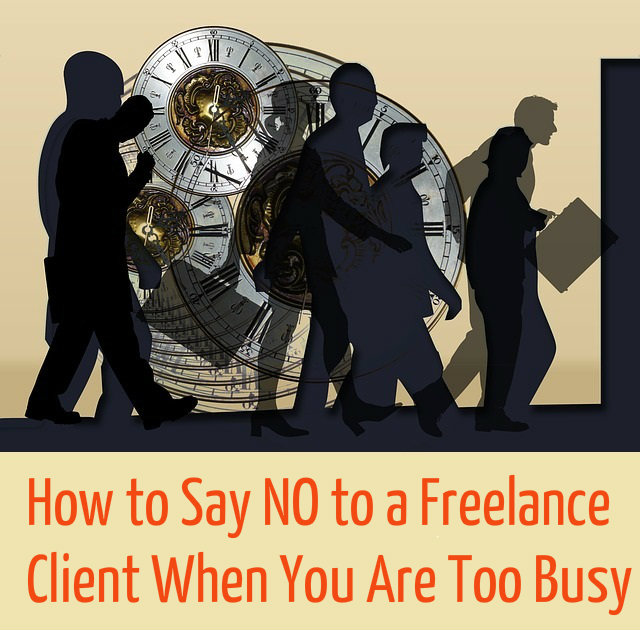 Sooner or later every freelancer faces the problem of having too much on their plate and not being able to take on new work. And sadly, majority of freelancers cannot say NO to prospects, terrified they will lose them as clients forever. As a result, we see plenty of burnout freelancers who lack work-life balance. Today, I'll help you learn how to say NO to clients and still keep them 😉
If the work proposals come from new freelance clients
Imagine you are already working 30-40 hours a week. On one hand, it's literally impossible to take on new work if you want to spend some time with your friends and family, and get some sleep once in a while. On the other hand, this is a new client – what can you do to keep them; not to lose them due to unavailability?
It won't be a smart move to take on this project only because it comes from a new client. Due to lack of time, you will probably be tired, unproductive and the new client won't be happy with your end product. As a result, you will lose that new client because you couldn't deliver the quality you promised. That's right – due to your unavailability.
Let's see what would happen if you told that client your work schedule was full for the next few weeks and you could work on their project only after that. If they want you to deliver quality work, that is. 
Firstly, this prospective client will see your services are in high demand – this usually means you are good at what you do and they will be inclined to do whatever it takes to hire you.
Secondly, this client will appreciate your honesty. They will most probably be impressed with your decision to refuse work, although it comes from a new client, and instead – put quality and your client's needs above all. (You refused because you couldn't deliver quality in the required time frame, remember?)
So, if the task is urgent – the client might hire somebody else and that's fine. There's work for everyone. But for sure he or she will save your contact information for future use. So instead of losing a new client with poor performance due to lack of time, you will win a prospective customer due to saying NO to them for the right reasons.
If the new tasks come from a freelance client with whom you have an active contract
This situation is a bit harder to handle. It depends very much on your preliminary agreement with the specific client. Do you have an agreement about turnaround time of certain assignments?
If no, you can freely say NO and/or negotiate workload on individual basis. If yes, then you will have to complete the unforeseen tasks and say NO to other work. Often it's not so black and white though.
If you have an agreement that each month you will have to dedicate X hours working on this project – again, you will need to keep your deadline but you can negotiate some kind of a buffer period to prevent last-minute assignments and to ensure more flexible deadlines and turnaround times.
And sometimes you have "on as needed basis" type of relationship with clients. You get assignments from them 1 month and the next 2 months – no work with them. Then once again 1 month active work followed by 3 months silence. In such cases you can and should say NO to this client and/or to negotiate with them some kind of an "assignment notice".
You should explain your services are in high demand and your schedule is almost always full. But you want to continue working with them. So as a compromise, you can accommodate their needs and complete their tasks if they don't give you last minute jobs but send work your way with at least Y days' notice.
Depending on your relationship with the client, you will know better what to do and how to handle the situation.
Here are a few tactics I use to never put myself in the situation to say NO to existing clients
I send regular emails to my clients with whom I have "on as needed basis" relationship, to inquire if they would need my services any time soon. An email like this once per month can do wonders:
Hi, John!

I am planning my workload for the next month and I was wondering if you have anything planned for me? Please, let me know so I can set some time on my schedule for your project.

Thanks,
Diana
This way, two things happen as a result of this type of emails:
The client starts appreciating my time and knows that if they want something from me, they need to tell me in advance. They understand I plan my time and I don't tolerate "I-want-this-done-yesterday" attitude.
They don't take my rejection personally. They are ok if I said NO or made them wait when they threw at me a last-minute assignment.
When I enter an "on as needed basis" contract, I always make it absolutely clear that I have constant workload with various clients and I am not always able to take on last-minute assignments.
For that reason, I prefer if there is a work schedule of assignments and/or at least 1 week notice for tasks which I am to be assigned. This ensures my ability to reorganize my schedule and take on the assignments.
I usually insist on having the client's confirmation in written so that I can remind them of our agreement, should they assign me an urgent task with a deadline "yesterday".
And if they do assign me an urgent task despite our preliminary agreement and I do it, I make sure it is perceived as a favor and the client remembers it for a very long time. This way the client "owes" me a favor and doesn't host the illusion he or she can throw at me urgent tasks on regular basis.
And finally, if I work with a client who has the habit to assign urgent tasks at the last minute, I charge them with higher rates, sometimes 3 times higher. This way I make it worthwhile to rearrange my schedule and postpone other work which I had planned to complete at that time.
What are your tips how to say NO to new work when you have too much on your plate?