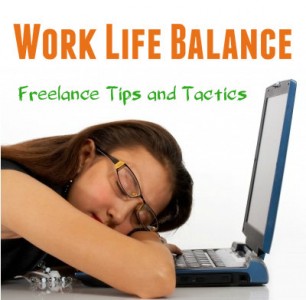 Many people struggle with lack of balance – at work, at home, and most of all – with balance between work and personal life. As freelancers, we are even more at risk not to achieve work life balance because in most cases our office is at home.
So, how do we find the balance and separate home from office, work from personal life? Here are 4 proven tactics – I always use them and I am happy to report good work-life balance 😀
Have a break every day
Don't feel obliged to work all day (or night) just because your office is at home or because you don't have anything better to do. Find yourself a hobby. Call a friend and go out for a coffee. Go to the movies.
There are so many and interesting things to do besides working. Put an end to your work day at a normal hour and go play. Do it every working day.
Have a break every week
You may be thinking – how can I have a break every week if I am already doing it every day? Patience, my friend!
You stop working every day at 5? Good. Now let's start skip working altogether every weekend!
I know there are plenty of workaholics out there – but they never achieve work life balance… Having a break is important for the work-life balance and if you ask me – to keep up the quality of our work, too!
If we work 24/7 for too long, we will realize soon enough that the fatigue accumulates and our social life suffers; so does our work. End of the day, we turn into very tired (and proud to be tough?) freelancers.
Stop! Take a break every week – you need the weekend to recharge your batteries. And remember that since you are a freelancer, your weekend should not necessarily be Saturday and Sunday 😉
If you like the quiet time of Saturday and Sunday to do some work – so be it; but make sure you set aside at least 2 days of the week when you are not working but having fun instead, preferably away from the computer. It's for your own good 😉
And if you want to go one step further – start traveling more. Travel is the only purchase that makes us richer (I am sure you have heard this before – it's true!) – explore the world and enjoy life in all is forms. If you want to travel for longer period of time and you must work while traveling, you are in luck – I just blogged on the topic 😉
Separate your office space from your home
Ideally, you have a big enough house or apartment to take over a separate room for your home office. If you don't have that extra room to spare, you can just take over the couch in the living room, or the kitchen table, or the terrace (ehm, right! That one does work superbly 😉 )
It doesn't matter what space you have set to be your office. The purpose is to work there and to leave there your work after the work day is over. Don't bring your work problems in the bedroom, the kids' room or whatever else room you go to at home!
Learn to finish work on time
There always will be more work than what we can do today. Don't lose sleep over the fact there are some outstanding to-dos on your list. If they are not urgent – leave them for tomorrow. Prioritize. It is more important to have some rest today; to spend some quality time with your family; to have a good night sleep. So that you can continue working tomorrow…
Now may be a good time to remind you about the concept of freelance working hours…
Have you achieved work life balance yet? How? Will you try these tactics?