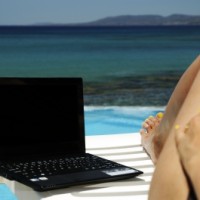 I don't know about you, but having a freelance life (is this even a proper term?) makes a huge difference for me. I have found my inner balance and I am happy with both my work and my personal life. But I believe freelance is what I have to thank for all of it. Here's why.
I work less and earn more
If I had a dollar for every time I had to stay late in the office or work over the weekends or talk on the phone for hours with clients who don't know what they want and it's my fault they live unhappy lives – well, I would've been a millionaire! Employers in the US may pay overtime but from where I am – best case scenario, you get a smile and verbal "bravo, job well done!" type of reward. As a freelancer, I get paid for all the hours I work and if I have to work overtime – I know I have chosen to do so and will be paid accordingly. Recently, I even started taking up fixed price jobs where they pay me for the work I do and not for the time I spent working – which is even better money-wise 😉
I travel and go on vacations more often and when I need to, I want to, or just have a really great offer I can't resist
When I was working at an office with fixed working hours, I was always looking forward to the summer paid time off or for the weekend so I can have some fun with friends and family, away from work. Now, I can go to the seaside or to the mountains, at my home country or abroad, summer or winter. Everything, and I really mean EVERYTHING is a matter of planning – planning my time, planning my financial resources, planning my work and deadlines… I guess it's a good thing my significant-other is also a freelancer so we can just go wherever and whenever and don't need to ask for permission his employer either 😉
I am independent
As an employee, I always had to think about the mood my boss is in; or how unhappy my colleagues are with the constant overtime work not being paid; or if I will have to do somebody else's job because they have messed it up and there's no one else to fix it. It's just the opposite in my freelance life 😀 I don't need to work with people who I dislike or don't respect. I don't need to get up early in the morning if I have had a late night out. If I go out to lunch with friends and don't feel like working afterwards, I can easily go to the park, to the beach or to the mountain for a nice afternoon outdoors – just because I feel like it! The only thing I care about and take into account is the deadline I have agreed to keep. But again – it's all about a matter of planning.
I am appreciated and people treat me respectfully and professionally every day
Being a freelancer, I don't need to cope with angry people who take their own failures on me; I am not getting just a smile and verbal reward for a job well done; I am not abused by unhappy clients who are upset that it's raining outside and they are stuck in the office instead of going to a picnic as planned. To the contrary! I am surrounded by positive people who look for and see opportunities for improvement and not reasons to be upset or unhappy. I get paid well and have repetitive clients. People appreciate my skills, experience, and work. They see me as a professional and partner. They see my strengths and the flaws… well, let's say we work together toward overcoming them 😀
I don't waste my time and I am motivated to grow – both professionally and personally
We have a saying here – "I pretend I'm working and they pretend they're paying me" 😀 And this is often the case with employees on a regular job. In my freelance life, it's a different story. I am motivated to develop and improve my skills; to be a better professional so I get better clients and better projects; to stay up to date with the fast changing market and world. As a freelancer I have plenty of time to read books, attend webinars, follow blogs and internet magazines, to specialize or even change my specialty if I see a new trend on the market.  I learn new things and improve every day and with every new project I take upon.
So, to summarize what the freelance life is for me
It is a lifestyle!
I can do whatever I want with my time.
I can choose with whom to work and on what projects.
I have relative financial security.
I feel free.
Your turn – how do you see the life of a freelancer?
P.S. Subscribe to my newsletter to get my new posts about freelance and marketing in your mailbox, plus monthly freelance and marketing tips, plus your free copy of my ebook "How to Make Your Blog Posts SEO and Readers-friendly" 😉