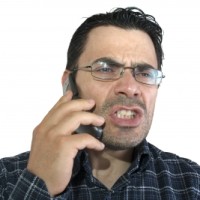 A beauty of freelance life is that we don't have to work on projects we don't want and with people we don't like or respect. We all know that if there are people and money involved, there are potentially problems. So today I'll share some insights how to spot bad clients as a freelancer. Bad clients – meaning those who more likely will cause problems and disappointment than help us grow personally and professionally.
Potentially bad clients are those who always try to cut your pay rate.
Many people are used to bargain and look for the best price for products, services, etc. When it comes to freelancing, it's a bit different (or it least it should be). We as freelancers put a price on our skills, expertise, time, efforts, everything. If a client persistently tries to cut your rates, most probably they won't be happy with your work in the end. Not for some other reason, but because they entered the contract with the single though "I am paying too much for this!".
Good clients appreciate the value. They hire you because of your skills and expertise, because of your experience, because o what you bring to the table. They don't think about the price – they think about the value for that price. So as long as we have a reasonable pricing strategy and know how much we're worth, we should stay away from bad clients who try to bargain at any cost and every time.
Micro-management is the curse of bad clients.
Remember – as a freelancer, we are no longer an "office employee". We are independent professional consultants who have our own working style and habits. We have the freedom to plan our time and work as we please. Here are a few things that bad clients want (one at a time or all at once):
constantly monitor your work
demand that you are available on Skype during working hours
require multiple emails, updates and reports every day, several times per day
 want accountability for every minute spent working on their project.
These clients have trust issues. They have hard time believing you actually know what you're doing. They don't think you'll do your job on time and with the agreed quality, unless they are pushing you and standing over your shoulder. They think they know better and you just need to do what they tell you.
I would suggest that we stay away from such clients. They call for trouble because they don't appreciate your experience and professionalism. Even worse – they probably think you don't really have what it takes to do the job and you might get it right but only if you strictly follow their instructions, regardless if they are experts in your field or not.
Bad clients don't exactly know what they want.
Never take upon contracts with no clear goals and expected results. As freelancers, we go through interviews not only for the client to get to know us. Freelance interviews are also to help us, freelancers, decide if we want to work on certain projects and with certain clients. If within the first couple of meetings we do not have a clear idea about the project, its time-frame, expected results and our role in it – well, probably the client doesn't really know what they want and the outcome won't be satisfactory to them.
Communication is one of the most important things for a successful freelancer-client relationship. Never ever compromise with communication! Always work with clients who know what they want and have clear idea about the end-game, the expected results and what the freelancer's responsibilities are in all of it.
Bad clients never pay upfront payments.
If you take upon fixed price job on oDesk (those jobs are not guaranteed), always ask for an upfront payment – 30%, 50%, the percentage depends on the project scale. If you encounter a client who refuses and says they won't pay upfront anything under no circumstances, you have yourself a bad client. Chances are you'll do your job and then they won't pay at all with the lame excuse "you didn't do what I asked" and that's the end of it.
There are exceptions, of course. E.g. if you see the client has tens of previous fixed price jobs and only good feedback and reviews as a prompt payer, maybe they refuse to pay upfront because they have had extensive bad experience with bad freelancers; or it's just their business practice to pay after delivery. In any other case, don't risk working for free; just decline politely ad move on to the next client and next project.
Trust your gut – if you dislike your future client or their project, decline right away.
This doesn't have much to do with good or bad clients. It is more about our personal experience, intuition, and preferences. If we don't like the product which we need to market, to write about, to design a package for – then probably our work won't be good either. If the potential client irritates us in some (condescending attitude, rudeness, lack of respect, communication skills, ability to express goals or lack of it, etc.), there's a pretty good chance we won't be able to do successful business with them. This will ultimately worsen the end result of the collaboration.
For many, it may seem strange and that I am "picky" about clients.
For professionals who just start their freelance path, the beginning is hard and every single project counts and is welcome. However, I urge you to think in perspective. If you take upon a low-paying, boring, unsatisfying, whatever-else-bad-thing-you-could-thing-of project right now, you risk being stuck with it for months. Don't fall in the trap of working with a bad client who is worse than the boss you had on your last office job you so hard tried to escape from. Remember – once we get the ball rolling and have a couple of successful projects in our portfolio, as freelancers we have the freedom to choose with whom to work and on what projects. Then it's a matter of principle to watch out for bad clients and not deal with them at all. After all, we are freelancers to feel good with ourselves, our work and our lives, right? 😉
There are plenty other signs of a client being bad – tell me in the comments: what comes to YOUR mind? How to recognize bad clients?