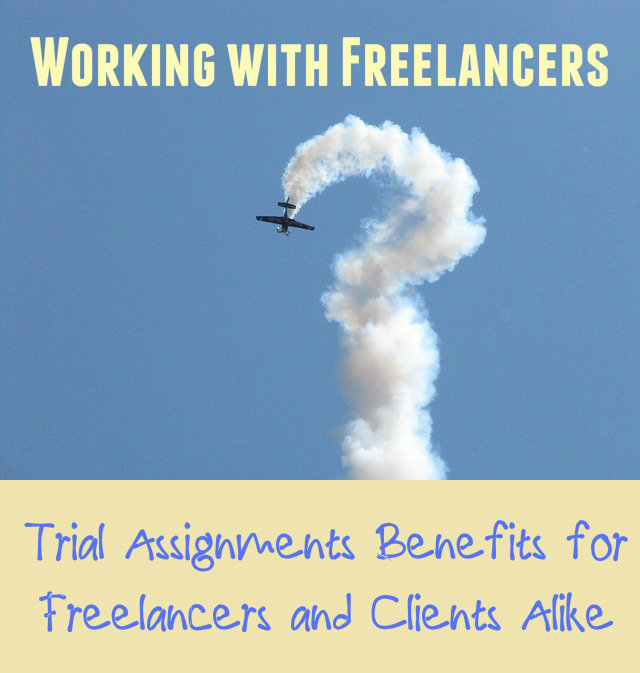 Working with freelancers can be very easy or very hard. It depends on how well a client chooses their freelancers and vise verse – how well a freelancer chooses their clients. Starting a trial assignment is the easiest way to determine if a client and a freelancer are a good match.
When working with freelancers, start a trial assignment before committing for the long-term.
A trial assignment is usually a quick job or one-time gig. For example:
Designing or writing the copy for a landing page is a good trial assignment to determine if you want to work on a website design or copy with that client or freelancer.
It's a small job but it's enough for freelancers and clients alike to see some crucial points like:
How well the client lays out their requirements
What questions the freelancer asks (if any)
How quick each party replies
What type of feedback the client gives on first drafts (if any)
Does the client know what they want, or is the communication vague
What type of person do you have to deal with, be it the freelancer or the client
What's the quality of the freelancer's work
Is the other party easy to communicate with
How flexible the freelancer is in terms of edits and changes
And so on.
How the trial assignment is beneficial to freelancers and clients alike
If all goes well with the landing page trial assignment, it's easy to turn it into a long-term project for ongoing design or copywriting assignments – e.g. of a website, a brochure, or the company's entire line of marketing collateral materials.
If the trial assignment doesn't go as well as planned though, you can leave your review and/or feedback to the other party and be on your way. No hard feelings, just a business transaction with not as good outcome as planned.
Freelancers and clients may not be a good match for many reasons but starting a trial assignment before making a long-term commitment is beneficial for many reasons:
You don't waste your time – the trial assignment is usually a quick job which doesn't require much time and efforts on either part
You don't waste energy into lengthy discussions and trying to fix a broken project
You don't waste money into corrections
You have enough time and money to continue looking until you find the right fit – be it a client or a freelancer.
Make sure the trial assignment is paid though!
No successful freelancer would agree to work for free – trial assignment or not. Some freelancers may require an upfront payment, others may not. But all of them would dismiss as "unsuitable" every client who wants them to work for free.
If a freelancer agrees to a non-paid trial assignment, most probably their work will not be of quality. Another possibility is they are new to the market and don't know better – once they learn how to protect their interest, they would move on to more suitable clients who appreciate their freelancers' work better.
Your turn – what do you think about trial assignments as a way to approach the whole working with freelancers situation?