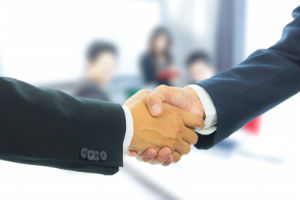 Successful collaboration between freelancers and clients is based on mutual benefits, trust and effective communication – we all agree on this. But what many may not realize is that the collaboration freelancer-client starts way before the contract is signed. Often, you need to prove you can build healthy business relationships in order to land the job.
Here are a few steps every freelancer should take before starting a work relationship with a new client – so successful collaboration can happen.
Make your freelance cover letter a master piece
Don't send a standardized cover letter. Recycled cover letters tell your potential clients you don't care about them or their projects. Instead, they think you see them like just another small business owner who has published a freelance job post.
Make your freelance cover letter personal. Make it specific. Address all questions asked in the job post – in detail and to the point. Don't exaggerate your abilities – be honest and forth coming instead.
Think about the project and ask your questions. Contrary to common beliefs – asking questions doesn't make you look stupid, neither does it show incompetence. When you ask well thought questions about project details, you demonstrate your true and deep interest toward the job. Read more dos and don'ts about writing your freelance cover letter.
Make an action plan prior to your interview
Assuming you got the interview, write down the points you want to discuss. And yes, it's not a mistake, I said write down, all of it – every single point you want to discuss with your potential client before you actually start a contract with them. Such points could be deadline, workload, price, project specifics, etc.
Everything that ensures smooth work process or can cripple the workflow should be discussed before signing a contract and making a commitment.
In case the client wants to hear your proposed action plan and steps, write those down, too. Don't reveal too many details – after all, the contract has not started yet so you shouldn't be giving away your ideas and work for free.
However, be sure to give enough details to showcase your practical knowledge and skills – what you will do, when, how, why. Once you are hired, it will be easy for you to develop the plan into greater details and stick to it until the work is done.
To ensure successful collaboration, agree on targets and timeline
I have seen this too many times not to say it loud and clear:
Do NOT agree to anything you don't understand or disagree with.
To start a successful collaboration and build a healthy business relationship with this new client of yours, you need to take active part in the conversation. Speak up if you have any doubts or concerns.
You can't work well with someone if you don't speak the same language or if you are not on the same page, right? For that reason it's of crucial importance to discuss and agree on both requirements and expectations. Scope of activities, targets to be met and timeline should be communicated in great detail.
If you don't understand the set goals – ask questions to better understand the requirements and the end result expected of you. Remember to get those set goals, requirements and expectations in written. All that you agree on before starting the contract should be confirmed in written for future reference if/when needed.
Discuss and agree on contingency plan
Both freelancers and clients are people. And where are people, there are changes and problems 😀
Everything can happen so you should discuss and agree on a contingency plan before you enter a contract.
A few examples of when the project is delayed for reasons beyond your control and a contingency plan would come in handy:
the client's website doesn't work because they have not paid their hosting bill
you need something from the client but they don't give it to you immediately and you sit around and wait for them for 2 days instead of working
you ask for approval of a single element but the client doesn't reply to your emails in timely manner so you cannot move forward with your tasks before they do, and so on.
All these hypothetical scenarios can become real situations and delay the project completion despite your work principles and hard work. However, technically – you have not done your job because you have not completed the project in the agreed time frame.
If you have agreed in advance on contingency plan and work process who should tell what to whom and in what order – you would be ensured of such "penalties" if the project gets delayed but you are not the faulty party in reality.
Again, make sure all terms you agree on are confirmed in written.
And last but not least, be honest and always ask for help if you need it!
If you encounter a problem in the course of your work – ask for help!
If you have a personal problem and cannot work for 2-3 days which in turn will lead to project delay – let your client know as early as possible.
Clients are people with personal problems, too – they will understand (maybe)… in any case don't turn it into a habit. Don't come up with excuses for not doing your job; don't abuse your clients' trust.
Tell them in advance about the possible delay so that they can take countermeasures on their end. It is highly unprofessional to wait until the last minute. Imagine the following scenario – the day your assignment is due, you come up with the lame excuse "I am sorry but I had personal problems and I couldn't work for 2-3 days so I haven't completed it yet, I will need some more time". If someone told you this – would you understand?
I wouldn't. No one would. Not because what you were saying isn't true but because you waited until the last possible minute to tell them. This way there is absolutely nothing they can do to make sure that you not doing your job won't affect them negatively.
Back to you – what other steps to successful collaboration would you recommend freelancers take before starting to work with a new client?