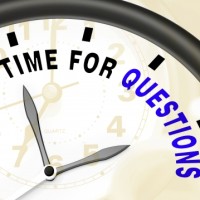 Questions to clients are not "optional" to address once the freelancer has taken the time to ask them in the first place. Would you agree?
I decided to write this article as I see a tendency in clients who choose to ignore the questions they have been asked and that's not good – neither for them, nor for their projects.
Freelancers choose their clients, too.
It's no coincidence I believe that the freelance interview is for both client and freelancer to decide if they want to work with the other party.
Being a freelancer has nothing to do with being desperate for work and being ready to work under any and all circumstances with anyone and everyone. Clients should understand that as everything else, freelancer-client relationship and collaboration is a two-way path.
The fact that a client has invited me to an interview for a project doesn't mean I will accept their offer on the spot and work with them, starting tomorrow. I have my work schedule and interests, you know. As discussed before, I also have my work principles and when I ask questions (and I do, a lot!), I expect answers so I can make an informed decision.
The way clients react to freelancers' questions speaks a lot about their integrity as clients.
I understand clients have busy schedules. What saddens me is that clients often don't realize that freelancers do, too. It happens sometimes that I ask questions to clients related to their business, niche, project goals, duration, etc. and I get a short reply like "Find me on Skype to discuss".
First, I won't waste my time in discussing a project which I don't want to be involved in. And if you don't address my questions, I won't know if I am or am not interested in it. I prefer to read your answers in my own time and decide if i want to speak further with you or not.
Second, I don't go to a freelance interview (or any Skype meeting for that matter) with no preparation whatsoever. And if you don't address my questions, I have no idea who you are, what you do, or what you want and expect from me.
Third, I don't appreciate the attitude and notion that I should get running toward you the moment I hear back from you with your Skype ID and no further details about my questions, time and date for a possible meeting, etc. This implies you expect me to be on Skype all day long looking for you or worse, waiting for you to come so we can further discuss. I can add this to the list of red flags how to spot bad client.
Ignore my questions related to the project and future collaboration, and you can be sure you lost me for good as a team member.
Last but not least, the way questions to clients get addressed tells enough about the communication skills.
It's unprofessional and arrogant to ignore the questions you've been asked. This is valid for both freelancers and clients. Here are 2 sample cases.
I am a freelancer. I ask some questions to my future client to find out more about their business and project. My questions get ignored and never answered. What level of communication can I expect? If I proceed with this client, do I really think I will get objective feedback in timely manner for my work, if hired? Do I really think if I need more information during the project I will get it in timely manner and to the level I need it to do my job as agreed? I don't think so…
I am a client. I have asked a few questions in my job post and have specifically pointed out that the answers to my questions are the initial filter of candidates. The freelancers who apply don't answer my questions but leave those for the Skype interview. What does this tell me for their ability to follow instructions? What does the lack of answers tell me about their interest and professional attitude? Do I really expect timely reports and feedback about the status of my project, if I hire any of the freelancers who didn't bother to address my initial questions?
I have other, additional questions for the Skype interview. But if I don't get the answers to my initial questions in your freelance cover letter, you can be sure you will never make it to the Skype interview. It's that simple.
Bottom line: do ask questions and do answer the questions asked, always.
Well, only if you want to continue the negotiations for possible cooperation, of course. It doesn't really matter if you are a client or a freelancer – the question is always a question and if not else, it's unprofessional to simply ignore it and pretend it was never asked.
When a client fails to answer your questions once, give them a second chance. Explain politely why you asked those questions and how the answers are important to you and will help you both moving forward. But when they fail to address your questions multiple times, move on – probably it isn't worth it to work with them anyway. Poor communication has failed is share of projects.
Your turn – tell me in the comments what other pros or cons you see in answering or not answering the questions to clients?