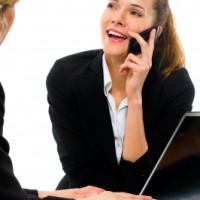 If I have to say it in a nutshell, the freelance interview is the chance for the freelancer to land the job! Last week, we discussed some of the freelance cover letter specifics so this week we'll speak about the next step – the freelance interview.
What's the freelance interview – technically speaking
The freelance interview is not necessarily a face-to-face type of interview. Technically, it's just called "an interview" so that we differentiate the candidates who have applied to a certain project from those who have actually been approved for the interviewing process.
Usually the client chooses the best form of conducting the freelance interview but if you, as the freelancer, have your preferences, be sure to communicate them well. There's no obvious reason for the client to disagree.
99 out of 100 times, the freelance interview is in the best interest of both clients and freelancers.
It gives both sides the opportunity to ask their questions and to get the answers they are looking for. During the freelance interview, it's accustomed to negotiate all conditions and requirements of the project – e.g. time-line, deadlines, working hours (if any), online availability (if needed), communication channels, reports, work flow, and so on.
The freelance interview could be conducted via email or in real-time, or both.
In case your choose an email freelance interview, a few emails with questions and answers are exchanged, perhaps some documents related to the company and/or the project, and that's about it.
However, usually the freelance interview is conducted via Skype, Google Talk, Yahoo Messenger or other platform for real-time communication. It can be chat, voice call or video conference. The purpose of this form of interview is again to ask and answer questions, to define requirements and expectations, work-flow, etc. There's added value to this type of freelance interview though:
the client could determine how fluent the freelancer is in English (if it is not their mother tongue)
both the client and the freelancer could hear the other party's voice and get a feel of personal qualities like honesty, responsibility, confidence, and others, which you, personally, find useful and mandatory" for a successful collaboration.
If your freelance interview is a voice call, it's recommended you have a headset to improve the call quality. The good sound experience during the call impacts the after-interview feelings of the client.
I prefer voice call interviews both as a client and as a freelancer,
so that I can make an informed decision if I want to work with the other party or not. Everyone can write good cover letters or have them written for a fee. In a real-time voice communication though, we couldn't pretend much. For the trained ear, a voice call freelance interview will show the personal qualities of the potential client or freelancer and will help us decide if we want to enter a contract with them or not. 😉
As for the camera being on or off,
It is a matter of personal preference. There are no set rules or etiquette for that. I don't find video calls necessary as it is not important how the person looks like but how they articulate their thoughts and how they behave. You anyway will work with this person online – why do you need to see them?
If someone insists on a video call and have valid reasons for that requirement, we could of course turn our camera on this one time. If there's no good reason for this requirement, watch out – it may be a red flag for bad client! However, remember that there may be good reasons for keeping the camera off as well. For instance, I never dress up for work and my work clothes are often (maybe even always) not very appropriate for the office. So I sure keep it off all the time 😉
Another important detail of the freelance interview is the non disclose agreement (NDA).
Some clients require their freelancers to sign such a document. Usually, this happens if we will potentially work on a large-scale project with large teams. It's no different from any other employment contract we would sign anyway. Well, read it before signing it but don't be put off if a client asks of you to sign an NDA – they are just trying to protect their intellectual property and business information.
And finally, reply in timely manner if you truly want to land the freelance job.
If you are invited to bid on a freelance project, try to accept or decline that invitation within 24 hours. This way you show your availability and interest toward the project. Clients frown upon taking a few days to reply to a single message. It means you are not interested or you just lack time management skills. If you delay your reply for some reason, always apologize for the delay and if appropriate and relevant, explain your reasons.
Good luck with your freelance interviews and remember to share your thoughts and questions in the commenting section! 😀