A lot of freelancers get to the interview stage but fail to secure a contract because they do rookie mistakes. Most often, they don't know better yet due to lack of experience. They may not even realize when their behavior is unprofessional or unethical.
To help you be a better freelancer and land more projects, I'll share the top three things I continuously see freelancers do during negotiations with freelance clients, which in most cases cost them the project.
#1 Don't change the terms right before the start of the contract
This happened to me very recently. When I was looking for a designer for the cover of my upcoming book, I wanted to have three different covers to choose from. I ended up with two, because one of the freelancers whom I liked changed the terms we agreed on right at the last moment. I preferred to let him go and proceed with two covers rather than have my arm twisted.
Here's a screenshot of the message on oDesk where I clearly stated the contract terms and asked the freelancer if he is willing to work on the contract.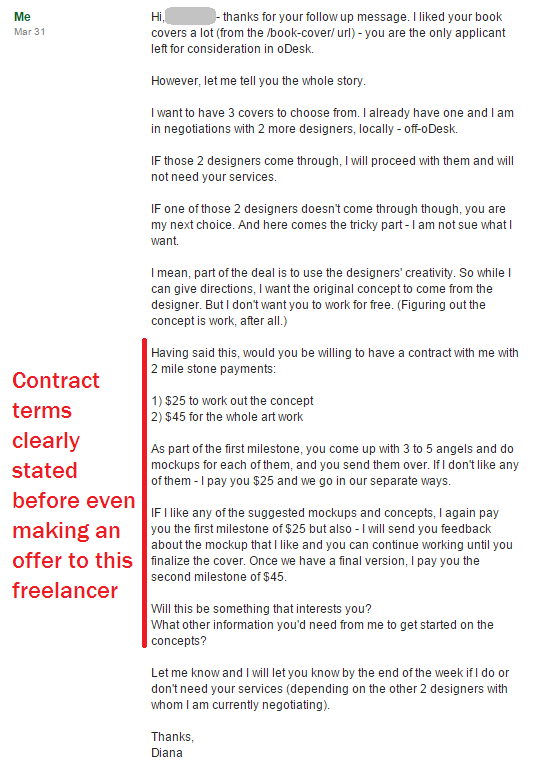 He replied the same day that he would agree to such terms:
Sure will do this. Please send me the title, subtitle and other details of the cover. also please give me the links for the covers that you like most for the inspirations here..
Six days later, as promised, I got back to him explaining that one of the designers didn't come through and I would need his services after all. I provided him with all the details he asked for – book title and subtitle, links to his covers that I liked, and some more info about the book cover and what message I wanted it to convey. Then I restated the contract details almost word for word as we have agreed on them six days earlier.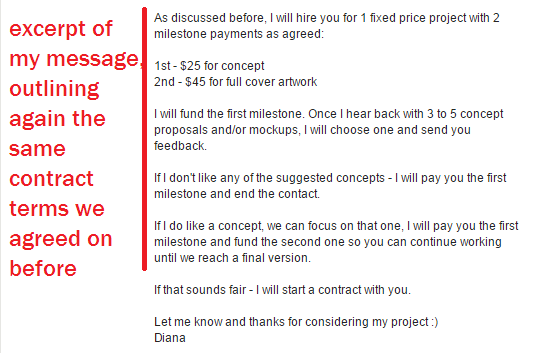 I was ready to award the project to him and fund the first milestone right away. To my surprise, he replied the next day saying that he will send me only 2 concepts and that he wants me to fund one milestone for the full price because there's no way for me not to like his work.
Here's a screenshot:

This was highly unprofessional behavior. No matter how much I liked his designs, I instantly made a decision to not work with this freelancer because he is unreliable and quite possibly lacks work ethics and principles.
His word didn't carry much weight for me any more so should I start a contract with him, I believed I was more likely to get mediocre work or no work at all.
Of course, there is the possibility that he lacks experience as a freelancer and he wasn't even aware this is a somewhat unprofessional behavior. I checked his profile on oDesk once more – he had completed over 300 jobs. So he did have experience. Nevertheless, just in case, I replied to him. I shared my disappointment that he wasted my time. I explained that trying to change the contract terms in the last minute is highly unprofessional and that I would not be proceeding with him.
If he were being unprofessional because he didn't know better, I expected him to get back to me, at least to apologize, and maybe to try to change my mind. He never replied. So as far as I am concerned, this was an unprofessional freelancer who tried to take advantage of me.
Looking at his work history on oDesk, he has good feedback, good reviews, repeat clients and he continues to get work. Based on his clients' reviews, I am inclined to believe he is a good designer and a good freelancer to work with. However, I will probably not award a project to him, ever, because of the scenario I described above.
So this example comes to show how poor communication during negotiations with freelance clients can cause you to not only lose a prospective client but question your reputation as a professional freelancer.
#2 Don't employ a bait-and-switch scheme
This is when you bait the client with a low rate and then, for example, double your rate in the middle of the project and hold the client hostage – either pay and get the project completed, or don't increase the rate and be stuck with half-done project.
This behavior is both unethical and unprofessional. The client may decide to increase your rate so that they get their project complete, or they may cut their losses and let you go mid-project without increasing your rates. Whichever route they choose, one thing is for sure – they will never contact you again.
They most probably will tell their friends and colleagues how unprofessional you were. And if you got in touch with them through one of the popular freelance job boards like oDesk or Elance, they may even report you to the website for your behavior.
In any case your reputation will be ruined. Think carefully if the few extra bucks are worth the risk and how such behavior fits your freelance business model.
Note that this scenario is not about misplaced loyalty where you have worked for years with the same client and it's time for you to negotiate market rates adjustment.
#3 Don't lie about your qualifications
And finally, don't lie about your qualifications. It is a big mistake not to be honest about your skills and knowledge in your profile objective, in your cover letter, during your interview, or in any other case.
Cheating on skill tests is one thing I see many starting freelancers on oDesk and Elance do. There are plenty of websites online, offering oDesk and Elance test answers for free. Don't use them. Take your skill tests honestly.
Sure, you can easily find the correct answers online and take the test to score the highest results possible. But if you cheated on the test, what good is that for you? Passed skill tests are of no use to you if you don't actually possess the skills.
Saying YES to everything the client asks is another thing I see many starting freelancers do. If you are not sure what the client wants, ask. If you are not sure how to do a task which the client will require completed as part of their project – research and find the answer before you say yes to the project. Don't simply say yes to everything. Saying yes might secure you the contract but if you fail to complete it on time, with the agreed quality and within budget, what good that contract is to you?
If you land a job because of a lie about skills and expertise, the client will know you lied soon enough simply because you won't be able to do your job properly. This will lead to wasting both your client's time and yours, his money, and eventually to ruining your reputation.
I hope you will never do these three things when negotiating with freelance clients.
And if you use oDesk or Elance, be on the look for my upcoming book. It will go live on Amazon this Wednesday. (Join my email list to get notified!) It covers these and more tips about building your freelance practice the right way.