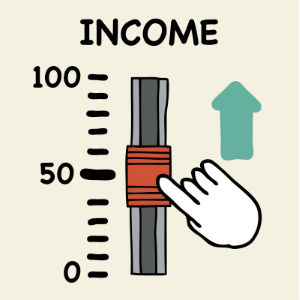 Last week we discussed freelance rates in terms of getting clients pay what we ask for. As promised, this week we will touch upon the how-to part. Negotiating rates with existing freelance clients can be hard but it is important so today I share 5 rules to observe when updating your rates on an ongoing long-term contract.
Think carefully about your first step when negotiating rates
In an ideal world your client will be the one giving you a pay raise once per year – a token of appreciation for your hard work 😉 We don't live in an ideal world though, do we?!
So naturally, most clients don't think it's necessary to reevaluate your work or rates – after all, you are a freelancer, not an employee. No annual attestation or appraisals, no pay upgrade.
That is why you are the one who should make the first step to renegotiating your freelance rates. Remember the purpose of your first step to re-negotiation is not to get the pay raise here and now – it is to initiate a conversation about it.
Think through your approach and have a plan
Ask yourself how much you are paid for that particular project and how much you want to be paid for it.
Make a list of the tasks you were responsible for when you were hired (or when your freelance rates were updated for the last time). Then add the new tasks you currently do on the project.
Note down also the newly acquired skills which help you do your job better and how it impacts your client's business. If you can (meaning, if you have access to such information) you should also list all of your tasks and how much additional money they brought in to your client's business.
Think about the possible ways your client will react to every bullet on your list and prepare an action plan for each scenario. This way you will be totally prepared for entering the freelance rates negotiation process.
Be personal
You client is a person – stroke their ego. They will be more likely to negotiating rates if you have told them (in written) what a pleasure it is for you to work with them; how happy you are with the easy communication with them (as long as it truly is!); how much you want to continue working with them because you see the results of your work and their appreciation for your efforts.
Leave them some time to think about your freelance rates
Negotiating rates and more importantly, their increase is a matter of budgeting and quite possibly – team members' re-organization. Don't rush your client into making a decision. Give them let's say 2 weeks to consider your request.
Be ready for an outcome when your client will accept the new freelance rates you want but at some point in the future – e.g. after a month when a certain milestone is achieved.
Never start negotiating rates from the position of someone who needs money here and now.
This is a predicament for failure and worsening of your relationship with the client.
Which reminds me… Never ever initiate rates negotiations in the last minute. If at some point you start doing more work than you are getting paid for, just sit down and think how to go about the rates negotiations. Don't wait for the moment when you feel miserable and underpaid and unhappy and you really cannot do anything more without getting that pay raise.
Be specific
I can't stress this enough!
Be specific when re-negotiating your rates with existing freelance clients.
Lay down your requirements and/or conditions – short, to the point and clear. Don't say "I want a pay raise" or "I want more money". Speak with numbers and facts which support your request, requirements and/or conditions.
Don't say how much you want to be paid – say how much others are paying you to work with them or better yet – what offers you get on daily basis from other clients and you turn them down so you could work with this specific client.
This way you indirectly put the lower price bracket which your client should meet if they wanted to keep you on their team. (Reminder note: you should use this tactic if you actually have clients flocking to you and offering you more money to work with them. Then even if the client declines your request, you can part ways and move on with another client.)
Put a deadline for the client's decision. If you don't do it, you risk your client dragging their decision for weeks and months until they come up with an answer. Point out to them you do understand the complexity and the importance of the decision they need to make. Tell them you do understand how you negotiating rates with them affects other departments of their business. But also tell them for the sake of your work schedule and financial stability, you need the rates negotiation to be finalized within 2 weeks, or 1 month, or whatever period is OK with you.
Your turn – what tactics do YOU use to re-negotiate your freelance rates with existing clients?