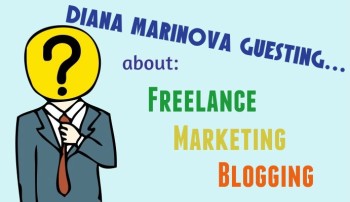 Last month I was invited by Dilyana Kotomanova, a fellow blogger and freelancer (and reader of my Bulgarian freelance blog) to guest post at her blog. This interview with me got lost a bit among other things I did the last few weeks but I think it's only fair to feature it in my guesting category. Better late than never, eh?
Head over to Dilyana's blog for more details. She asks – I answer 😉
We talk about freelance, digital marketing and blogging. 😉
You will learn a bit more about how I got into digital marketing. You will also find out how I started blogging… Did you know this is not my first blog? 😀 In the end of the interview Dilyana asked me if I should give only 5 blogging tips, what they would be. As tough as it was, I managed to pick just 5 bits of wisdom – so go ahead and read the interview to see what they were 😉
Head over to Dilyana's blog to read the interview!
I would be monitoring the comments there so please, join the conversation any time! 😀