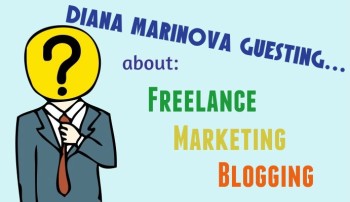 Last month I was invited by Dilyana Kotomanova, a fellow blogger and freelancer (and reader of my Bulgarian freelance blog) to guest post at her blog. This interview with me got lost a bit among other things I did the last few weeks but I think it's only fair to feature it in my guesting category. Better late than never, eh?
We talk about freelance, digital marketing and blogging. 😉
You will learn a bit more about how I got into digital marketing. You will also find out how I started blogging… Did you know this is not my first blog? 😀 At the end of the interview Dilyana asked me if I should give only 5 blogging tips, what they would be. As tough as it was, I managed to pick just 5 bits of wisdom – so go ahead and read the interview to see what they were 😉
UPDATE: Dilyana's blog is no longer available online but I thought this interview is worth sharing anyway so I put it on my blog instead. Enjoy! 
—
Q: I would like to ask you what exactly attracted you to digital marketing?
Hm, interesting question – truth is, it just happened. I am actually a communication specialist. I have always been fascinated by people, behavior and communications. So I have a degree in Public relations and then another one in Marketing. However, it's hard to freelance internationally if you specialize on traditional (a.k.a. offline) offline marketing. So there – I went digital 😀
Q: You are working as a freelancer for a couple of years. We know there are plenty of positives things about it, but what is the most difficult part of being a freelancer? 
Actually, there years are 4 now – my freelance birthday is just around the corner. Being a freelancer is super hard sometimes. And if I have to pick just one aspect, I'd say the hardest part is the self-discipline. It's hard to organize your time well enough that you get all things done and in the same time – don't get stuck on the computer all day and night. It's hard to pick up yourself in the morning and "go to work" instead of just lay in bed all day because you can. Keeping deadlines, finding the balance between work and play. It is all self-discipline and time management.
Q: How do you succeed to manage your time? What do you do in one ordinary day?
I use Google calendar for planning my day and week, always. If your readers are interested in it, they can check my post about using Google calendar for better time management.
I have some rules to manage my time such as checking email only twice per day, using project management tools for communication with clients, having time buffer between tasks, and similar. Here's a post with some tricks to instantly improve your time management 😉
As for how an ordinary day passes – I hope I won't bore much your audience. It's pretty normal.
I get up at 9 am (well, at least I try!), I read some posts or books while still in bed, purge emails to make sure there isn't anything urgent from last night.
About 10:30 I am on my computer already – working. I always do the most important or difficult tasks first thing when I tun on my computer – otherwise, they simply don't get done.
Then at about 1 pm I start cooking and having lunch and at 3 or 4 pm I either go back to work for a couple more hours, or go ride my back, work on my blogs, on my book, on my start-up. And that's about it.
I am often on the road though. When traveling, there are no 2 days the same so "ordinary work day" isn't an option. 😀
Q: Were there any blogs that you followed and learnt from to gain more knowledge about digital marketing? Would you share with us which were they?
Not really. Blogging was not that popular back in the day so I was reading primarily the free ebooks which Hubspot were sending me. I was also attending a lot (if not all) of their webinars, too. Actually, I still do – both reading their books and attending webinars, when time permits. They are a great resource and I urge you, newbie-marketers out there, to sign up for their newsletters and blog. Invaluable resources.
Another blog I was following was Noble Samurai's blog – but it is for SEO specifically. I love their software Market Samurai for keywords research and rank tracking but as I said, it is SEO specific, not digital marketing in general.
Q: You have a very successful blog where you provide readers and businesses with freelance and marketing tips. How do you pick the titles of your articles? I mean, where are you looking for inspiration?
Oh, this is a super good question – it is on my to-do list of future articles already 😉 And it is exactly questions like this one where I get the most inspiration from. To name a few topics sources – my readers' emails with questions, the comments on my blog posts, social media updates and feedback, other bloggers' content. And maybe the biggest source is my experience.
I blog about topics and address questions which I myself have asked at some point. If I asked a question once, chances are there are others asking it out there, too. So I answer it in my blog.
Q: What encourage you to start blogging? Was it to promote your services or just to help others with sharing your experience and advices.
Actually, my English blog is not my first blog. It is relatively new… I started blogging a few years ago in my native language – about freelance only. And I started that blog to help others, nothing else. Still do.
In my home country, being a freelancer is not popular (and this is an understatement!). Almost no one knew about it 4 years ago – or at least nobody was talking about it publicly. So when I was starting as a freelancer, I was hesitant. I had heard only bad things about this way of work and I had no idea where to start from, what to do, how to grow.
The moment I was sure freelance career was a great option, u started blogging about it – to let people know it is a real opportunity, not scam. In my home country there are a lot of well educated people, smart people who are willing to work – but don't know work from home can be a career choice. So I help them find their way J
Q: Can you suggest blogs/e-books that will help new businesses to start on Internet and will give them better knowledge of online marketing?
Ha-ha, it will be again HubSpot whom I mentioned earlier. For me, this is the all-in-one source of practical tips about online marketing – blog posts, ebooks, webinars, cheat sheets, everything.
Q: If you were to write five tips for better blogging, what would they be?
Be genuine
Write for your audience, not for search engines
Post regularly and consistently
Always reply to the comments you get
Write about things you know best – if you don't know something but you really want to blog about it, invite a guest author 😉
Thank you, Dilyana, for inviting me to your blog and for the opportunity to share a little bit of me with your audience. I wish you a super good 2014, more power to you, your blog, your business – and many happy readers 😉 Happy Holidays!
—
I would be monitoring the comments there so please, join the conversation any time! 😀