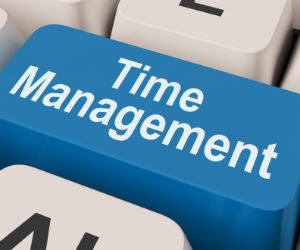 The requirement for time management skills isn't just a trend seen in clients' job posts. Those are skills of crucial importance for everyone, especially the freelancer, to organize their work process and to complete projects with quality in the agreed timeframe. Here are 6 time management tips which you can start using right away to improve your time management and productivity immediately.
My first time management tip would be to plan your tasks for the week.
And when I say "plan" I don't mean think about it and have an idea about what is it that you need to do the next few days. Monday morning (or better yet, Friday afternoon, right before you close the shop for the week) write down all the tasks you have to do the next week – per day, even per hour if you can.
You can plan your week using pen and paper, time planner of some kind, Google calendar (that's what I use, always), outlook calendar or any type of application, program or platform to your liking. Write them down – this is key.
Only if written down, you will have exact idea at a glance what you have to do when – and you will be able to focus on following the plan and implementing the tasks.
Always leave a time buffer
If you have a time buffer, you will be able to do a last-minute rush job for a regular client; or you will manage to do a couple more edits of that monthly newsletter because the client remembered there was a webinar announcement they wanted to include; or you will be able to hand your work in time despite the fact that the research needed was a few hours longer than anticipated.
Never fill in your working hours to 100% so that you are flexible at all times.
These are hypothetical situations but you get the idea why building a time buffer is important. End of the day, worst case scenario – if nothing unforeseen happens, you will have some more me-time on your hands 😉
Check your email once or twice per day, not more.
Often people get addicted to their emails and hit the refresh button constantly – on the laptop, on the cell while waiting in line, while having coffee at the local café, before lunch, during lunch, after lunch…. I know, I've been there!
There is nothing you'd get via email that couldn't wait for a few hours.
Build a habit to check your email once or twice per day. I do it in the morning and in the afternoon but you should find your best time to do that. Let me elaborate.
Usually it isn't a good idea to check your email in the morning because you get sucked in and you can waste good 2 hours purging mail – and those often are your most productive hours. However, I am in Europe and majority of my clients are in North America, so I have made it a habit to check my email in the morning but only to see if there is something new from my clients on the other side of the ocean – maybe while I was sleeping, they were working 😉
All other emails are waiting for my afternoon email checkup. There are exceptions of course. Some days I am involved in heavy email back and forth correspondence. In those days I check my email way more often than twice per day – and it shows as my productivity falls immensely. That's why I am always trying to move my client communications to a project management platform.
Bottom line – find what works for you and stick to it. Don't check your email all the time. Build your habits around your time zone and your clients' time zones. Get your clients used to the idea you reply to emails within 24 hours and no within 30 minutes. This will enable you to focus on your work and by the way, it will also decrease the number of "rush jobs" which aren't urgent at all 😉
If you want to improve your time management skills, turn off your chat programs.
Skype, Yahoo messenger, MSN, Google Talk or whatever else instant messaging program you use – they are all a huge distraction.
Here is an innocent conversation:
Hey, you, how are you?
I am fine, and you?
I am great, big news – have to see you! Want to have coffee tomorrow?
Sure, 10 am at the coffee shop on 5th?
Great, can't wait – see you then!
Now, what seems as an innocent quick chat, can destroy your concentration pretty quickly. First, you had to stop doing whatever you were doing and agree on a time and a place for that meeting with this other person. And secondly, your mind is probably now thinking of scenarios what this great news is that begs for having coffee and talking about it and not sharing it right here and now on Skype. So, what are you doing – working or thinking about tomorrow's coffee and news? 😀
You have been waiting and searching for your inspiration for hours. At last it came – only to leave in the middle of your first sentence, when the next instant message comes in and you are too curious not to look.
So, while doing some creative work, better turn off your communication channels with the rest of the world. If you think you'd need Skype for a quick work related question at some point, at least put up that 'Do not disturb' message so other people won't distract you.
Don't spend too much time on your personal profiles on social media.
Social media is a time-wasting machine. Don't log in to your Facebook profile every 5 minutes. If something important happens, I bet you will hear about it on the phone anyway.
Your daily horoscope won't change the course of your day; neither will your virtual fortune cookie. Not to mention how insignificant to your well-being is John's Facebook farm (yes, remember John, your classmate from 2nd grade?) – you anyway don't know what's with his constant neighbor harvest requests 😀
Break the bad habit of procrastination.
Every once in a while we all procrastinate. Yes, I do, too. Sometimes. I will blog about this some other time – as I used to procrastinate a lot more, until I realized I am better off if I don't. But that's another topic 😉
I have noticed it is a common habit for the 9-to-5 employee to leave their work for tomorrow. Something like why-I-should-do-this-today-if-I-can-do-it-tomorrow mentality.
Freelancers are not employees. We don't have a boss who cares mostly about punch-in and punch-out times. We don't have a supervisor who thinks time spent in the office equals completed work. We have clients who care about the completed work indeed – its quality and turn around time is way more important than the time of day it got done.
Being a freelancer, you care (or at least you should) about the quality and turn around time of your work. You put your name and reputation on the line every time you take up a project and deliver the end result. If it's good – it's good. If not – well, as I said, it's your name on the line 😉
Unless you are sick or totally lack focus or inspiration, do not leave your work for tomorrow if you can do it today.
Maybe tomorrow you will need that time buffer you left when planning your workload for the week – yes, for last minute edits or design changes. Or better yet – a long forgotten friend will call you out of the blue and you will have the unbelievable opportunity to go to Vegas on his expense. Now wouldn't you hate to miss this only because you were too lazy yesterday to do your job the way you planned it in the first place 😀
Back to you – what time management tips do you have to share?