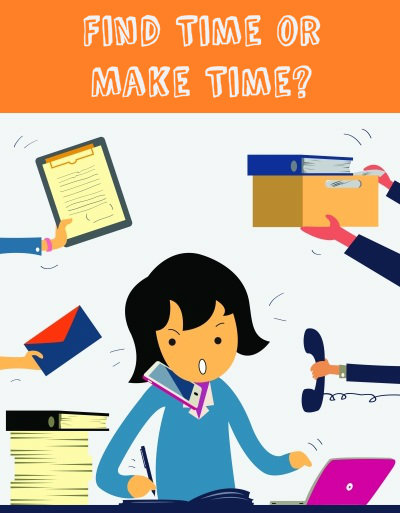 This post won't tell you how to find time to do something. It will help you make time for everything you want to do. Because let's face it – when we have to do something, it takes us exactly as much time as we have, not a minute more, not a minute less.
Bottom line – there is enough time for everything. Often our problem is we want to do everything here and now. How can we escape the vicious circle "I am in a hurry, I don't have enough time?" The key is to learn how to make time for all things we want to do. 😉
Make a plan and stick to it
I know I repeat this way too often but it really is that important! Write down your to-do list – 1st to-do, 2nd to-do, 3rd to-do, and so on. Start from the top. Complete one task at a time. I promise you sooner or later all to-dos will be crossed off that list.
The key is to consistently and continuously work on a single task at a time.
Don't distract yourself with unrelated activities like Facebook or email and you'll ensure crossing off your tasks on time.
Prioritize!
It's super important to decide what to put on the top of your to-do list. Decide which tasks are more important than others and what should be done when.
No, they are not all urgent. And no, they should not all be done today. Think about your pending tasks and arrange them in your to-do list according to their priority.
Create rituals to set the right tone
No special clothing is required 😉 Rituals help you focus.
For example, I check my email while I have my morning coffee. I look through my daily tasks and rearrange them as needed if something urgent has come during my night time. But this is specifically for me – because most of my clients are overseas and we have relatively big time difference.
Find your rituals that help you focus. They may or may not be work-related – the purpose of the rituals is to set the right tone for your work day. Read through these 6 tips to better time management, if needed.
Make small steps every day
If you are one of those people who always want to do everything here and now, listen up. It is a mission impossible. Don't even think about it! If you put yourself in such situation, chances are you will end up stressed out, disappointed of yourself and terrified with your never ending to-do list.
When you break up your tasks and make small steps, end of the day you turn off your computer and close your to-do list with a smile on your face. You feel empowered that today you did what you wanted to do. You even expect the next day with excitement – because you know tomorrow you will achieve another small victory over your to-do list, just like you did today. 😀
Be realistic and forget the guilt trips
Going after those small victories on daily basis shouldn't mislead you though – be realistic when setting your daily goals and planning your to-dos for the day.
Set the goals too low and you risk being stuck at the point where you do the bare minimum and feel good with your mediocre work. Set the goals too high and you risk chasing your tail all day long without any real progress.
If you try to do months-worth work in a single day, you won't cross any to-dos off your list; you won't feel satisfied in the end of the day; and you won't have acquired any new skills. You will be trapped by your own ambition and unrealistic self-assessment.
Avoid any guilt trips when turning off your computer in the afternoon with 10 more pending to-dos. It's ok – you can do them tomorrow, or the day after that, or the day after that.
There will always be more work to be done that you can complete today.
The sooner you realize and accept this, the better you'd feel and the more work you'll do in a single day, every day. Which leads me again to my first point…
Making a plan and sticking to it is the first step to make time for everything in your day!
It is always easier to complete tasks if you have a numbered list of to-dos on your desk.  It is especially true when these tasks are work-related. But don't take my word for it – experiment until you find what works best for you.
For example, numbering used to work for me superbly well – but now, I don't care much about simple to-do lists. I cannot live without my Google calendar. I have found that adding to my calendar fun activities like a walk in the park or bike trip to the nearby village helps me stay on track with my work tasks as well.
Find what works for you – and tweak it when necessary to make it better.
Do you find time for everything you want to do every day or do you make time? What tactics do you use?