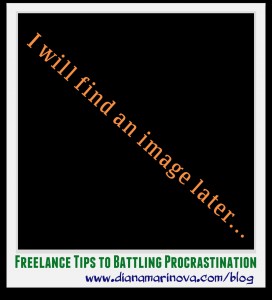 When you find yourself postponing complex or urgent tasks and doing simple and not important tasks instead – that's procrastination. I won't get into the "technical" details of what procrastination is and how to cope with the psychological side of the problem. Instead, I will give you a few practical examples from my experience when freelancers procrastinate and what to do not to turn procrastination into a habit.
Most often freelancers procrastinate when they have to start working on a new project with a new client.
Fear is a powerful fuel for procrastination – fear of critique, fear of mediocre end product, fear of failure… You may be nervous and even anxious about the feedback you will get from the new client.
The easiest way to overcome the urge to procrastinate is to self-motivate. Here's how I do it:
Re-read your reviews and recommendations from past clients on completed projects – it will remind you how good you are in what you do; your clients told you so.
Go through your documents of completed projects which are similar to this new one – when you see how well you did your job back then, you will convince yourself you can do it this time as well.
Put yourself in the situation to want to do your job here and now – think about the great review and recommendation you'd get from this new client if only you did your job well, here and now. Think about how much you´d help your client and their business if you did your job well, here and now. Think how impressed this client would be with you when you do your job. The sooner you complete your work – the sooner you'll get praised and the sooner you'll be able to move on with your day.
Freelancers also procrastinate when they lack clarity.
If you are not sure what you need to do, you can easily postpone your work for ever. You should know though – procrastination is not a solution to your problem. To have clarity, all you have to do is ask the right questions to the right person.
For that reason I often say it's a must for a freelancer to ask questions before entering a contract. When everything is clear, you save yourself the trouble of being uncertain about your work – and thus, you prevent procrastinating.
Freelancers tend to procrastinate when they lack inspiration and focus, too.
You cannot force inspiration on yourself – you either have it, or you don't. However, procrastinating due to lack of inspiration is a problem you can easily fix.
If you don't feel like doing something, don't force yourself into doing it. Don't put it on your calendar only to postpone it day after day, after day. You will suffer guilt trips which by the way are a result of the constant procrastinating, not so much of the fact that you didn't complete your work yet.
So, to avoid feeling guilty and procrastinating when you lack inspiration, put aside your immediate task and work. Distance yourself from it and allow yourself to get inspired. Then, do your job.
Of course, mark the deadline on your calendar so that you don't forget about it – but still, don't revisit the problem on a daily basis. Work on it only when you feel inspired for it.
Freelancers tend to procrastinate when they are very busy with work or when they have not organized their time well.
If you have taken on more projects than you can complete or you have not planned your time well, you will fall victim of procrastination.
If you are one of those people who panic when faced with an awfully long to-do list – stop. Breathe. The only escape is to focus.
Of course, improving your time management skills is a must but that's a long-term task. In the context of not procrastinating and doing your job here and now, you need to focus on the work you need to complete.
Don't think about how you will (or won't) have time for every single task on your to-do list. Just roll up your sleeves and start working on your tasks, one task at a time. Start from the top of your list and work your way down. Before you know it, you will have crossed off most of your tasks, panic-free.
Freelancers procrastinate boring or tedious tasks as well.
You know loving what you do will help you succeed as a freelancer. For that reason, when you end up having a boring project on your hands, you tend to postpone it.
I am sure if I gave you an example with doing the laundry or cleaning your house – you will relate. Not that it's your job but household work is probably part of your weekly routine. It's something you must do and it's something you don't like doing. So you procrastinate doing it as much as you can.
The same applies to your work:
You have a long-term project which is no longer interesting to you, it doesn't challenge you, it doesn't improve your skills and you don't grow in any way when working on it – so you procrastinate.
Your work on a project is boring because you have been doing it for so long that you started hating it – you procrastinate.
You have a task which is unpleasant itself and the act of procrastinating brings you pleasure – so you postpone your work "for later", and later never comes…
Whatever the reason, procrastinating is not healthy – neither for you, nor for your professional reputation. Have you seen a successful and respected freelancer who doesn't do their job?
To make yourself do the tedious and boring tasks, promise yourself a prize for when you finish. For example, you will buy that dress you so much liked the other day – but only after you submit the first draft of next month's blog posts for that client.
Or you will treat yourself with a spa weekend but only after you finish the marketing plan for that client, outline the key implementation points and find contractors to implement those points.
And in the long run, free your schedule from boring projects or work you don't enjoy. After all, the beauty of being a freelancer is you can choose the projects you work on and the clients you work with. Use that freedom – choose wisely!
Whatever the reason for procrastinating, you should know that starting to work is harder than actually working and completing the task.
To overcome procrastination, you need to convince yourself to work for only 5 minutes. In my experience, 5 minutes is usually all it takes to get started and finish what you've started.