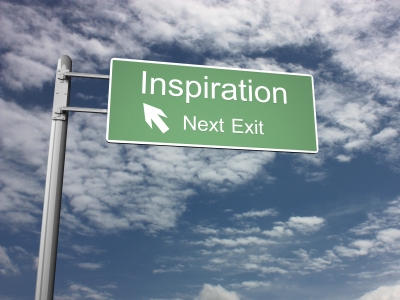 Want to know something? I've been recently punishing myself and feeling guilty about not working on my book. In fact, I am still doing this! And that guilt transforms into lack of inspiration. It drags on and spoils my work, too – I feel guilty when not working; when browsing the net and reading blogs; when looking through pictures on Facebook and basically – while doing anything that is not related to writing my book or working. I constantly put pressure on myself for doing or not doing something… and then it hit me –
Why force it? Why not enjoy the ride?
Since I relocated to Spain, I have been enjoying some pretty great weather here (nothing like the winter at home which I have been used to for years). So every day when I go out on the terrace, I admire the view and wonder, "How can everything be so good?!"
I really feel like I'm living the dream. So why spoil it with a feeling of guilt?
When the weather is nice, I don't feel like working (right, as if writing my book is working). I want to ride my bike, I want to walk on the beach, I want to travel the world, I want to day dream. Basically, I want to go do things outdoors and away from my computer.
So I asked myself – how does a freelancer, living the dream, cope with the lack of inspiration?
It's simple, really simple – and I don't know why I was so blind to it!
A humongous advantage of being a freelancer is the fact I can be in harmony with my work and clients – with or without the inspiration.
If I feel like working, I work. If I don't feel like working, I'm not going to force myself to – and neither should you. This is what I think you should do, if you're able to:
Clean up your schedule for the next few days, weeks or (why not?) months and relax!
Keep active your long-term clients and contracts – just so you have some money to pay the bills, but don't take on new clients and projects. Give yourself some time to figure out exactly what you want to do .
After all, the million-dollar question is – what do you want to do?
Why do you work? What would you do if you didn't have to work?
If you force yourself to work when you absolutely don't want to, it will show. If your heart is not in your work – your work will be crappy. I promise you – everyone will see the lack of inspiration in it.
On the other hand, if you leave yourself some room to breathe and some time to relax and enjoy whatever you are doing when not working – the inspiration will hit you, and hard!
You will be ready for new clients and projects in no time. You will be ready to work on your book. You will have inspiration again.
R-r-r-right, I was talking about myself – so, I am ready for new clients and projects. I am ready to work on my book.
In the meantime, I did chase a stream of inspiration and finished a long-overdue white paper, which I am giving away!
My brand new white paper – How to Make Your Blog Posts SEO and Readers Friendly
I give it for free – but (there's always a 'but'!) – to get the white paper for free, you need to subscribe to my newsletter or "pay with a tweet."
Check out more details about it at the special page I made for the newsletter subscription.
And if you are still here and reading, tell me – how do you recharge your batteries and handle your lack of inspiration?