By the time you read this post, I would probably be half way to Ljubljana, Slovenia. Today is the day I embark on a great adventure – my relocation to Spain trip! 😀
Let me back up a bit and give you the whole story
It has to do a little with freelance, a little with travel, a little with freedom…
If you have read my About me page, you know I am born and raised in a small Eastern European country and have lived here and there during my 20s. On the verge of my 30th birthday, we decided it's high time to move again and today is the day we leave. 3000 km drive awaiting 😀
Here's the route of our relocation to Span trip!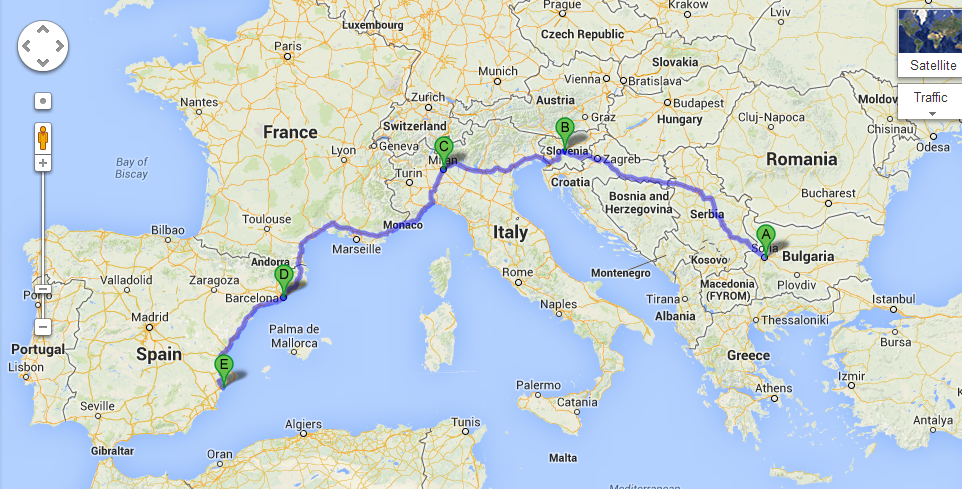 A long drive, I know. But we love traveling and as you can see, we will make 3 stops between our starting and final destination so it won't be hard or boring at all.
I said it has to do a little with freelance, right?
If both my boyfriend and I were not freelancers, I doubt that we would ever even think (let alone manage) to just pick our stuff and move to another country because we wanted. There – thank you, freelance, for letting me do what I want and when I like.
I said it has to do a little with travel, right?
Besides the 3,000 kilometers drive that we are going to do to get there, we certainly will take our time visiting Ljubljana, Milan and Barcelona on our way there. And on top of it all, there are pretty cheap air fares from Alicante to basically all European countries (including Scandinavian countries) – which would have cost us a fortune from my home country, so… there, we will commit to traveling in Europe next 12 months – both by car and with cheap airplane tickets 😉
I also said it has to do a little with freedom, right?
Well, I guess the freedom comes with being a successful freelancer. But I feel super happy that I have the freedom to just pick up my things and move to another country (ehm, I said this already?!). I am super happy that I can plan my work this way that I can be out-of-pocket for good two weeks while on the road. I am super happy that I can explore the world, meet new people, get to know new cultures, learn new languages, and so much more.
I am super excited about this adventure – you probably can tell, I rarely post personal things on this blog 😀
Please, forgive me for the lack or slow speed of comments' responses and supporting you through comments and social media love. I don't really expect my internet connection to be that good on the road. New posts are scheduled so you won't miss me much. Thanks in advance for continuing reading and commenting on my blog while I'm away 😀
See you when I see you!