Today I'll take a break from blogging about freelance and will give you an update what I've been up to. Three major changes going on right now in my freelance life!
Relocation happening as we speak!
While you read this, I will have already left my super cool home office I used during the past year in Southern Spain. Wait, do I hear you sigh? Don't! It was a magnificent year! We got to see a lot of Spain and the neighboring countries.
Here's where we went since we embarked on our relocation trip to Spain a little over a year ago.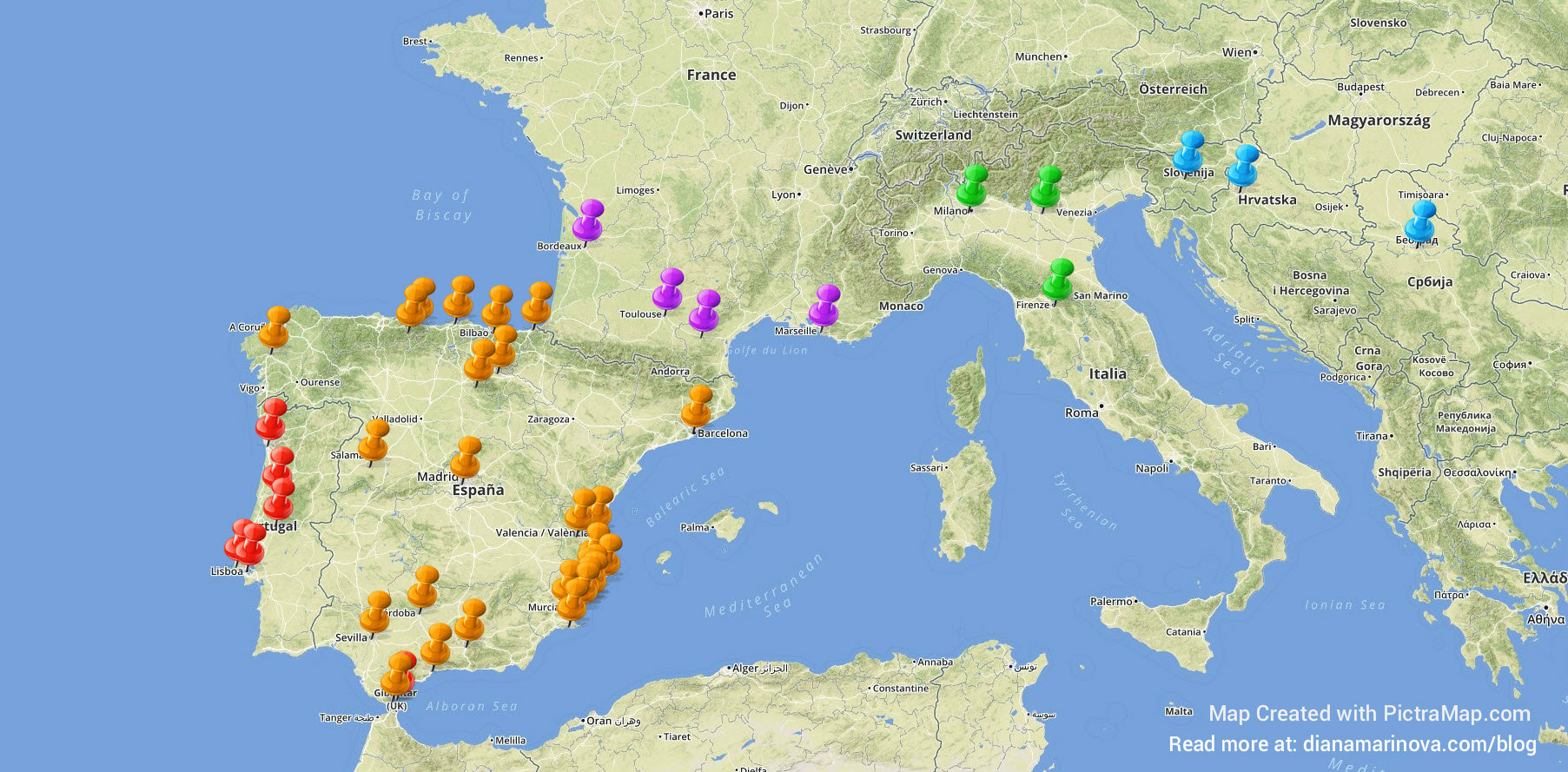 Not too shabby, eh? I told you – we saw most of what's there to see around here. So now it's time to move on – we are going back to Bulgaria for a couple of months to re-group and set sails to our next long-term destination. Stay tuned!
Meliway Travel Movie Maker evolving into PictraMap as we speak!
Remember I ran an Indiegogo campaign earlier this year for my start-up – the Meliway Travel Movie Maker? Although we didn't meet our financial goal with the campaign, we self-funded the project and launched it successfully a few months ago.
Thanks to your awesome feedback though, we realized it doesn't really meet passionate travelers' need for a free tool to create animated travel maps with intuitive interface and quick production process; all happening in the browser in real-time. So we thought about it really hard and we figured it out!
PictraMap was born – it's still in development but the site is live. Check it out and join our list to get invited when it's ready.
Jordan says it's "cutting edge technology" but my limited technical knowledge prevents me from confirming or denying that 😀 It looks awesome though! We like to call it "the place where your travel maps come to life"…
Remember, it will be free, with intuitive interface, and you'll quickly create and complete your animated travel maps without ever leaving your browser. All travel maps are custom designed to match your adventure.
The map above where I showed you where we've traveled during the past year was made with PictraMap. And on the site of the tool you'll find a sneak peek of another map.
My first book about freelance is on its way to you, as we speak!
Ok, maybe not – but I wanted to keep the theme of things going on 'as we speak' 😀
You know how I've been talking about writing my first book about freelance for months now. The very first draft is ready – it has been for a while. I am not sure why but I continuously fail to re-work it and move forward with editing and publishing.
However, I had an overwhelming inspiration the other week and I wrote another book! It's focused on kick starting your freelance career on oDesk and Elance. I am re-working the first draft right now and getting ready to work with an awesome editor – Jeri Walker-Bickett, or JeriWB as you may know her. Check her blog at: JeriWB Author and Editor: Make every word count – even if you don't need an editor right now, I promise you, her blog will help you improve your own writing!
I have known Jeri virtually for over a year now. We connected when I started this website and blog and we stayed in touch ever since. She is super busy and I sure hope I will finish at least one of these 2 books so I can secure a spot on her calendar in January 😀
And that's all about what's going on with me right now!
Greetings from Southern France, everyone, and stay tuned next week for some freelance tips 😉