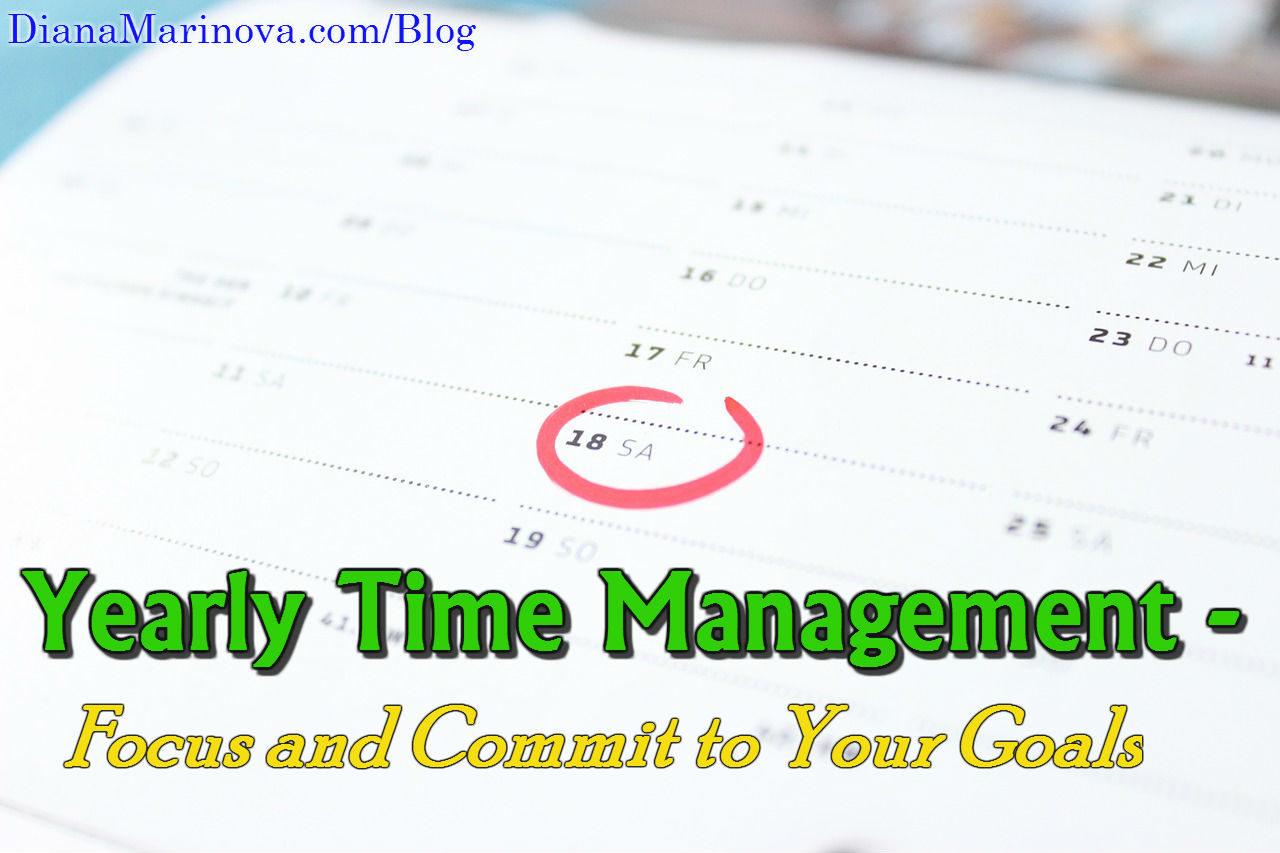 Let's talk about the big picture of time management. Did you set your SMART goals for 2015 yet? Do you already use a tool to manage your time on a daily and weekly basis? Congratulations, if you do – my work is done then! (Just kidding, read on!)
Many people do set goals and do use time management programs like Google calendar and still fail to make significant progress throughout the year. You know why?
Because they try to do too many things at once.
A fellow blogger, whom I am very fond of, Ashley Faulkes, recently published a blog post, 'Focus on the Right Goals in 2015 – Stop Wasting Your Time'. Reading his blog post was an ah-ha moment for me.
See, if you've been reading my blog for a while, you know I am all for making small steps every day, one step at a time. I always recommend doing one task at a time so that you clear off your to-do list more effectively.
I know there will always be more work for you to do than you can do in a single day so I always urge you to stay focused and not overwhelm yourself by trying to do too many things in the same time. What I often forget is exactly what Ashley says in his post – the same principle applies for your yearly goals.
Let me give you an example.
In 2014 I had a few major goals I wanted to achieve – all were supposed to be complete by the end of 2014:
write my first book about freelance
restructure my website (this one, that you are reading right now and which has not been changed since its launch back in 2013)
start publishing new posts on my Bulgarian blog on a regular basis
build a network of connections and make a name for myself, so to speak, in the travel niche – the first step being maintaining a travel blog on the Meliway Travel Movie Maker site or soon-to-be launched blog on our new tool site at PictraMap
start blogging on a regular basis on another of my websites which aims at helping fellow marketers choose the tools they use in their work (reviews-based website)
You know how many of the above goals I completed?
Zilch!
It took me months to complete the very first, raw draft of my book and never got around to reworking it and sending it to an editor.
I have the skeleton of my restructured website but that's about all. I didn't even start changing the content to better reflect my readers' needs.
I posted a few posts on my Bulgarian post in 2014 but it is nowhere close to "blogging on a regular basis".
I have been gathering travel materials from all my travels with the intention to write travel blog posts but… I just have 5 kilos of materials and not even one written blog post yet (for my travel blog, that is).
I bought a new theme for my reviews based blog and brainstormed about editorial calendar and structure of that site but… yes, you guessed it! I never published anything on it.
And now 2014 is over, I have even bigger plans for 2015 and I am terrified I will not do much of it this year either.
You know why this happened? Because I was trying to do all of the above simultaneously.
You would think I should know better – I have been there so many times! And yet, setting goals and breaking projects into smaller manageable tasks appeared to not be enough. Because end of the day, every day, I was too overwhelmed with the many things I need to do. I made progress on all of them but come end of the year, I completed none of them.
If you are thinking: "Sure, easier said than done! How can you be sure you would have completed your goals if you only put your mind to it?"
That's the thing – I know it, because I did it!
In October, I put my foot down and decided it's time to complete something this year, for a change… and just for over a week, I had the first draft of another book I have been playing with the idea about. A month later I had the reworked version of it. I got some feedback on it from a friend and one more month later, I had the final first draft, which I sent to my editor. (You might know her – JeriWB 😀)
Note that this book was not even part of my 2014 plans, but it didn't matter. I had one goal in mind: sending the book for editing. And I did it in less than 3 months by simply focusing on it, despite the fact I spent at least 1 month of these 3 on the road.
Why am I telling you this?
Because when I focused on my book and my goal to send it for editing, I didn't really realize what I did. I didn't realize it until I read it in Ashley's post:
know what your longterm goals are
focus on a few key short or medium term goals only
find a few short term goals that will really move the needle
(see his full post here)
So, to summarize – here's what you should do this year for success:
Prioritize those goals – no, they are not equally important. Make up your mind which goal is the most important for you, which one comes second, and so on.
Make an action plan with a time line for each goal and the related sub-goals – remember their priorities!
Start working on your most important goal and commit to it!
Only when you achieve your first goal, start working on your second one, then your third one, and so on.
Focus on one goal at a time –
This way you will make noticeable progress on all of them because working on and completing your first goal will serve you as a boost to work harder and be even more focused on your next goal.
That's what I'll do – we shall see what the result would be 😉