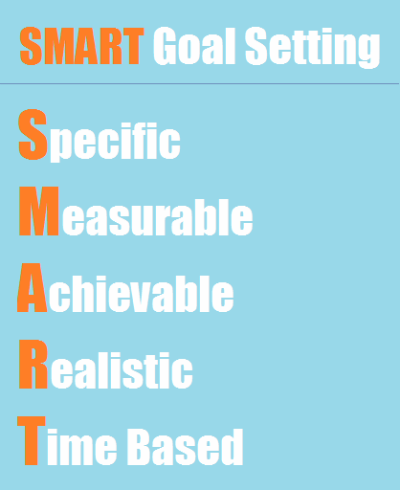 Since the New Year just started, it's a good time to set some goals. Whether you are a freelancer, a small business owner or a blogger with a 9-to-5 job, goal setting is paramount if you want to make the most of your year. Wait, did I say goal setting? I mean SMART goal setting. Read on.
Goal setting is important alright
If we don't have goals, chances are we won't achieve what we have in mind. You know I am a fan of planning, right? Well, if you have no goals, there's no way you can make a good plan – as you won't quite know the destination you want to reach.
There are a lot of people who do set goals though. But still – they somehow fail to meet them – because the goals were unrealistic, or couldn't be measured, or were way too vague to pursue… So I urge you to set SMART goals!
What SMART goals are
If you Google the term, you will find many different explanations of the acronym SMART. I will share my favorite one, both for personal and business goals:
S stands for specific
M stands for measurable
A stands for achievable
R stands for realistic
T stands for time based
Set SMART goals – specific, measurable, achievable, realistic, and time based.
Specific goal setting
If you are a freelancer, you may want more clients. So don't just set a goal of "finding more clients" but be specific: what type of clients (new/repeat, writing/editing, graphic design/logo design), how you get them (via freelance websites, or directly pitching companies), when you do that (on monthly basis or quarterly, or yearly).
If you are a small business owner, you too may want more clients but similarly to the freelancers, don't just pledge to get more clients. Be specific – what type of clients (new/repeat, users of service A/Service B, sourced from SEO/SMM, etc.), how you get them (via your website, or blog, or email, or offline marketing, etc.), when you do that (on monthly basis or quarterly, or yearly).
If you are a blogger, you probably want more readers, or more email subscribers, or more comments. But again – be specific. More repeat readers, or RSS feed subscribers, or more loyal readers who come from Google organic search, or more comments on each post you publish, else?
As a general rule of thumb, specific goal setting boils down to answering the 5 W questions – who, what, when, where and why.
Specific goals answer the 5 W questions – who, what, when, where, and why.
Measurable goal setting
If we continue the example from the "specific goal setting" section, I will use clients and readers to illustrate the "measurable" aspect as well.
For a freelancer, it can be 10 new clients from freelance websites and 5 of them long-term.
For the small business owner it can be 250 new clients from the website and 1000 items of product A sold online.
For the blogger it can be 1000 unique visits per month combined with 30 new comments per week.
Measurable means you put numbers on it – how many or how much of something you want to achieve.
Measurable goals tell you how many or how much of something you want to achieve.
Achievable goal setting
Now that we have made the goals specific and measurable, it's time to make sure they are achievable, too. The name speaks for itself – achievable goal means it is something you can achieve.
If you are just starting as a freelancer (e.g. writer or marketer), you most probably won't achieve $500K income during your first year, right?
Or if you are a startup, during your first year you probably won't break even and won't have revenue of $500K, right?
Or if you are a starting blogger doing everything yourself, you most probably won't achieve the fantastic 5K unique visits per day, right?
You see where I am going… when making your goals achievable, answer the simple question what you are prepared and able to commit to.
It is ok the goals to be challenging and difficult – but make sure they are actually achievable.
Realistic goal setting
Realistic is pretty similar to achievable. And we can even take an unachievable goal and turn it into a realistic one by stretching its time table.
That very same starting freelancer who wanted to make $500 income – while they most probably won't make it during their first year, they may very well do it in the first 5 years. So by stretching that goal from 1 to 5 years, we make that goal realistic (and achievable).
Same story with the startup business and the starting blogger 😉
Time based goal setting
And if there was a most important ingredient of the SMART goals, time-based would be it. Put yourself a deadline. Put yourself on a schedule.
Do you have any idea how many freelancers, small business owners and bloggers have failed to meet their goals because they didn't add a time frame to it?
Yeah, I thought so – me neither 😀 But that's not important. The important thing is that only if we put a deadline for our goals, we can start planning how to achieve that goal.
Add a timeframe to your goals so you can start planning how to achieve them.
Here are a few samples of a SMART goal
Find 10 new freelance clients until the end of June, and until the end of December, at least 5 of them to hire me on long term basis.
Sell 500 [products] through my website www.website.com during 2014.
Acquire 3500 new loyal readers of my blog at blog.com through social media networking.
Finish the first draft of my book about [topic] before the end of Q1 2014 and publish it no later than end of Q2 2014.
Blog twice per week every week until Dec 31, 2014. Each week, publish 1 blog post about [topic 1] and 1 blog post about [topic 2].
Over to you – do you set SMART goals and how it helps you (or not)?