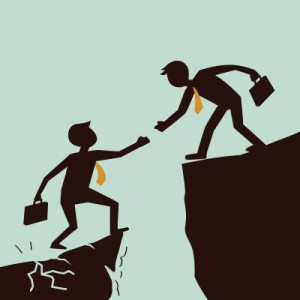 I often get emails both from readers and clients with a single inquiry – how to improve their website (or blog). They are looking for recommendations, free or paid, but they miss the first and most important thing – setting their goals.
There is really no good use of recommendations for improvement "generally speaking".
If you ask me, there is always room for improvement. But to achieve the performance you want, you must have a goal in mind.
Sure, "generally speaking" I can have a look at your website and say if the font type is suitable for the web, or if its size is large enough for easy reading, or if the color of the background is in line with the color of the text (it's easy to read, or not); or if the website is too cluttered.
But all of this is somewhat common sense. If you hardly read your site – you will know the font type is too small, won't you? 😉
When you want to improve your website, first you should decide what you want to achieve.
It really is that simple – you tell me where you want your readers to go, and I will help you get them there.
A common mistake I see website owners make is to shape their website around their readers behavior – while it should be the other way around. You should shape your readers behavior through your website design and layout.
And don't get me wrong – I am all about giving your readers what they want and catering to their needs. But remember it is your website and it is there because you want to achieve something with it. Let me give you an example.
I bet you have heard the tip to put your email subscribe form in the upper right side of your blog sidebar, right? That's because it is visible when the reader first lands on your blog, always. And that's good advice only if you want to grow your mailing list. If you want to sell your book, for instance, better put your book up there and not your form. 😉
So, about your readers' needs. If they want actionable marketing tips – give them actionable marketing tips. But don't put your email form in the upper right side of your sidebar only because they say so. Put your book up there if that is what you want to push forward.
On another blog I run, I have implemented a very long opt-in form. It is basically hard for someone to get on my email list on that blog – ridiculous, I know. But that is on purpose.
I have gotten many emails saying they won't subscribe for my email list because it's hard – and that's ok. I do want that – I filter everyone at this very first step because I don't want on my mailing list for that specific blog anyone who doesn't want to spend one extra minute to subscribe – because once on that mailing list, I would expect them to spend way more time in reading, putting tips into practice, sharing feedback with one another, etc. It's all about what I want in this case.
Anyways, back to the recommendations for improvement of your website.
The recommendations would be different depending on your goals.
Let me again give you a few examples:
If you want to reduce bounce rate, I would pay more attention to the way you start your blog posts, if you have contextual links and what type, what's the level of relevance of your title and actual content, and so on.
I would also require access to your analytics to see which posts perform well and which ones – not so well (to benchmark and extract good and bad practices specifically for your blog or website).
If you want to increase your readers' engagement in terms of visit duration and pages per visit, I will then pay extra attention to the way you have structured your website layout and how you do your internal linking. I will also require access to your analytics to see where people are "falling off" from your intended visitors flow.
If you want them to complete a goal (opt in for newsletter, follow you on social media, buy a product you sell, click a link) then you should draw the route for them. You should design each of your website pages with that goal in mind.
To recap – ask yourself – what do you want? The recommendations fir improvement would be different depending on your goals. Set your goals first, then ask yourself how to improve your website. Unless you do that, it would be something like starting a campaign without making a proper plan first.
Tell me in the comments – was this post an ah-ha moment for you?
Have you ever asked for recommendations for improvement "generally speaking"? Will you do it ever again? 😀
P.S. If you have a website or blog you want to improve, and you have some goals in mind, get in touch to see how I can help within your budget 😀