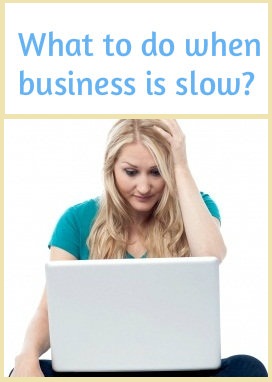 As all things in life, your freelance business is also apt to turbulence once in a while. Many freelancers report business gets slow in summer months. And since summer is just around the corner, I decided to remind you – do not panic if you end up having less work these coming months. Here are 4 tips to make the most of the situation when business is slow.
Have a break and relax!
When business gets slow, your free time increases, right? Use that to take some time off – it is important to recharge your batteries. Lack of inspiration is the most common side-effect of working too much, you know.
Whether you have overworked yourself or not, is irrelevant. I bet you won't refuse to have some me-time; your body and soul will thank you 😉
"Relaxing" has different meanings for different people – for some it's reading books quietly in the back yard or on the couch; for others it's staying on the beach all day; for yet another it's dancing all night in a club; or maybe even embarking on an adventure with a boat and unexpected end.
Whatever your idea of relaxing is – take that time off. It will recharge your batteries just enough to help you handle the busy period which usually comes after the slow one 😉
Improve your skills
You are good at what you do, I know. But we live in an ever changing world – so you probably can be even better, wouldn't you say?
Instead of self-pitying yourself that your freelance business is having a rough month, use this opportunity to read a few more books and grow.
Whether you improve existing skills or acquire new ones, the bottom line is that you don't let yourself go. You practice, you keep your mind sharp, you maintain the work habits you have despite the fact business is slow.
Besides, improving your skills will enable you to raise your prices. When you do, next time business gets slow, you won't feel it so much because your income won't suffer so bad of a hit.
Volunteer or help a friend for free
When you don't have a lot of work for paying clients, you can take on a project or two of your own. Supporting a cause or getting involved with a charity is such an opportunity.
Also, it's a good time to consult for a friend who needs your help but could afford paying for your services. It's a good deed and since you are anyway available when business is slow, it wouldn't cost you anything. It's a win-win – your friend benefits from your expertise and you use your friend's project to improve a little more and stay sharp.
And don't forget to market your freelance business!
After all, what does "business is slow" mean? You don't have enough active contracts, alright, but this doesn't mean there aren't any clients out there who have just the right task for you.
Look through available job posts, pitch clients, and put yourself out there on daily basis. Unless you actively look for work and network with prospective clients, business will be slow most of the time 😉
And what do you do when business gets slow? Does it ever?