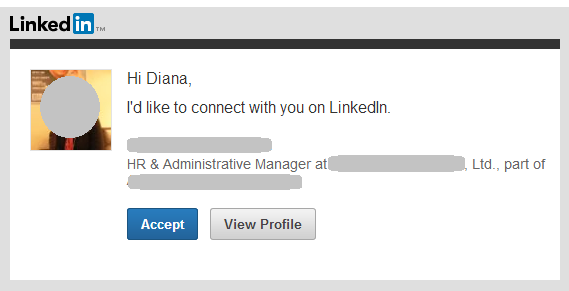 Today I got another default LinkedIn connection message and I said "That's it! I am writing a blog post about it".  So many articles have been written about LinkedIn (here's the LI marketing section on Hubspot's blog alone) and yet, many more people ignore all the valuable advice out there and choose to do the easy thing – hit the invite button without thinking it through.
Taking the time to write a custom LinkedIn connection message
is very similar to the situation with writing a custom cover letter. You don't expect to land a job if you send a standardized cover letter, do you?! Why then so many people expect to add a new LinkedIn connection to their network when they have not taken the time to research?
Writing a custom LinkedIn connection message shows you are interested
LinkedIn is a professional social network. As such, I would love to connect with many people as long as we share a common interest or have a common goal. However, if my potential LinkedIn connections don't take the time to research what my interests and goals are and instead, send me a default LinkedIn connection message, no way I am going to accept.
The way you invite to connect on LinkedIn says a lot about you as a person and/or a LinkedIn user.
Do you pay attention to details? Do you like doing stuff "in a hurry" or prefer doing your homework first? Are you just piling up connection numbers or are you after real life connections with whom you really want to network? Do you really use LinkedIn for business and like you are meant to use it?
Having in mind these questions (and more), let's compare a couple of connection invite messages.
Default LinkedIn connection message usually says
Hi Diana, I'd like to connect with you on LinkedIn.
A good custom message would say something like:
Hi, Diana. I came across a comment you left in the LI group Inbound Marketers and I particularly liked your insights on using LinkedIn for business. I'd like to add you to my network so we can stay in touch and exchange some insights on the topic. Let's connect! Thanks, [your name].
In the first case, I most probably won't even check the person's profile but would dismiss him or her as a LI user who tries to increase the number of their connections, for whatever reason. In the second case, I would definitely check out the person's profile and most probably, will accept the connection invite, will reply to their message and further network with them to see how we can help each other in the long run.
Now that we have cleared the why, let's see where we usually send out default LinkedIn connection invite messages.
We are prompted to customize the LinkedIn invite when networking with a particular person
When you are looking at someone's profile on LinkedIn with whom you are not yet connected, you will see a Connect button right below the brief info about them.

Clicking on that button will call another window for you to write your custom LinkedIn connection message. However, depending on the other person's privacy settings, you may or may not be able to connect with them this way.
If the privacy settings are strong, then when I click on the connect button on the profile, I will get this screen: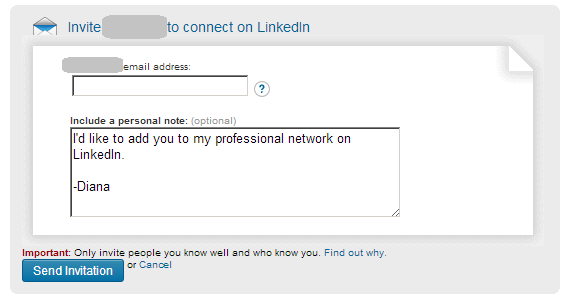 If the privacy settings are not that strict, then you will get this screen: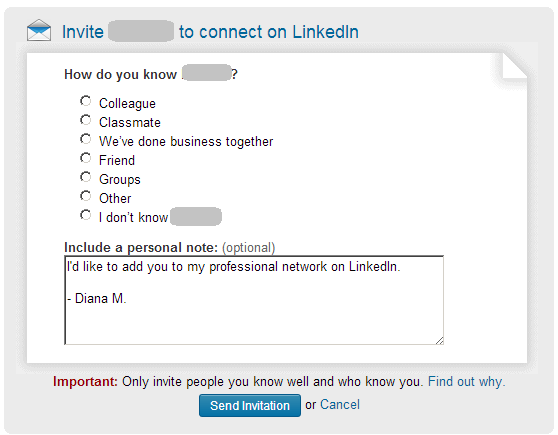 The most common way for building our LinkedIn network of connections is through the groups we participate in.
When I am long enough in a group, I see many repeat members who are more active than others. When I like most of the comments of a certain member, I learn more about them and send them a connection request. Then I am prompted to add a custom LinkedIn connection message (if I want to). I urge you to do so.
An example of such a LI group where I am a member is the Bloggers Helping Bloggers group. I have already connected with quite a few members there and getting to know interesting and new people every day. Well, sometimes it turns out not everyone is as they appear but, what can we do – moving on 😀
So, let's have a look at the Bloggers Helping Bloggers group on LI. If you like any particular member, before you send them a connect request, learn more about them and their interests, comments, etc. You can do that by looking at their profile and browsing the listed websites and social media profiles. You can also browse the member's activity in the group you have in common. Here's how. (I will use my own profile for illustration purposes).
When you look at a group discussion and you see a comment of a member you want to get to know better, click on the member's name to see more of his or her activities in the group:

Once you click on their name (pointed it with an arrow on the screen above), a new window opens showing me all the member's activity in the group recently – what they liked, what they commented on, what comments they left, etc. as well as some other groups they are  a member of: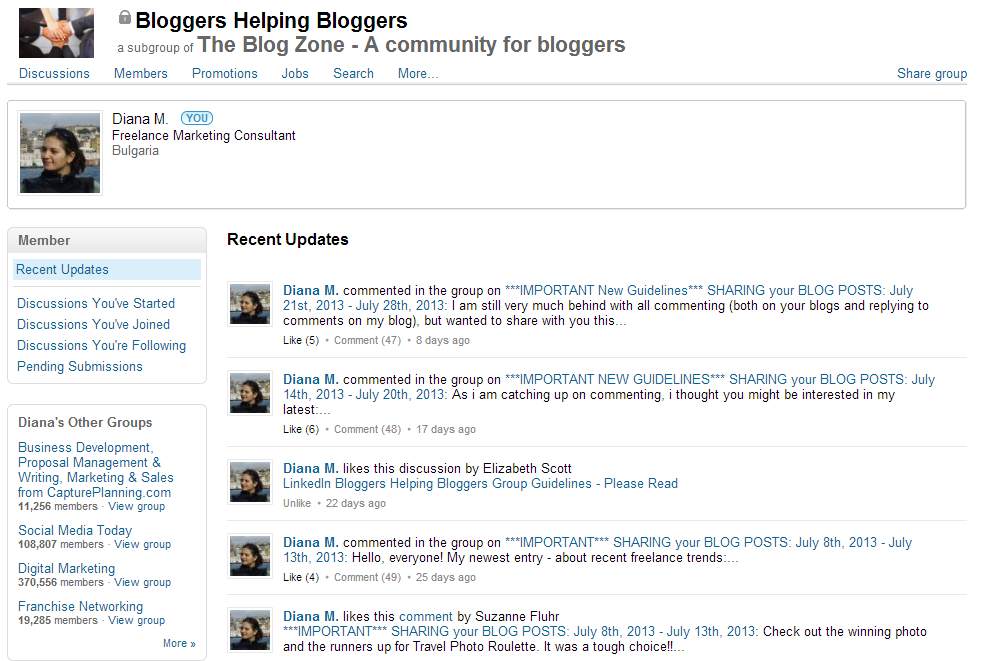 Once you know what type of comments the member leaves, what topics they get involved with, you should think about strategy – how to reach out to this specific person. If we continue the example with my LinkedIn profile, anyone who browses it will reach my blogs as well. One would be not easy to understand (non-English :D) but the other one is clearly about freelance and marketing. My recent posts are about freelance pricing where I give some hands-on practical tips on the topic. So this might be a nice "punch-line". This could be a legit way how someone could invite me to connect.
So, the custom LinkedIn invite message I would write myself would be:
Hey, Diana! I am following your comments on the BHB LI group and I enjoy many of your posts on your freelance and marketing blog. I liked very much your recent posts about freelance pricing and how you give practical tips freelancers can use right away. Let's connect so we can stay in touch and exchange tips and ideas!

Thanks, [your name]
Remember, when you send an invite to connect with someone on LinkedIn, the 'safest' way to do so is by indicating you know them via a common group.
Once the invite to connect is sent, be ware!
LinkedIn entraps you into sending some default LinkdIn connection messages.
You have seen many times, I suppose, the friendly suggestions by LinkedIn to connect with people you may know, right? Those look like this: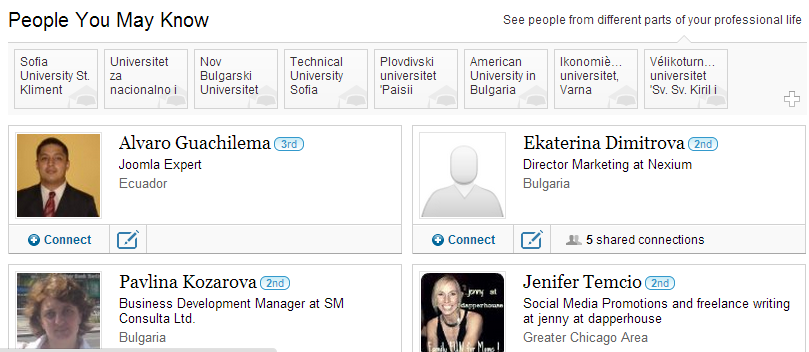 If you click on any of the Connect buttons on this section, you will automatically invite that person to connect on LinkdIn with the default connection message. So, please don't. If you see someone that you might really know, make the extra effort to click on their name, see their profile and then, click on he Connect button on their profile so that you can insert a custom LinkedIn connection message.
Your turn: do you accept connection invites from people who don't bother customize their message?
If you don't feel like commenting, connect with me on LinkedIn today – I would love to hear your feedback! 😀