Last week my post about LinkedIn connection message proved useful to most, if not all of you, so today I decided to blog about another feature on the same social network – LinkedIn endorsement. It too can get annoying sometimes… here's why and how to make the most out of it.
LinkedIn endorsement is a quick and easy way to support your connections.
There's no doubt about it. I believe LI team intentions were great when they introduced this feature to their users. But do we really use endorse on LinkedIn feature as we are supposed to?
I get a bunch of endorsements on LinkedIn every day. Here is a sample message I get delivered to my mailbox when someone has endorsed me (faces and names are blurred for possible privacy issues):

Getting such emails is just fine. What worries me is that most of the people who endorse me don't know me personally and/or have not worked with me, ever. I bet some of them even don't even really know what I do for a living. So, how could I trust someone's endorsement for my blogging, for example, if I know they have never ever set their eyes on my blog?
Abusing the endorse on LinkedIn feature renders it useless as a feature altogether.
Knowing how I got my LinkedIn endorsements from all kind of people who know little to nothing about me, my skills and my work, I wonder – how can I trust the endorsements others have on their LinkedIn profiles?
Every time I log in to my LI profile, I am invited to endorse on LinkedIn some more people for some more skills. I am sure you are all too familiar with either or both screens:
Single person and skill endorsement: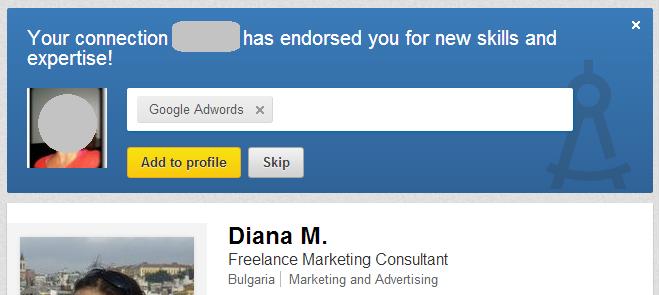 4 people LinkedIn endorsement invite: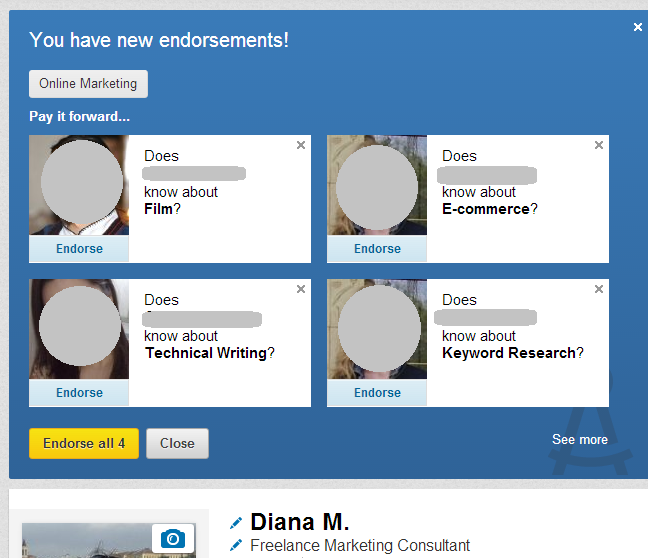 With one click you can endorse someone for a skill, or even 4 different people for different skills. Nice, huh? Well, it sure can be!
LinkedIn endorsements can be a great way to support each other – if done the right way.
LI endorsement suggestions often work based on the people you have in your network and the skills they have put on their profiles. So more often than not, you will be invited to endorse someone who you hardly know for a skill you have no idea if they have in realty!
If that happens – stop! Don't endorse them. Not because they are not good at it but because you do not know if they are good at it or not. Click on the endorse button for people you know and with whom you have worked. Endorse your connections for skills you personally know they are good at.
Only by truly endorsing people for their skills (and not for numbers) we will be able to make the most out of "Endorse on LinkedIn" feature.
What are your thoughts on LI endorsements – do you endorse people? When, why, why not? Tell me in the comments 😀