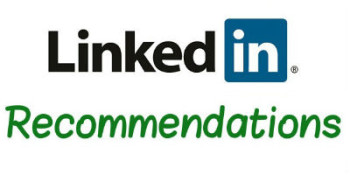 The idea for this post came as a result of a tweet conversation I had a couple of months ago with a fellow blogger. I think he confused LinkedIn endorsements with LinkedIn recommendations; we started discussing it and ended up with a blog post topic. So, what are LinkedIn Recommendations and why should you care?
Let me outline really quick the difference between LinkedIn endorsements and LinkedIn recommendations.
You give endorsements on LinkedIn with one click, often in bulk, and most often as a result of LinkedIn offering you to do so. More often than not LI endorsements don't mean anything, really. It could have been a great feature but it is heavily abused by LI members and for that reason – useless. Check out my post about LI endorsements if you have not read it before.
LinkedIn recommendations on the other hand, are super useful. They are very different from endorsements. I don't recall LinkedIn ever urging me to leave a recommendation. To the contrary – you have to make an extra effort to recommend someone for something.
In brief, the steps are: go to their profile, ignore the endorse button and click the little arrow next to it; choose "Recommend" from the drop down menu and then – select where you have worked with this person and what was your relationship (colleagues, reported to them, they reported to you, different departments, etc.); write your recommendations and after sending it – wait for the other party to approve it for public publishing on their profile.
As you can see – it is not only harder to leave a recommendation to someone; you need to have actually worked with them to do so. This is a prerequisite for honest review and I am sure LI members who use the professional network properly, don't ask random people for false recommendations.
If you don't have LinkedIn recommendations, it won't hurt you.
Maybe you are new to LinkedIn. Or maybe you don't have a lot of completed projects just yet to ask for recommendations. Or maybe your colleagues who can recommend your work are not on LinkedIn. Whatever the case – don't worry. It is better to have LI recommendations but it is not the end of the world if you don't (yet).
There are some benefits for you if you have LI recommendations though.
To name a few:
you are more visible and better positioned in searches
it adds credibility and value to your profile
people who are looking for new team members may be more inclined to hire you if you have a recommendation, especially if it is by someone in their own network
You should know that although recommendations are reassuring, they are rarely a deciding factor to hire you or not.
To take advantage of the above benefits, ask for recommendations on LinkedIn.
Not many people give recommendations to their connections without being asked first. Having said this, make sure you ask for the recommendations you want to get.
When asking, be specific. Ask only when you have worked with someone and you know they are happy with your work. Otherwise, you risk getting no recommendation or even worse, getting a bad reference.
A good practice to get more LI recommendations is to give them first. If you want someone to recommend your work, you recommend theirs first. Then they will be more inclined to return the favor and write a recommendation on LinkedIn for you.
In any case, you should ask and remember the above rules – be specific and be sure the person you ask for a recommendation is happy with your work.
I realize this post will probably raise more questions and lead to more posts about LinkedIn recommendations – how to ask for them, how to write them, should you always display all of your recommendations, what about recommendations on pages, etc. So let me ask you –
How much weight do you give to LI recommendations? Is there anything about them you dislike or don't understand?
P.S. I have decided to be more active on LinkedIn this year so I invite you to connect with me! Remember to customize your connection invite though, I never accept the default message 😀