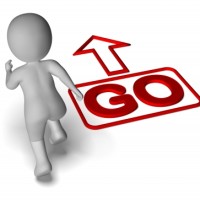 If you've completed your freelance profile already, maybe you are ready to land your first freelance job, too. However, when starting as a freelancer, we may not have much experience. And a common problem we face is that clients want experienced freelancers and often are not willing to give a first chance to a newbie. What to do then?
It's time for some strategic moves!
"Work for the glory" is the easiest way out of the vicious circle "I like you but I won't hire you because you lack feedback and reviews". Remember though that work for the glory is not work for free, neither it is underbidding or anything similar. What I did when I was starting as a freelancer was the following – I applied for quick and easy jobs, not necessarily in my field of expertise, to build relationships and get reviews, and quickly. With high quality and on time work, prompt communication and some initiative, I impressed my clients on a personal level and got my first 5 star reviews on oDesk.
There were 3 key moments to it:
Work for the glory implies low paid work and/or gigs which require no or little special skills. Reputation and 5 star reviews is the leading reason here. Again, I'd like to reiterate on the fact that I did not underbid the competition – I just applied for jobs which I am overqualified for, and earned less money than I usually charge.
These "glory projects" should be easy – so that we are absolutely sure we could complete them on time and with minimum efforts for the 5 star review we are after.
These "glory projects" should be small – this way we make sure we won't be stuck with a boring and low paying project for ages.
Here are a few examples of such glory projects I took upon when I was starting as a freelancer:
Data entry job which required some knowledge of the tourism industry – I was hired to populate the database of a travel agency website. It was really just data entry job – but it was important to have attention to detail, good English and some knowledge about accommodation for travelers so that I populate the website with proper information at the right places. I got my first 5 star review.
1 page translation from English to Bulgarian – I happen to be native Bulgarian so it was pretty easy for me to compete against other contractors who were not. I didn't even bid less than my usual rates – I was so confident I would get the job simply because I'm a native and I applied with a good and customized cover letter. It took me 15 minutes to complete the job and got me $10 and 5 star feedback on oDesk.
Simple online research for market evaluation – I was hired to compare several websites of online pharmacies for a Canadian client. I offered lower than my usual rate but relatively high rate compared to the other applicants. I guess I landed the job because I had a different approach and idea how to make the report useful for the client – not just some data compiled in a word doc. The end product of my work was ready-to-use information – I am sure my marketing background helped him make the decision to hire me and not somebody else. It took me some time to finish but still – my third 5 star review was a fact and I never ever had to work on a project outside of my niche of expertise again.
At that moment, I already had experience. I was no longer a newbie freelancer in the eyes of potential clients because of the feedback and reviews I got from these 3 "glory projects".
Maybe it won't be interesting for you to do such work but I think this was the price I had to pay to get the evidence of work ethic and skills on oDesk and to give myself the opportunity to be noticed for other type of jobs, those which really interested me. 😀
I'd like to make a clarification though, a couple of them:
1) This advice for when starting as a freelancer most probably won't apply for programmers and designers because they have a totally different work system and process and I highly doubt someone would care if they can or cannot surf the internet 😉 Besides, freelance programmers and designers almost always have a portfolio with projects to showcase their skills – even if they are not paid projects. From today's perspective, I think it's the same with freelance writers – your portfolio speaks for your skills regardless your reviews or lack of such, even on freelance job boards.
2) This was my experience when I was starting on oDesk a few years back. Just recently, several weeks ago, I started bidding on Elance, too. I am not sure why, but I neglected this advice and went ahead with bidding on quality projects with relatively high rates with zero feedback or reviews on that website. I still landed my first job on Elance within the first week; I was chosen for my second project only a couple of days later (still with no feedback and only 1 open job). So maybe the advice about "work for the glory" when starting as a freelancer is good for newbie freelancers who are not very confident yet and need their reviews as self-reassurance.
In any case, be patient and don't give up after a week has passed…
In the beginning, I had to apply for hundred of jobs, look through many websites and write even more customized cover letters and still not land a project. Truth is, once the ball gets rolling – there's no stopping it! The more complete your freelance profile is, the more reviews you have, the more work hours you've billed – the more clients are actively looking for you and inviting you to bid on their projects. Of course, remember that sending customized and specific cover letters is key to success, too – but that's another topic I'll cover down the road.
If you are experts in your field, have professional attitude and reputation as a good partner and freelancer, the moment will come when you will continuously increase your pay rates and still, you won't have enough time to look through all project invitations and decline them. 😉
Your turn now – what are your tips for when starting as a freelancer?