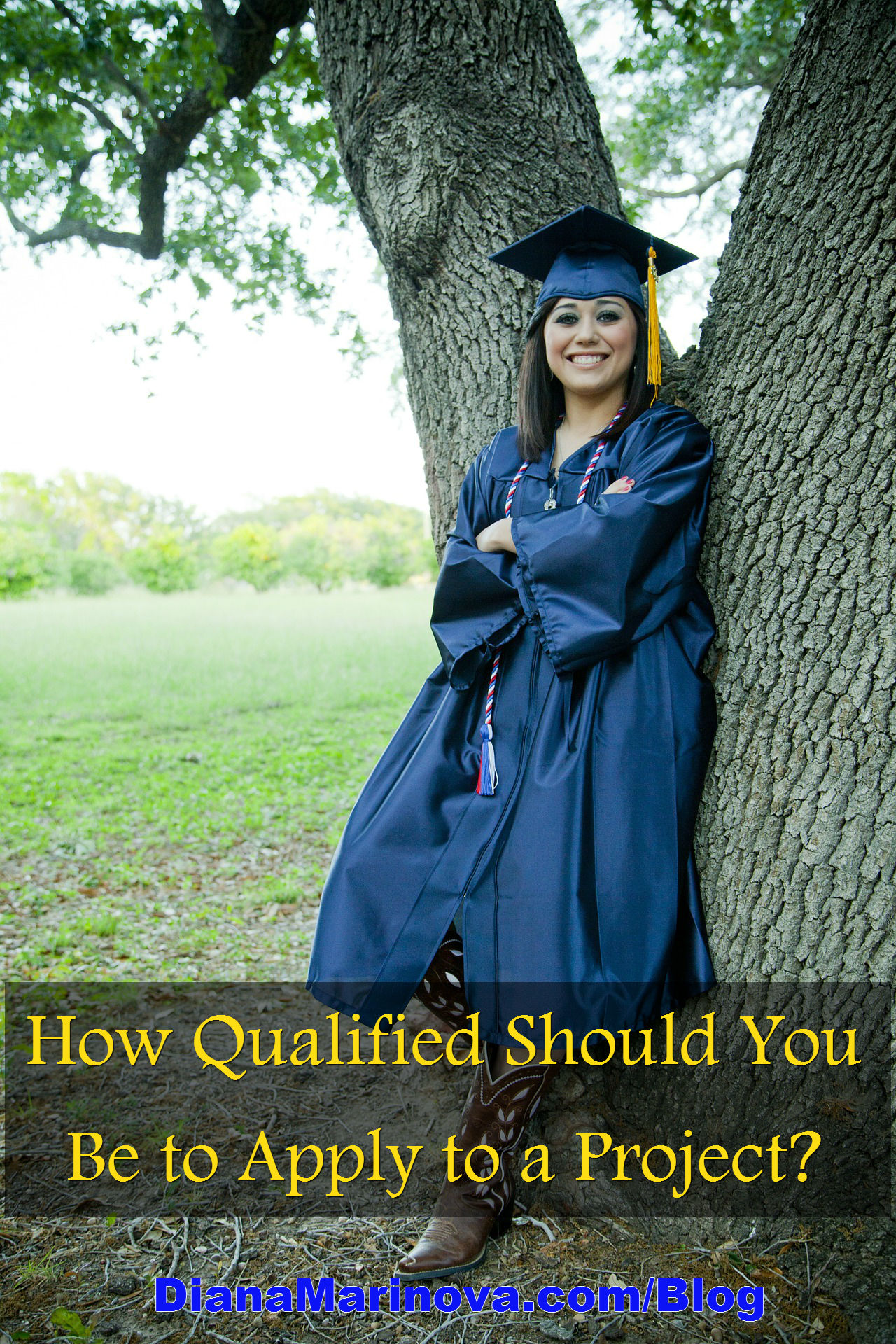 This post is a bit unusual for this blog format but I hope you'll find it useful nonetheless. It is a result of a reader's question I received some time ago. It probably is a question many starting freelancers ask, if they are unsure of their qualifications. So I included the question as well as some food for thought on some points in her email.
The question:
"What happens if I cannot complete a project? I applied to a few projects which required little to no qualifications but I didn't get any of them. So I decided to specialize in something. I took some tests and found out I am kind of natural in a specific area. I passed a few tests with flying colors but I have never worked on similar jobs. I don't have any diplomas about it, either. This type of work is interesting to me and I believe I can complete projects in this area but my lack of experience worries me. Would I be penalized if clients find out I don't have any certifications or diplomas in this area?"
And here are my thoughts on the topic. 
First, this reader has quickly realized she needs to specialize in something in order to succeed.
If you remember, focusing on a single niche and becoming an expert in it is an advantage you can use to set a higher profile rate on websites like oDesk and Elance.
Second, if you think you can do a job, there's no reason for you not to apply.
You will discuss project details with your prospective client before you enter a contract. If during the preliminary conversations you find out you are not suitable or cannot do the job, then you can withdraw your application. If after agreeing on all details you still think you can complete the job with quality and on time, there is absolutely no reason for you to be worried. Continue with the job.
Third, you should make a clear differentiation between being perfectly capable and qualified, and wanting to be perfectly capable and qualified.
You will never be 100% ready to start working on your first project. No matter how experienced or inexperienced you are, you will always have room to improve and something new to learn. This shouldn't worry you.
If you know how to complete a project, take it.
If you don't know how to complete a project but know exactly where to go to learn the missing parts and complete the project, take it.
If you don't know how to complete a project and have no idea where to look to learn what you don't know, don't take it.
Don't ever enter a contract relying on a friend's help without personally knowing what's needed to complete the project. That could only end badly for you and your freelance reputation.
Forth, you don't really need a diploma to be good at something and clients usually know it.
For so many years working as a freelancer, I have been asked only once if I had a diploma. And the client who asked didn't even want to see it. They just asked me if I had it and when I said I did, they never spoke of it again.
When a client starts looking for a freelancer, they have already stepped into a somewhat modern world. Today everyone can buy a diploma, so to speak. There are plenty of people with diplomas who are not good at their jobs. Also, there are many people who have not taken certification courses but are brilliant at their jobs.
Clients look for the latter. They want brilliant minds and don't care about a document certifying their brilliance.
If you took them with flying colors, you probably have what it takes to complete a job in the specific area. Obviously, I don't know what this area is and I cannot say if you should take the project or not. You should make sure you are not breaking any laws, too.
To give an example from the top of my head – if you are an accountant and want to help US-based clients with financial consultation but you are located in the European Union, you could take an accountant test with flying colors but still not be eligible for US-based projects because the local laws are different.
But again, applying to a project doesn't necessarily mean you will be awarded that project. You can always withdraw your application and you should do so, if you find out you are unsuitable or incapable of delivering what is required. When you back down during an interview, nobody can hold you responsible for it.
You thought you can do it but it turned out you couldn't so you refuse to enter a contract. That's the right thing to do and cannot reflect poorly on your reputation. What could potentially hurt you is taking that project although you did not really know how to complete it. There's nothing worse than your first review saying:
"I hired this freelancer based on her test result and reassurance she could do the job with quality and on time. It turned out she doesn't have any of the skills required, she never really understood what the project is about or how to complete it, and she has been lying to me since day 1. Awful experience. I would never hire her again and I would not recommend her to anyone as a team member."
You do not want that kind of review on your profile under any circumstances. It could end your freelance career before it even started. So think carefully what projects you take and make sure you do know how to complete them before you enter the contract.
What do you think – how qualified a freelancer should be to apply to a project? Would you advice this reader differently?