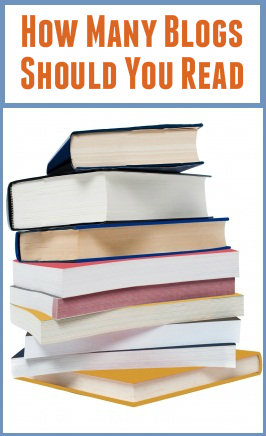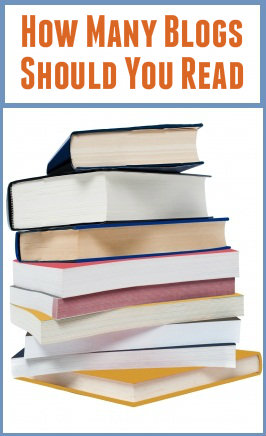 I have always been amazed how some readers and bloggers rush into doing something only because someone of the "big shot" bloggers has told them so. Reading blogs and commenting as tactics for something makes no exception. It's time you paused and thought about yourself, what you do and most importantly – why you do it.
(And no, this isn't a blog post about setting goals – by now, you should know better when it comes to smart goal setting 😉
I bet you've been overwhelmed at some point by the number of blogs you tried to read and comment on regular basis.
Not me, not any more anyway. It's a common practice for bloggers to network and leave comments to one another. Some do it because they have something to say and others do it only for the sake of the comment and/or the link back to their blog.
I read blogs for 3 main reasons:
Because I learn something new about marketing, freelance or travel opportunities which enriches me and helps me grow professionally or personally

Because I enjoy them – these are the blogs which have nothing to do with marketing and/or freelance but I read them anyway – because they make me laugh, because they make me think, because they make me relax, because they make me a better person, because…

Because blogs are ideal in form for my busy schedule and short attention span 😉
I comment on blogs for 3 main reasons as well:
To network with the blogger and let them know I find their content valuable

To add value to the conversation – maybe the blogger posed a question, asked for feedback, discussed a topic which I can help them with by sharing my experience, and so on

To spark a discussion and/or ask a question myself – when reading blogs, I often come across content which raises additional and follow up questions, so I seek answers 😀
Right about now you are probably wondering – why am I telling you this? Why do you care?
To save yourself some time – time, you may be spending in reading blogs down the road…
It seems to me everybody has a blog these days. But beware! Finding a blog is not a good reason for you to start reading it on regular basis. Somebody asking you to have a look at their blog is not a good reason for you to do so either.
Not all blogs are created equal and not all blogs are worth reading.
I used to read a lot of blogs back in 2009 when I was starting as a freelancer (I had plenty of spare time on my hands then!). And since then, I was only adding to the list of blogs I should read, although time became a scarce resource.
I struggled for a while being overwhelmed with all the content I get via email and in my blog reader every single day but I solved that problem!
I have to thank Henrik from the Positivity Blog for helping me cope with this problem. In his post with 23 tactics to improving productivity, he says:
18. Limit your daily information input.

Regularly unsubscribe to blogs, podcasts, forums and email newsletters that you rarely spend any time on or that doesn't add much value to your life anymore.

Keep only the most helpful, inspiring and best ones. This very simple thing can free up quite a bit of both time and attention in a month.
Although kind of obvious, I admit – I never really thought about that as an option. My line of thinking was – "ok, I subscribed once, I must have had a reason – why opt-out now? What if I miss something?"
I was like a hoarder when it comes to reading blogs!
I was afraid I would miss something, can you imagine? Henrik's tip was very simple indeed and it really freed a lot of time. I removed almost all of my email subscriptions and those blogs which I still found interesting – I added to my blog reader for when I have time to read.
And guess what – I didn't miss anything! 😉
It's ok to try new things and when you see an interesting post, it's ok to give that blogger a chance to become part of your reader list. But if their posts turn to be mediocre, don't tolerate that only because they wrote that one original article. Chances are, if they write another – you will come across it again, the same way you did the previous time 😉
Also, beware that not everyone likes the same blogs. Your favorite blogger may be the worst blogger ever for your neighbor or best friend. Don't just rush into reading everything and following everyone just because someone has said you should do so.
If you are on the fence on this one, I would suggest you read Ramsey's post on the Blog Tyrant, where he says we shouldn't read blogs. 😉
Do I hear you say "But wait, I draw inspiration for my blog from reading blogs?!"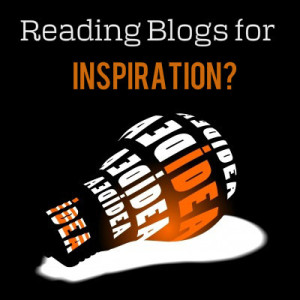 That's ok – I do that, too… sometimes 😀
But I don't think you should be reading blogs hoping to get blog post ideas. I believe it works the other way around – when you read blogs which you like, ideas come to you because the content you read gives you food for thought and is interesting to you. You can't force inspiration with mediocre content.
Sourcing for blog topics isn't a good reason for you to go search for blogs to read. Quality blogs find you and jump on your reading list alone 😉
It's similar with blog commenting – don't do it for the sake of leaving a comment.
No wonder a lot of blogs recently started closing their commenting sections altogether. In the context of recent Google manual spam penalties, maybe it's not a bad idea. But then again, if you are careful what comments you approve and what links you allow readers to have – you're good.
Leave a comment when you have something to say. And note that just adding certain keywords from the blog post in your comment may fool the search engines but doesn't fool the blogger. It really shows if you read the blog post and left a comment because you were excited to share your thoughts; or you skimmed the blog post and left a comment because you could use a link back to your own super cool new post you just published, although you didn't have much to say in a comment…
Leaving comments for the sake of a link back is a waste of time for everyone:
A waste of your time – after all, you spend time thinking of what to write and then writing it
a waste of the blogger's time – the blogger should read your comment and then take the time to address it
a waste of that blogger readers' time – because each comment you leave is a part of the overall discussion and all other readers, who do have something to say, will take the time to read all existing comments on the blog post, including yours.
Bottom line – reading blogs and commenting should be done in moderation and only when all parties benefit from it.
Reading blogs can give you ideas and might improve your writing style. But reading a lot of blogs doesn't really guarantee either of those.
Commenting on blogs can give you a link back but this sure isn't a good reason for you to comment. Always comment with the blogger and their readers in mind – results would be better for you, I promise.
Reading blogs and commenting is not a numbers game – never was, never will be. As most things, quality is way more important than quantity.
If you have the time and want, tell me in the comments – how much blog reading and commenting you do and why?