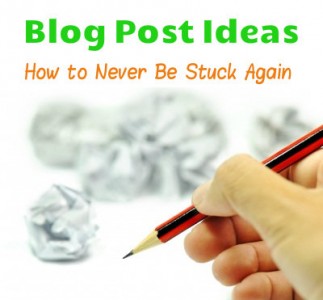 When I was starting my first blog almost 4 years ago, my boyfriend asked me, "Are you sure you wanna do this? Where will you get blog post ideas? Will you still have what to write about in a few months?"
I smiled at that question – obviously, he hadn't run a blog. Although I had not done it myself either, it was absolutely clear to me there was no way I could ever run out of topics. Read on to learn why 😀
I decide what to write about from experience.
Being a freelancer is hard – I think we established that. 😀
Literally every day I learn something new "on the job". Maybe marketing related, maybe freelance related – but's it's there and it's new. I also have a lot of questions – especially about the freelance part.
Luckily, I've been a freelancer for long enough to have not only questions but plenty of answers, too! So, my first starting point when I decide what to write about is that – the questions I have asked once.
If I ask a question, chances are there are tens and why not hundreds of other people out there asking the same question. So once I know the answer, I blog about it.
The best ideas for blog posts come from my readers though.
It is somewhat a follow up to my earlier point. I get a lot of questions from readers in the comments, on social media and via email – especially from freelancers.
I also get a lot of questions from clients! If you remember, my ebook which I give as a freebie to my newsletter subscribers, was born exactly as a result of repeat requests from clients to help them make their blog posts attractive to readers and search engines alike 😉
So long story short – I listen, and I listen a lot. I always read and reply to comments on my blog, on social media, and via emails. Sometimes it takes me more time (if I am busy or on the road) but I always reply. So far, the best posts have come as a result of readers' feedback and questions!
Blog posts ideas are all around us – learn from other bloggers.
The next source of inspiration for blog posts ideas (at least for me) is fellow bloggers. I read a lot. And I see many posts which I agree with or disagree with. But one single common denominator for all blogs I regularly read is that they make me think.
They provoke something in me. I either learn and put into practice (which improves my work), or I get some food for thought and blog about something which will help my readers become better at their work. How cool is that?!  😉
Although the quality blogs are not as many as we might think, they are still enough to always have material to read, learn and source blog post topics from.
There are also some blog post ideas generator tools.
I admit – I have not used these tools much but that is mainly because I have a very large list of topics which are waiting for me to write them. I found the tools super useful "in theory" – if I ever get stuck.
The first one I'd like to mention is the Content Strategy Generator Tool – V2. It's an excel sheet with preset columns and formulas in it. You can save it to your Google drive and it goes online and search the net for you.
And by the way, it's good not only for topics sourcing but also for news monitoring and identifying opportunities to network with like-minded people. Read the post on SEO Gadget by Daniel Butler about the content strategy generator tool.
If you want something very simple and quick (no instructions and master mind thinking needed), check out the HubSpot blog topics generator.
Sometimes they are accurate, sometimes they are not. I think they just mash together some words you give them but nevertheless – they occasionally give good food for thought (if not an exact topic to write about :D)
And one last bit of advice – write down every idea you have and stay organized with an editorial calendar…
To tell you a secret, I make my blog topics ideas sourcing easy by doing 2 things:
I have a file where I write down every single question or blog post idea that comes to mind… I don't worry about quality, structure, details or when I will blog about it. I just write it down with a few notes to remind me how I got that idea and why it's good.
I have a blog editorial calendar for at least a quarter ahead, sometimes more (right now, my calendar is planned for 6 months to come!)
Your turn – how do you decide what to write about? Where do you source your blog post ideas from?