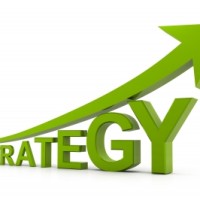 It's common to confuse blog marketing strategy with the plan we have how to make our blog successful. Often bloggers don't even think about the strategy – they just nurture their blog and readers or even worse – just blog. However, best case scenario – the blog grows without clear purpose and out of our control. And for control freaks like me, that's not an option.  I am surprised I didn't include the blog marketing strategy in one of my first posts with tips when starting a blog 😀 Today I'll correct that and share some thoughts on the topic.
Look at your blog as if it were a business
Even if it isn't – think about it. If you had a business – would you want to go about it without a strategy; without clear goals in mind and at hand; without clear idea of what you are saying, to whom you are saying it, and how you are saying it? I don't think so. So why do it with your blog? Even if it's just for fun, you still blog for some reason and want to appeal to someone in some way…
Having a blog marketing strategy helps you position yourself and your blog
Last week there were plenty of comments about having a blog niche and blog purpose. Regardless who agrees or disagree with me, it showed me that having a blog niche is somewhat a hot topic and a question many asks themselves sooner or later. To be perceived the way we want and to attract the readers we like (not just any readers!), we need to position ourselves. Spending some quality time thinking about what it is that we want from our blog is key.
Take a pen and a sheet of paper (a blank word document would do, too) and start writing – what you want to blog about, who you want to read your blog, how you see your blog in 1 year, and what about in 5 years, how you see yourself and your community later down the road… Be bold when answering these questions! It's not about numbers. If you have 10K readers and half of them comment – sure you'll feel good about yourself. But is this what you really want? Wouldn't you feel better if you have touched and changed (in a good way) tens or hundreds or why not thousands of lives with your blog? Won't it be terrific if you know that your readers turn to you and nobody else in their hard times?
First step to creating a blog marketing strategy is to write down your purpose, whom you want to reach and why. Decide what people will associate you and your blog with. Position yourself.
Next step is deciding on the message you want to convey
Let's say you have a specific blog niche – do you want then your readers to come to you with questions about certain things in your field of expertise? Or let's say you blog about everything and for fun – do you want then people to come to you when they feel blue and need some cheering up, or advice on a personal problem? Either way, the message you spread should be consistent.
Always be truthful. Always be helpful. Always be there and interact. Always add a personal touch to everything you write. Always share. Always be friendly. Don't go personal – people may and should disagree with you from time to time; it's their right and it's good to agree to disagree. Last but not least, always think about your readers when writing – why are they reading and what are they feeling when reading my blog posts? Do they find them useful, or cheering, or depressing, or something else?
Emotions are the greatest trigger for human behavior. So it's up to you what type of emotion you'll provoke in your readers. Just write down on that not-so-white-any-more sheet of paper all the emotions you want your blog to be associated with.
And finally – delivery of your message toward achieving your blog marketing strategy goals
Ok, you have a blog now. You know how you want to position yourself in your readers' minds. And you know how you want to associate you. So, it's time for the little things.
What platform and tools would you use? Remember that it should be easy for your readers to read, comment and share your content.
What would you blog about and in what form? Again, think about the message you want to convey and be honest about your strengths – are you good in writing how-to articles, or maybe story telling, or writing reviews, or poetry, or essays, all the above, something else? Whatever the answer, don't try to do what others do or don't do. Your readers will come to your blog because they like you – what you are and what you have to offer. Be yourself. Do what you can do best.
How often would you blog? Check out your calendar – don't just say 5 times per week – see how much time you can commit and follow your schedule so that you build a strong community of loyal readers and commenters. Read my recent post about blog editorial calendar, if you like 😀
How would let the world know about your blog existence? Today we have many options – search engines, blog directories, social media networks and groups, forums, emailing lists, and many more. Think about the communication channels you like to use regularly and include them in the strategy you are drafting. But I think details of blog promotion should go into the blog marketing plan – something I might talk about next week 😉
Put final touches to your blog marketing strategy
Once you've drafted your random thoughts about goals, key message and delivery of your message, look at them again. If you've been bold when writing them in the first place, there will be a lot of truth on your sheet of paper, a lot of personal thoughts which you need to organize now. Your blog marketing strategy wouldn't be very long – just a page. But it will consist of clear and concise sections about 3 things:
1) positioning yourself and your blog
2) key message of your blog
3) delivery of your key message to your readers
Your turn – do YOU have a blog marketing strategy? Why yes or why not?
I have plenty of experience and tips to share – I'm just not sure yet where to start or what would be interesting for my readership. So your comments, questions and feedback are encouraged and highly appreciated 😀