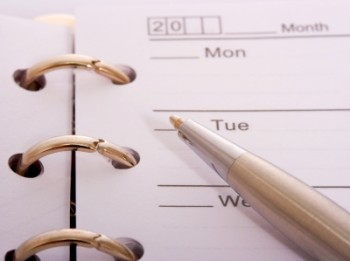 As we discussed last week, one of the first things to do when starting a blog is to blog regularly. I don't know about you, but the only way for me to do that is to have a blog editorial.
The blog editorial enables me to write in my own pace
When I have it all on paper, I know what I need to write and what the due date is. The blog editorial helps me stay organized even in the creative process of writing. If the inspiration happens to come at midnight on a Tuesday, I can just open my blog editorial and see what the next article I need to write is. If I feel like writing about something in particular which is not ob my blog editorial – no problem; I just add another topic to my blog editorial where appropriate and start writing…
Having a blog editorial also helps me a lot when running multiple blogs
I can get easily overwhelmed or confused what to publish when and where. So, when it's all there, in written, I can always double-check and more importantly – I can always plan the time I will need to write certain content before I lose my sleep over deadlines.
Creating a blog editorial somewhat frees my mind
When starting a blog, I have so many things to say that I often cannot decide what's more important to be said first. So it's a relief when at some point I spare the time to think about the logic in my blog, the topics I want to cover, the sequence of the different posts; and afterwards – I just sit and write without thinking and worrying what should be written, when, how, why…
On the other hand, when I have been running a blog for a long time, sometimes it's hard to come up with new topics. Maybe everyone's been in the situation when you stare at the blank sheet of paper (or new word doc) and just don't know what to write about. With the blog editorial – this never happens to me. I always know what I am going to write about. Well, I might stare in the blank document titled "Blog editorial" but that's another thing 😉
The blog editorial improves the blog posts qaulity, too
Last but not least, having all the topics in one place and in advance helps me better research, if research is needed. Nowadays, we spend a great deal of our time online, right? We read a lot of interesting and useful content on daily basis. So when I come across something interesting which relates to one of my soon-to-be-written articles, I put it down on my blog editorial – to remember and make the reference when the time comes.
Creating a blog editorial isn't hard and is a matter of preferences
I have always used plain word document to create my blog editorial but recently I started looking around an app to do that. I am just trying out Evernote but so far, the only difference I see is that I can sync my notes – I have access to the editorials or blog posts ideas and notes across all my devices – PC, laptop, tablet, phone. It's an important difference though – I never know when a new idea will come to mind and I'll have to write it down 😉
If we forget for a moment about the technical side of things, creating a blog editorial for me is a process. I try to have blog editorial for 2-3 months ahead for a new blog and for at least a month ahead for well established blog. So I spent a few hours every now and then to actually create the blog editorial. I recently came across a great article by Jeri Walker where she gives a great tactic of coming up with new topics for your blog. Her post is titled What to blog about. I am yet to try it myself 😉
I usually draft topics ideas on the go. I compile raw info on daily basis using the following informational sources:
just browsing online
conversations with clients and friends
readers' comments, questions and emails
interactions with other bloggers and the community on social media
and basically everything else that comes to mind.
Once it's time to create the blog editorial, I open this file with ideas and start bringing in structure to it – what topics, what keywords, what structure for each article, etc.
Bottom line – the blog editorial basically ensures that I will blog regularly
and that I am prepared to do it in my own pace. It helps me write better content. And it makes me a better blogger and a better member of the community.
Your turn – how does having a blog editorial matter to you?