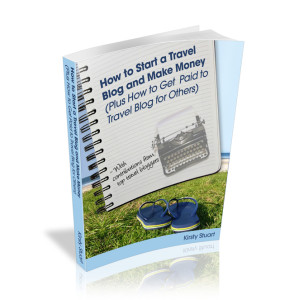 One of my favorite fellow bloggers, Kirsty Stuart, recently published an e-book about travel blogging. No wait, it's more than just an "e-book about travel blogging"! It's about starting a travel blog and more importantly, teaching travel bloggers how to make a good living out of it. Read on to see my full e-book review.
The first thing that grabbed me about this travel blogging e-book
was how it was organized. It's divided in 2 parts – one to get you started (how to start a travel blog and make money) and the second one – to get you all excited about getting rich while traveling and travel blogging for others 😉
When I started reading though I instantly saw 2 more things for which I tip my hat to Kirsty: the extremely hands-on practical tips she shares in her book and the way she shares her knowledge and experience. It's obvious she speaks from experience and leads by example, not just for the sake of writing a book…
All travel bloggers would find useful the practical tips that Kirsty shares.
From basic things like buying your own domain and setting up your website, through coming up with blog posts ideas, all the way to free ways to promote your new travel blog (you know – email, guest blogging, social media marketing…)
I particularly liked how Kirsty has dedicated separate chapters to different ways of monetizing your travel blog – creating and marketing information products, affiliate partnering (pay attention – it's not quite the same as affiliate marketing ;-)), advertising on your blog, and the one I liked the best was about sponsored posts and… wait for it, paid press trips!
Some of the tips are valid for all type of bloggers, not just travel ones, but what I was really blown away by was
a great deal of research that Kirsty just put out there in relation to great travel blogging gigs and paid press trips.
You know how you build a list of clients, or useful websites and resources for years? And then you keep that list safe as if your life depends on it?
Well, in her book, Kirsty gives one such list to you, just like that! You will probably still have to further research and do the leg work but for starters, you will have a few sites to look out for those paid press trips I mentioned before and also – 9 websites where t pitch for well paid travel blogging gigs. 😀
I found particularly useful the section 'How to Pitch for Travel Blogging Work'.
Many writers cannot stand from the pack because they are too involved with their work, or don't pay attention to the right things (like client's audience vs your own interests, for instance!). So Kirsty comes to the rescue. She basically holds your hand and talks you through the pitching process in this section.
She starts with some myths about how much travel bloggers get paid, and then – the fun stuff. Real, hands-on, take-it-and-use-it pitching tips. She even includes as an example one of her first successful pitches to a large travel company back when she first started out.
If you have ever had problems with pitching for traveling blogging work, well – how can I say it, you probably won't have that problem any more after reading this section 😉
Another favorite chapter was "How to Write the Perfect Travel Blog Post".
I know, it sounds a bit too much, doesn't it? We all know there's nothing perfect 😉 But as I have seen throughout the whole e-book, Kirsty again delivers great deal of practical tips.
She basically tells the reader how to write their blog posts in such a way that they not only grab but keep the readers' attention. She gives somewhat step-by-step guide how to turn your travel blog posts from "regular" to  "successful" and "awesome". It really is all about the way you structure your post, so give it a read.
The most amazing thing was how Kirsty introduced travel blogging as a lifestyle.
The e-book doesn't just teach you how to start a travel blog and make money with it. It teaches a whole different perspective. It set your mind on fire showing you how you can have everything you want – if you want it and dare to have it.
Maybe because I am a freelancer myself and I have Kirsty's mindset and attitude toward life, but the most valuable aspect for me in this e-book is that travel blogging is a lifestyle and Kirsty helps you train yourself into it.
How did you like Kirsty's e-book review?
If I inspired you to buy it (available on Amazon), tell me in the comments how you liked the book, too 😉