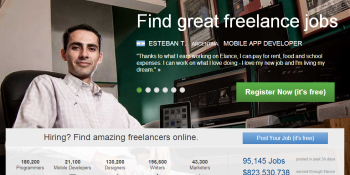 You already know my favorite freelance website is oDesk – check out the oDesk review I posted earlier this year. To be honest, Elance is a very close number two in my book so as per many readers' requests, today it's time to publish an Elance review, too. Read on.
The structure of the website is a bit unintuitive to me.
I guess this is a matter of habits and preferences. However, it's worth saying that it took me a few days to force myself into getting used to the logic of Elance dashboard and administration. Elance has a great help section (like oDesk) but they have one thing better – Elance University with how to videos, webinars and much more. Check it out along with the related content so that you know your rights and responsibilities as a client and/or a freelancer. Only then you can make the most out of this freelance website.
Both hourly and fixed price job payments are guaranteed.
Similarly to oDesk, Elance has a desktop application to track your work activity. It's called WorkView or Elance Tracker. The app is more limited than the oDesk team application but does somewhat the same job – takes a snapshot of your screen once every 19 minutes; has work diary with your screenshots, option to add a memo to each picture, and so on.
What's different and better on Elance is the escrow service; making fixed price jobs as appealing as hourly paid jobs because of the guarantee you'd get paid. For this to work, 2 things should have happened:
1) the client should have agreed to using escrow conditions (I have not yet seen a client who has not agreed)
2) freelancers and clients should negotiate milestones based on which payments are released.
When a milestone is reached, the freelancer can and should request a milestone payment. The freelance client can approve the request and release the payment right away. If for some reason the client does not do hat (they are away, no working, offline, forgotten, whatever other reason), the payment would be automatically released to the freelancer at some point (I think I was 2 weeks period).
The payment may not be released in case the freelancer has not completed the work as agreed, the quality is poor, etc. – in which case the client should refuse to release the payment and file a dispute. You can read more about this specific matter in Elance help section.
Payments from Elance reach the freelancer's bank account relatively quickly
If you remember, the work week in oDesk ends on Sunday and you automatically get your funds available for withdrawal 10 days later. In Elance things can happen much faster.
When the work week ends on Sunday for the hourly paid projects or when you request a milestone payment for the fixed price jobs, the client has the option to approve the payment right away – which instantly transfers money from his Elance account to the freelancer's Elance account.
Then, when you initiate money withdrawal from Elance to PayPal or Skrill, you receive an email that your request will be approved within 24 hours. The record low approval time for me was 12 hours between the time the work week ended and the time I got my money in my PayPal account 😉
If the client does not approve the payment manually and right away, it is released automatically a one or two weeks later, depending on the type of project.
I find a bit confusing the moment with submitting reports and time sheets.
There is a requirement for freelancers to send time sheets to get paid, based on the screens in their work diary. So far – so good.
On one hand, freelancers should send their time sheets regularly, before a certain time on Sunday. On another hand, if you are working on an hourly project guaranteed with WorkView, your time sheets would be automatically submitted for you each Monday (which is after the deadline pointed out in the Elance help section).
Time sheets are a feature of the hourly projects only – the fixed price projects have status reports instead, based on milestones and deadlines. So, I didn't quite understand if and what would be the problem if I send a status report late, for instance… I would suggest that you read carefully the freelancers' and/or clients' guides that Elance have made available to their users.
There are hundreds of free skill tests available on Elance.
Like on oDesk, here on Elance the skill tests are good and free. It seems to me that both oDesk and Elance use the same testing system and platform as the tests on the 2 sites are very similar, if not with identical questions at times.
There are free and premium membership levels on Elance.
On one hand, this is good but on another – not so much. Let me elaborate.
Freelancers can create a free profile which allows them to apply to job posts and work on projects in a single category of their choice. The free membership enables them to register as an individual or a basic/company (the latter allows them to add additional team members to their account). There are 3 level of premium membership as follows: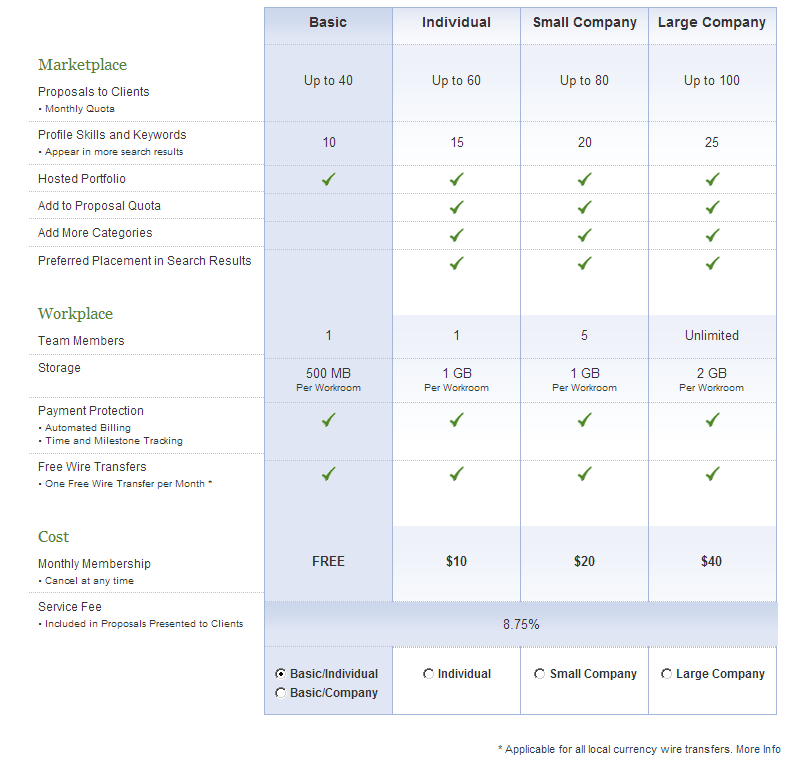 A few things about the fees freelancers owe to Elance:
If you remember, in oDesk the fee was 10%. At first, you would think that 8.75% is lower and this way, Elance would seem more freelancers friendly. Yes, but no! oDesk fee of 10% is deducted from the client's payment and on Elance, the 8.75% is added to the freelancer's pay. So in the end, the amount of money the freelance website gets as a fee is basically he same 😉
There is no contract and a freelancer can downgrade or cancel their premium membership at any time. However, it's worth mentioning the fee is automatically paid at the beginning of each pay cycle. So, if you want to downgrade or cancel your membership, you need to say so in advance.
There is a somewhat hidden fee
If you noticed above on the screenshot, the primary differences between free and premium membership are the proposals quota and the categories you can work in.
For me 40 proposals per month were more than enough as I rarely look for new projects to work on. However, I had difficulties choosing between marketing category and writing category. So I upgraded to the first level of paid membership, the Individual plan, so I can work in both marketing and writing categories.
As you can see, the Individual plan costs $10 per month and has a confirmation green tick sign that I can add extra category. Apparently, the paid membership gives me just that – the ability to add other category. Paying a monthly fee of $10, I got my increased proposals quota and other things which I didn't need PLUS the option to buy the opportunity to bid in additional category.
In order to bid and work in a second category, I needed to pay an additional monthly fee of $5. So, the total monthly fee got to be $15 and not $10 as advertised.
It's not a lot of money. If you are actively working on Elance, you cannot really feel that you are paying a monthly fee. However, it just made a bad impression on me; I felt tricked because they didn't bother explain this the right way and clearly. That's why I am drawing your attention to this somewhat hidden fee 😉
The quality of clients and freelancers is relatively high.
Because of the premium memberships and clients' fees or for some other reason – but the quality of the job posts and the professionalism and skills of the freelancers on Elance are relatively higher than on oDesk.
There are still representatives from Asia but they are not the spammy type of contractors who we are used to seeing on many freelance websites. The competition is harder because there are more American and Canadian freelancers here as well as higher-paying and more demanding clients.
Note however, that I have completed only 2 projects on Elance and I have not really bid too much or competed with other Elancers – so these notes, conclusions and observations may or may not be true. 😀
Elance has a great workroom and related applications.
Unlike oDesk, there is a special place in you Elance dashboard where freelancer and client can share messages, files, milestone information, payments, requirements, changes, and more. You have a workroom for each project you work on and you can choose who has access to what in the work room. It is really handy and Elance encourages you to use the workroom so you have a track in one place of everything that you exchange as files or information with your clients and freelancers.
Last but not least, Elance has a great resources section.
Two of my favorite features in this resources section are:
1) the online reports – here's a link to an old post I wrote based on Q1 Elance report about online employment; here's also a link directly to Elance's latest online employment report
2) the water cooler – this is the forum's section where Elance members can give ideas about features they want to see implemented on the website; how much they value the importance of something, or dislike something else… Elance do pay attention and gradually carry out desired by members features. How cool is that?! 😉
Register on Elance and share in the comments your thoughts about the Elance review and the site itself 😉