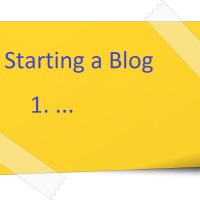 Blogging is so popular nowadays that many people and businesses think they are perceived as "weird" if they don't blog on regular basis. Truth is – blogging isn't worth it if you have no idea why you do it or you don't know how to make the most out of it. Here are a few tips for newbie bloggers just starting a blog:
1. Know the purpose of your blog
Do you want to share random thoughts? Do you want to demonstrate your knowledge and expertise? Do you want to promote your company's products or services? Do you want to just help people be better at whatever they do? Do you want to inspire your readers? Doesn't matter what the answer is. What matters is that you DO have an answer. Know what the purpose of your blog is – and you have made the first step of starting a blog successfully.
2. Choose your niche
It's no longer popular to blabber online about what type of coffee you had this morning, where you are going for dinner tonight, or how depressed you feel because your boy/girl friend has left you. Don't bore the world with your personal problems 😉 All successful blogs, personal or corporate, regardless their purpose, have one thing in common – they all have their niche, they are all topical. You may share your short stories there, or show your art and teach other people how to draw through tutorials, or do tutorials about how your company tool will help any business be better at what they do, or just sharing tips you've learnt from your experience as a marketer, lawyer, painter, writer, teacher, gardener, cook, whatever-profession-you-have. If I like to try your recipes, why do you think I will read your gardening tips? Being on topic matters – it is what helps you attract and keep readership.
3. Blog regularly
When you are starting a blog, you quite possibly will get overwhelmed with design tweaks, all those new visitors you get, comments to reply to, new ways to promote your blog – until you forget you have been doing so many things but not actually blogging, yikes! A key for creating and keeping readership is to create expectancy. Say you'll publish every Monday and Thursday at 8 am and then keep your schedule. Make sure though you set your schedule right. You can blog once per week, once per 2 weeks, or every day – it totally depends on your availability and desire. Once you set it – keep it so that you readers know when they will get some fresh advice from you 😉 In a previous post I talked about importance of having a plan – yet again, having a blog editorial will help you keep things organized on your blog, as well.
4. Make it easy for your readers
Easy to read, easy to share, easy to comment… Formatting your blog posts is important for the overall impression and perception of your content. You might be a brilliant writer and have excellent tips and knowledge to share but if it is all a big chunk of content with no section titles, no bullets or number list, no nothing – well, there's a pretty good chance no one will ever read it. Let the reader scan through your content and KNOW what it is about. If they didn't have time to read it all, they will still get the most out of what you have said. And if they want more details, they will come back and read more later, when they do have time. Add commenting field – let your readers say what THEY think. Add share buttons – let your readers spread the love and tell their friends what cool content they have found. Add RSS feed and/or other subscription form – let your reader opt-in to stay updated with your news and blog posts.
5. Be there for your readers
I know we don't always have enough time – there's only so much time. But try to always reply to the comments in your blog. Let your readers sedn you questions, feedback and topic ideas through various channels – through a contact form, on the blog itself, through social media channels that you use – make yourself available. After all, we are all people – you just happen to know more about certain things so it's only fair that we can all pick your brain about it, right? Being there is important when starting a blog 😀
6. Be an active member of the blogosphere
When time permits, build relationships – not only with your readers but with other bloggers, too. Comment on other blogs and add value to the conversation. Be active on social media and related forums where you can network with fellow bloggers – in your niche or other niches that interest you. After all, blogging is a form of self-fulfillment – so be good and help others self-fulfill themselves – just like they help you do the same 😉
Your turn now – tell me in the comments:
What else do you think we should consider when starting a blog?