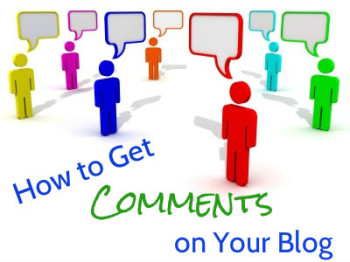 One of the biggest pet peeves for many bloggers is to get blog comments. Writing great content is hard, attracting readers is harder but getting them to participate openly in a conversation can be mission impossible sometimes. So here are 5 pretty easy ways to encourage your readers to comment on your posts.
Make it easy for people to comment
It may be obvious – but still, worth saying. Don't close your comments section and don't ask your readers to register with your blog to comment. (Almost) nobody will take the time to do so. You are not that great, sorry.
The easier you make commenting for your readers, the more comments you'd get. Remember though to set some blog commenting rules to avoid spam and frustration.
If you are up for the task, find out how to integrate social commenting through your favorite network (FB comments, G+ comments, etc.). Or better yet – make blog commenting with a one-click sign-in using social media profiles. Your readers will thank you for that – yes, with a comment 😉
To get comments on your blog, invite your readers to comment
Many bloggers avoid this tactic fearing they'd look desperate and begging for attention or others' approval. It isn't necessarily that way.
You can ask your readers to comment by saying just that – "Let me know in the comments what you think about [topic]".
Or you can be more creative – ask a question in relation to your blog post topic; answering that question would be your readers' chance to share their wisdom and show how smart they are 😉
Leave something out for your readers to add through their comments
That's right. I know how awesome and perfect you want your blog posts to be. Truth is, if you say everything there is to say, you leave no choice to your readers but to thank you for your awesome content and that's about it. You've said everything – what on earth they could add in their comments?
Leave something out of your post to let readers add to the discussion through comments.
Now, I don't mean you have to publish your posts half ready. And of course, if you are writing a how-to post, do include all steps – otherwise it won't be a real how-to, would it?!
But when sharing your thoughts and experience on let's say 'how to attract comments to your blog', don't include in that post every single tactic you know of. List your favorites – the rest leave to your audience. Maybe they use other tactics and they will be willing to share them in the comments. (I sure hope you'd share yours in the comments below – who doesn't need more comments ;-))
And if you really want to get comments – a lot and fast, just write on a controversial topic.
When there are different points of view, there is always a discussion (or a fight :-P).
Write up your post, hit the publish button and watch. But be prepared – it can get noisy! Which leads me to my next point…
Interact on your blog comments section
Thanking your readers for commenting and addressing their comments is paramount. Doing it in timely manner is superb. But even if you delay your replies for some reason – still, it's good to drop by once every now and then.
It's time assuming, I know. And there are a lot of so called pro bloggers out there who get an enormous amount of comments and never bother to reply to any of them (even those with questions?!). But please, pretty please, don't be like them. It's rude, if nothing else.
If you are that busy and cannot address every single comment on your blog, hire some help – or reply in bulk.
As a matter of fact, not all comments truly add to the discussion, including those readers who just stop by to say thanks. So those you can just be thankful for – with a bulk "thank you" note.
If this is the point you are at right now, you can turn off the reply-to-each-comment function and pop in from time to time to acknowledge and address any questions that might have come up; yes – in bulk, just like another comment in a row.
Your turn – what tactics do you use to get comments on your blog?