If you have decided to get some work through freelance job boards, it's a good idea to complete your freelance profile first. As freelancer, you face great deal of competition every time you place a bid and try to get a project. And no matter how good of a professional and expert you are, the clients will never see past your profile if it isn't complete and done well. So here are a few steps and rule of thumbs when building your freelance profile.
Choose wisely your username
Some website use your username in the URL of your freelance profile so be careful when choosing yours. It's better to list your name rather than a favorite nickname from your childhood. If you were hiring, would you hire crazyhorsewife for your writing project or would you prefer ellenmay?

You might think this is a small detail. Be as it may, clients can be very particular about things so don't give them a reason to dismiss you before they've had a chance to appreciate your talent and skills.
Be smart when writing your by-line
When I say by-line, I mean that little piece of information that goes with your name on top of your freelance profile. I have seen many people do different things – some unleash their creativity and put a by-line which is catchy but hardly ever gives info what it is that you do – for example: "Quality Work Assured". Others are very brief and to-the-point, giving general info of the niche they work in. Such is mine – "Marketing, PR and Advertising Professional". And probably the majority of freelancers choose to share a few of their best-selling services through the by-line – e.g. "Professional Content Writers |SMO| SEO|Web Development Experts".
Whatever you choose to do, it may work – it is a matter of personal preference. The important thing is that you experiment until you find the by-line that fits your personality and your target clients' preferences. And remember that website search engines often take into account your by-line so… you can target keywords, too!
Don't underestimate your profile picture
There are no set rules usually as of what you can place as your profile picture. You can use a headshot, another type of photo or avatar altogether – no face in it. I would say that a face on your thumbnail helps increase your conversion ratio for sure. Clients like to put a face to the words they get as cover letters. And depending on your niche of expertise, different profile picture may be appropriate. If you are a business plan writer, it is somewhat expected of you to be serious and business oriented, right? So a headshot without a smile or just a tiny bitty hint of a smile may be the best choice. If you are a designer for children books though, then an avatar or a crazy looking artistic photo may be the best option to showcase your personality and creativity. Like with the by-line, any profile picture could work fine for you. It's important that you experiment until you find the right profile picture for you and your target clients.
Describe your goals and expertise in your freelance profile overview
This is maybe the most important part of your freelance profile. You get to sell yourself in this section. Make sure you describe your goals well and in detail. Don't tell the story of your life here. Don't repeat your employment or education details either – there are separate sections for those on your profile. Make it personal – clients hire people, not robots. Don't use too many words but make it detailed enough – 2-3 paragraphs usually works fine. If needed and appropriate, use bullet points to list your skills or expertise. And finally, make sure what part of your profile is displayed when someone is looking at your profile and when you are applying to jobs. Let me give you an example.
If you are looking at my profile on Elance, you will see the following part:

But if you are a client and I am applying to your project, then you will see only a small part of the above, and it will be also in the context of other freelancers who have already applied: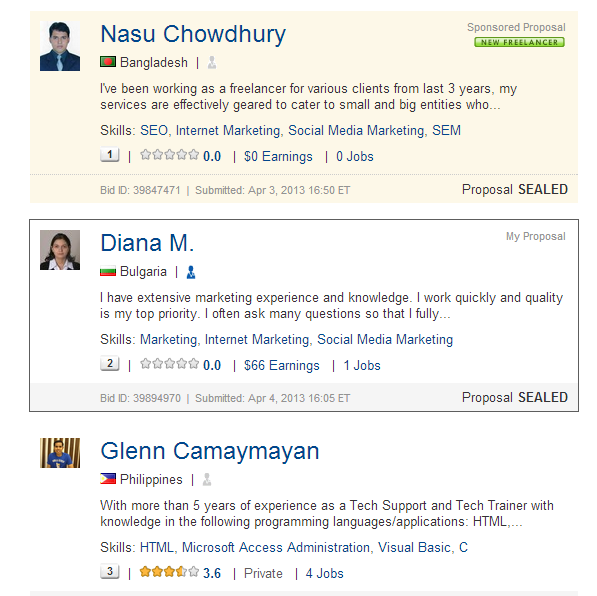 So you can see that the first couple of lines are basically the most important part of your freelance profile on Elance. Make sure you make it count. Again – experiment until you find the best working copy for your freelance profile.
Populate your portfolio
It doesn't matter if you are a designer or not. Portfolio is an important part of your freelance profile, especially if you are a new member of a certain freelance website. Different sites have different options for organizing your portfolio – so I won't go into details here. However, it's a good rule of thumb to bring in variety in your portfolio. For instance, if you are a writer, make sure you upload different types of writing to your portfolio section – a blog post, an article for web, an article for print, a press release, website content, etc. This will help your potential clients to check out your different writing styles and decide for themselves if they want to further try out your services. Let your writing work for you 😉
Let's not forget the work experience and education sections
May be trivial, but these sections are important. There are still people who prefer working with freelancers with larger experience or higher education so be sure to mention everything you've worked and studied. You never know who's reading and hiring 😉
Describe your skills and take skill tests, if available
This is especially true and important for freelancers with no reviews and feedback. When you are a newbie on a certain freelance job board, it is you that says how good you are – and you practically expect your potential clients to take your word for it. Yes, you can write a sample or take on a trial. But before you reach that stage of the work process – you need to convince the client you are worth trying. That's why it's important that you do a couple of thing.
First, describe your skills and be realistic when doing it. There's nothing more frustrating than hiring someone who sells themselves brilliantly only to find out they can't do half the things they said they can. It is a waste of time and money for both parties.
Secondly, take skill tests. If you are not a native English speaker, take English tests (spelling, vocabulary, basic skills) to confirm your self-assessment is correct. And then move on to your specific niche related tests. E.g. if you are designer, take the tests for Photoshop  illustrator or whatever else program you use. If you are a writer, take the tests about creative writing, English sentence structure, technical writing, etc. If you are a marketing expert, take the tests for online marketing, social media marketing, marketing management, marketing planning, and so on. You get the idea. The more, the better. Here's a snapshot of some skill tests I have taken on oDesk and how they are shown on my freelance profile: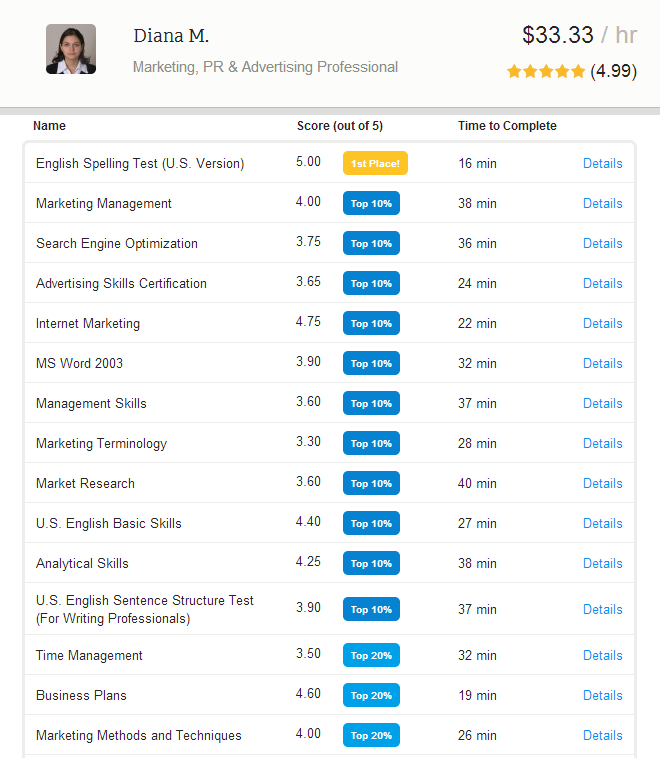 Make sure you also include skills like multicultural experience, or time-management skills. Clients like team players who know the meaning of deadlines.
And last but not least – set your profile rate right
First off, know that when you apply to a freelance project, you can bid with whatever price you want – hourly rate or fixed price bid, whatever the project is. However, occasionally clients might find you through the website search engine and that is whom you want to impress and set your profile hourly rate for. This is usually the rate you are invited for interviews on.
With so many freelance consultants out there, it is getting harder to stand out from the crowd. Remember that the lowest price is never a good tactic. Always try to give more value for the price and not just cheap price. There are no set rules for setting hourly rate on your profile. It is a very long topic about pricing and I am sure I will have series of articles about it down the road. For now, I would just suggest that you do a quick research on the particular freelance website and see what the competition is doping. Learn what the lowest and highest price are and for what tasks. Consider how good of an expert you are in your niche and place your rate accordingly – e.g. a bit higher than the average if you are a good expert. With time, when you get projects and reviews from clients, you can increase your rate to reflect your popularity on the website and the demand for your services.
Your turn – what would YOU add as important for your freelance profile being a vehicle to your freelance success?